KELLY THOMPSON

SEND THIS TO A FRIEND!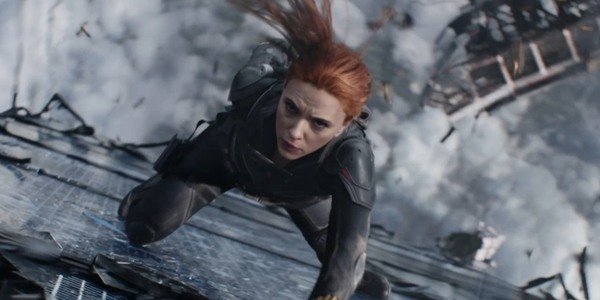 DF Interview: Kelly Thompson gives Marvel's premiere spy a new web to spin in 'Black Widow'
By Byron Brewer
Natasha Romanoff has been a spy almost as long as she's been alive. And she's never stopped running, whether she was working for the good guys … or the bad. But Natasha's world is about to be upended. Beyond San Francisco's Golden Gate lies a mystery that only the Marvel Universe's greatest spy can solve. Don't miss the heartbreaking thrill ride of 2020!
Best-selling Eisner-nominated writer Kelly Thompson (Captain Marvel, Star) and rising star artist Elena Casagrande (Catwoman) launch a new Black Widow series that changes everything!
DF wanted to be there for the first widow's-bite, so we covertly tracked down and then questioned scribe Kelly Thompson.
Dynamic Forces: Kelly, you are becoming known for your handling of strong female characters, the latest being the Marvel Universe's greatest spy, the Black Widow. From the moment she shed her Russian spy outfit for the Emma Peel look, Tasha has been at the forefront of femme fatales. How do you as a writer see this very complex hero?
Kelly Thompson: Most characters are complex, but I'd agree that Natasha is more complex than your average superhero. Where she comes from, her experiences, the roles she has played -- spy, assassin, superhero, rogue government agent – those aren't hats that every superhero tries on by choice or force. But all of that is part of what makes her so interesting and helps her stand out from your average superhero character. You can do things with Nat that you just can't do with a lot of other superheroes and that's deeply exciting. I started to say that Nat is very different from other female leads I've written for Marvel…but honestly, they're ALL very different from one another – Captain Marvel, Hawkeye, Jessica Jones, Rogue, Phasma, Elsa Bloodstone, She-Hulk, Star, Black Widow…they all bring different things to the table and I do my best at teasing those things out of them and amplifying what's powerful about their voices.
DF: "Widow no more!" That is a phrase sprinkled throughout solicits and a trailer for your coming book starring the Black Widow. Without spoilers, is it possible at all to clue readers in on what that means, how it applies to Black Widow #1?
Kelly Thompson: I think…the trailers have said enough at this point and the release date is finally close enough that yeah, I can say that by the second half of issue 1 Nat is literally no longer the Black Widow. And where she goes from there and the mystery of how that status came about is what we're exploring in this first arc. Action, intrigue, emotional gut punches, and general badassery: that's what we're about in this series.
DF: You spoke of the book's first arc, so I take it this will be an ongoing (as much at least as there are ongoings anymore). What is in store for Natasha in her first issue that you can divulge, and where will this lead her? Or: What is the overall storyline for Arc 1?
Kelly Thompson: Well, while we all hope this will be an ongoing -- and I feel like the success of Captain Marvel has helped make that more of a possibility – the truth is that we'll have to see how the book does before we know if we get to continue. I can say that Natasha is in a very different place at the end of issue 5 than she is in issue 1 and I have a lot of ideas about what a Black Widow ongoing could look like…but we'll just have to see. Regardless, I think this first arc is powerful and going to show off and unearth some stuff readers haven't seen before with Nat.
This is a very hard book to talk about spoiler-free, unfortunately. What I think I can say is that we start the book with the Black Widow everyone knows and loves and then the book takes a hard right into something totally different and the rest of that first arc is exploring that 'totally different' and whether Nat can get back to 'Black Widow' or if she even wants to.
DF: There is a mention of some role the Widow's old foes will play in this mag. Can you shed any light at all on those villains? Any old names we would be excited to know, new faces coming into Tasha's world for the first time?
Kelly Thompson: There are a lot of new faces in Nat's world, but her enemies in this first arc are mostly established foes. We're largely shifting away from "Red Room" stories just because I feel we've seen enough variations on that stuff (many of them very good stories) for a while, but that doesn't mean these villains aren't connected to her past in various ways. I think some of her enemies will be expected and others are more of a curve ball. But again, all of this is hard to talk about without spoiling things for readers. It's funny, I knew this book was going to be a little frustrating to promote as we tried to guard its secrets – but that got so much harder when we got delayed for six months because of Covid – I'm sorry, everyone!
DF: From viewing a trailer for Black Widow #1, this sure looks to be an action-packed, fast-paced comic. Talk about the art of and your collaboration with Elena Casagrande.
Kelly Thompson: Elena is so talented and as far as I'm concerned, on Black Widow she's doing the best work of her career thus far. She's absolutely nailing the style and sensibility, action, and perhaps most importantly for this arc, the emotional moments are landing so powerfully. There's some emotionally charged stuff she did in issue 2 especially that absolutely floored me. I took out as many of my dumb words as I could in that scene because she said it all in pictures. But it's important to also talk about our colorist, the incomparable Jordie Bellaire who brings so much to this book. We needed something different for Nat that would really have impact and stand out and we also needed the colors to do even more story work than I think is usually asked of colors and nobody is better at that than Jordie.
DF: Kelly, what other projects might you have coming out that you can tell readers about?
Kelly Thompson: Unfortunately, I've got nothing I can announce at this time – but while part of that is thanks to the weirdness (and horror) that is 2020, another part of that is simply because Captain Marvel is a bonafide hit – so I'm pretty busy on pre-existing projects – Captain Marvel, Deadpool, and Black Widow, they're all dream projects, so it's hard to complain!
Dynamic Forces would like to thank Kelly Thompson for taking time out of her busy schedule to answer our questions. Black Widow #1 from Marvel Comics is slated to hit stores Sept. 2nd!
For more news and up-to-date announcements, join us here at Dynamic Forces, www.dynamicforces.com/htmlfiles/, "LIKE" us on Facebook, www.facebook.com/dynamicforcesinc, and follow us on Twitter, www.twitter.com/dynamicforces.
BLACK WIDOW #1 - SIGNED BY ADAM HUGHES
NANCY DREW: THE PALACE OF WISDOM HARDCOVER
NANCY DREW: PALACE OF WISDOM TPB
CAPTAIN MARVEL #12 COMICXPOSURE EXCLUSIVE VARIANT COVER BY TONY DANIEL
CAPTAIN MARVEL #12 CSA EXCLUSIVE VARIANT COVER SIGNED BY MARK BROOKS
CAPTAIN MARVEL #1 MARK BROOKS VIRGIN EDITION COMIC SKETCH ART EXCLUSIVE COVER SIGNED BY MARK BROOKS
MR & MRS X #1 SIGNED BY TERRY AND RACHEL DODSON
---
NEW! 1. 11/25/2020 - STEVE SKROCE
4. 11/16/2020 - RYAN O'SULLIVAN
5. 11/16/2020 - RYAN O'SULLIVAN