PHILIP KENNEDY JOHNSON

SEND THIS TO A FRIEND!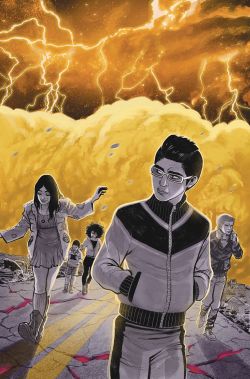 DF Interview: Phillip Kennedy Johnson takes readers on the Low Road West
By Byron Brewer
In the aftermath of a nuclear first strike that has left the East Coast uninhabitable, five teenagers are being sent west, away from the wreckage that was once their home.
Halfway through the Oklahoma Dust Bowl, the shuttle that promised safety has broken down, stranding them in the middle of nowhere with only one another to count on …
Eisner Award-nominated writer Phillip Kennedy Johnson (The Power of the Dark Crystal, Aquaman) and artist Flaviano (America, Grayson) present a new limited series from BOOM! Studios: Low Road West! DF, of course, wanted to gather all the info for you, so we sat down for a chat with scribe Phillip Kennedy Johnson.
Dynamic Forces: Phillip, what can you tell readers about the genesis of this new series, Low Road West?
Phillip Kennedy Johnson: The simplest description is to call it an apocalyptic, American reimagining of The Lion, The Witch and the Wardrobe, and that is where the idea began for me. But one aspect of that story that I wanted to see a lot more of was the fact that the Narnia kids were refugees from the bombing of London, and that they had potentially seen some stuff before they left home. That, coupled with our own real-life modern refugee crisis, helped me shape a story I think is exciting and relevant, with plenty of mysteries to unlock.
DF: There seems to be a flavor of two of your other great series in this one: Last Sons of America and Warlords of Appalachia. Any thematic relationships here?
Phillip Kennedy Johnson: Although the characters, setting and plot are completely different in each series, the three stories definitely share common themes and elements, and I think Low Road West is the logical next step in the evolution of those ideas. Last Sons of America is a grounded sci-fi story with some socio-political elements, but fundamentally it's a story about two brothers. Warlords of Appalachia ramps up both the sci-fi and political elements quite a bit, and centers around a man and his son. Low Road West intensifies the sci-fi elements SO much that it's probably more accurate to call it supernatural, in the same way you might describe Stranger Things, one of Low Road West's many influences. And although the familial relationship in this series might not be as obvious as the ones in my earlier books, Low Road West is about a surrogate family that forms between people who have all lost the families they knew.
DF: So give us the pitch for Low Road West.
Phillip Kennedy Johnson: Low Road West is a story about five teenage refugees from war-torn Washington, DC, all dealing with death and loss after the wholesale destruction of their home. On their way to a sanctuary city on the West Coast, they're stranded in a mysterious desert ghost town, and have to band together to survive against all manner of threats and dangers. As their world dies, they discover a doorway to a new one… one where death and life don't work the way they do here.
DF: Can you introduce us to some of your protagonists?
Phillip Kennedy Johnson: Love to. Although they're all from Washington, DC, they've had wildly different life experiences, and personalities that don't necessarily fit together easily. Shawn comes from a military family, and constantly tells everyone about his loving dad, the bad-ass war hero… but his stories don't always match up. Angela is kind, caring, beautiful and sheltered… the daughter of a senior government official, shielded from the hard truths about the war until her home came crashing down and she lost everything, leaving her with none of the tools to deal with it. Ben and Emma are brother and sister… since seeing their parents killed on the road out of DC, Ben has stopped speaking or interacting with other people, and Emma's single motivation for survival seems to be protecting Ben, to the point she's practically forgotten that she also exists, and matters. Amir, a Muslim-American, is hyper-sensitive to racism and prejudice, has a superiority complex, and although he seems to look down on his fellow refugees, he's also looking for a big brother or father figure to replace a relationship he lost, and still desperately needs.
DF: Interesting cast! … I can imagine any character drama will be embellished by the extant post-apocalyptic crisis, but since your main protagonists are teenagers will there be any "coming of age" angst and how does that play out in a world where the chief priority is survival?
Phillip Kennedy Johnson: Most of the angst will play out in the relationships between the characters. Most of them will be naturally drawn to some and repelled by others, there will be some inevitable conflicts, and that's where we'll see them working out their personal issues.
DF: I know it's early, but what can you tell us about your collaboration with Flaviano? What does this artist bring to the table here?
Phillip Kennedy Johnson: Flaviano was the perfect choice for this book. Writing these visuals with him in mind, knowing he's going to bring them to life, is the best. He has a super dynamic style, which is great not just for action sequences but for little things like body language and posture. He has this knack for giving characters a TON of personality with their body carriage, micro-expressions in their faces, everything. And the book is practically defined by his awesome environments. Readers are going to flip when they see the work he's doing.
DF: Phillip, what can you tell readers about any projects, current or near-future, you have coming?
Phillip Kennedy Johnson: Shortly after the release of Low Road West #1, the trade paperback of Smoketown hits shelves, published by Scout Comics, collecting Smoketown #1-8. I have a story appearing in each volume of IDW's print-only comics and literary magazine Full Bleed, which will be coming out quarterly for the foreseeable future. In October, my dear friends at BOOM! Studios are putting out Planet of the Apes: The Time of Man #1, an anthology celebrating the 50th Anniversary of Planet of the Apes. I have a 20-page story appearing in that with the obscenely-talented Morgan Beem, which we're both incredibly stoked for people to read. And finally, I'm teaming back up with my partner from Kong: Gods of Skull Island, genius illustrator Chad Lewis, to create a new story that I can't say much about yet, but that I'm confident readers are going to love. Stay tuned, and many thanks from all of us for the support!
Dynamic Forces would like to thank Phillip Kennedy Johnson for taking time out of his busy schedule to answer our questions. Low Road West #1 from BOOM! Studios hits stores Sept. 12th!
For more news and up-to-date announcements, join us here at Dynamic Forces, www.dynamicforces.com/htmlfiles/, "LIKE" us on Facebook, www.facebook.com/dynamicforcesinc, and follow us on Twitter, www.twitter.com/dynamicforces.
---
NEW! 1. 11/25/2020 - STEVE SKROCE
4. 11/16/2020 - RYAN O'SULLIVAN
5. 11/16/2020 - RYAN O'SULLIVAN