JIM ZUB

SEND THIS TO A FRIEND!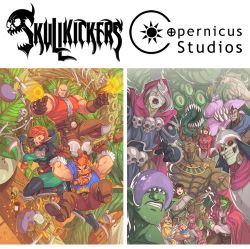 DF Interview: Jim Zub comic 'Skullkickers' in development as adult animated comedy-adventure series
By Byron Brewer
It was in evidence even before the pandemic, but demand for animation of the adult variety has skyrocketed around the dial (old TV ref). And that was what got Copernicus Studios looking at the Skullkickers franchise from the comic written by Jim Zub and illustrated by Edwin Huang and Chris Stevens.
The series was first published by Image Comics in 2010 and has built a loyal following over the past decade alongside surging interest in fantasy-based entertainment. DF wanted to get all the lowdown on what's up, so we talked to Toronto's most prolific writer, Skullkickers creator Jim Zub.
Dynamic Forces: Jim, I know that the demand for adult animation, especially since the advent of the coronavirus, has been on the rise. Tell us what you can of this new opportunity for your long-time property, Skullkickers.
Jim Zub: I don't just think it's a coronavirus thing, but people being at home more has definitely showcased a growing desire for more animation made for mature audiences – Castlevania, Bojack Horseman, Rick and Morty, Genndy Tartakovsky's Primal, and many more animated productions have done well and bolstered interest.
Taking Skullkickers, which was my creator-owned "breakout" title at Image Comics, and developing it for animation is a wonderful way to celebrate ten years since the comic launched and hopefully bring it to a larger audience eager for action and comedy.
DF: For the uninitiated (you know who you are), tell us about who and what exactly the Skullkickers are – as characters, and as a comic book.
Jim Zub: Skullkickers is a sarcastic send up of sword & sorcery storytelling, a Deadpool by way of Dungeons & Dragons approach to fantasy with a morally bankrupt trio of mercenaries named Rex, Rolf and Kusia who hunt monsters and get themselves into trouble while being slowly pulled into a ridiculous epic conflict between gods, monsters and inter-dimensional evil.
DF: What role will you play in this development of the Skullkickers animated series?
Jim Zub: I'm heading up story development with the crew at Corpernicus, a Canadian animation studio probably best known for their work on the Teen Titans Go animated series. Having a complete six arc series we can look at is really helpful in terms of that building process because it allows us to see all the main story beats and make decisions about what to adapt directly and what could be improved or enhanced along the way.
So, in short, I'm doing a lot of writing and collaborating, some parts as straight adaptation and others parts brainstorming new fun ways to approach the material. It feels great digging back into it after five years away.
DF: I know it's way too early to be certain (and I doubt you could tell us if it wasn't) what aspects of the comics series will be included in the adult toon, what will be changed. Look through this with eyes of this new medium, what changes would YOU like to see made for this adaptation and what would you HOPE would stay the same?
Jim Zub: Comics and animation have a lot of shared visual language but are also different mediums, so I want to push the action and slapstick in a way that suits animation best here. The violence and facial expressions are something I know we can really go for broke with.
The core story will be intact, but we're also looking to expand Kusia's role a lot, particularly in the first couple of arcs, where her role as a mysterious assassin was okay but kept readers from understanding her motivations until later. When I was writing the comic, I didn't feel like a had a handle on Kusia until the third arc and now the story can benefit a lot from that growth.
DF: Are Edwin Huang and Chris Stevens involved in this development at all?
Jim Zub: Edwin has done some new artwork as part of the process and given feedback on design work already underway. Chris is hyper-focused on other projects right now but the door is always open for him to contribute when he has more time.
DF: We've discussed this before, but how much of this situation owes itself to your love of all things Dungeons & Dragons and your rise of profile in both comics and gaming?
Jim Zub: D&D and fantasy storytelling as a whole are bigger than ever, which definitely makes it easier to pitch this kind of fantasy-comedy story in animation right now compared to ten years ago. The fact that I have a slew of fantasy comic credits that grew out of opportunities thanks to Skullkickers also helps legitimize the series and its ability to entertain an audience.
Skullkickers was my love letter to Conan the Barbarian and Dungeons & Dragons, and thanks to it I now write official stories for both of those titles, arguably two of the biggest properties in sword & sorcery. It's a surreal and wonderful full circle kind of thing.
Dynamic Forces would like to thank Jim Zub for taking time out of his busy schedule to answer our questions. Stay tuned to DF News and other comics-centric media for further developments on, er uh, the development of Skullkickers!
For more news and up-to-date announcements, join us here at Dynamic Forces, www.dynamicforces.com/htmlfiles/, "LIKE" us on Facebook, www.facebook.com/dynamicforcesinc, and follow us on Twitter, www.twitter.com/dynamicforces.
PATHFINDER VOL. 1: DARK WATERS RISING HC - SIGNED BY JIM ZUB
PATHFINDER VOL. 3: CITY OF SECRETS TRADE PAPERBACK
PATHFINDER VOL.2: OF TOOTH & CLAW TRADE PAPERBACK
PATHFINDER VOL. 1: DARK WATERS RISING TRADE PAPERBACK
PATHFINDER VOL. 1: DARK WATERS RISING HC
---
NEW! 1. 12/04/2020 - JOSH BLAYLOCK
3. 11/30/2020 - SKYLAR PATRIDGE