ZACK KAPLAN

SEND THIS TO A FRIEND!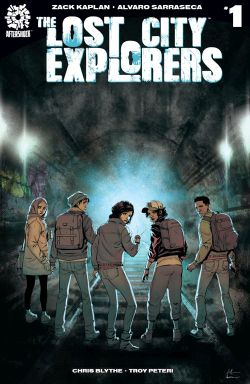 DF Interview: Zack Kaplan talks Lost City Explorers being developed for TV
By Byron Brewer
The Lost City Explorers, an ongoing book from AfterShock Comics, is focused on a group of teens who become underground urban explorers after a mysterious expedition leads to the disappearance of one of their fathers. Following his tracks on a coming-of-age journey through subterranean tunnels, they ultimately find the holy grail of lost cities, Atlantis, buried right under New York City.
And now, in real life, an "after-shock" – the new comic created and written by Zack Kaplan, with art by Alvaro Sarraseca and colors from Dee Cunniffe, is being developed for the small screen by Universal Television in partnership with AfterShock and Kaplan.
As usual, and for your sake, DF wanted to know more, so we sought out the creator, Zack Kaplan, who gave us some of the behind-the-scenes particulars.
Dynamic Forces: First, Zack, congratulations on your teaming with AfterShock and Universal Television in order to adapt your SF comic, Lost City Explorers, into a TV property. Tell readers how that feels as a writer and, as much as you can, how this all came about.
Zack Kaplan: It's amazing! We're having a great time making an awesome comic book series, but to have the vision adapted and brought to TV is a dream come true! Quite frankly, it all happened very fast! We were releasing the series, and Universal reached out to us with interest. They completely understood and supported our vision, and it was a real match! We all wanted to make a young adult adventure for modern times. We're already beginning the development process, and I'm very excited by the promise of this show.
DF: Before we go on, can you, in a not-too-brief nutshell, summarize the plot of Lost City Explorers the comic?
Zack Kaplan: Lost cities aren't just the stuff of myths. They exist right below our feet. And in fact, there is a mysterious lost city underneath Manhattan. But when a research expedition encounters supernatural obstacles, and the lead researcher is presumed dead, his two teenage children discover he may still be alive. They unite their friends and become urban underground explorers to travel through the NYC subway tunnels and sewers in order to unlock the secrets of the expedition and determine if it is true: is the Lost City of Atlantis really underneath New York City? The story combines science fiction, archaeology and urban exploration into a modern, mature young adult adventure for everyone.
DF: Along those lines, can you also introduce us to your main cast in the book?
Zack Kaplan: The protagonist is Hel Coates, a passionate teenage girl who's already lost her mother years ago, lost herself having recently moved to New York, and generally finds herself lost in life, unsure of her purpose or direction. Her brother, Homer Coates, would rather focus on the future rather than deal with his emotions like his sister. Needless to say, the two don't get along, but they are forced to work together, along with Hel's street saavy best friend Maddi, Homer's superficial girlfriend June, and Hel's once weekend hook-up and computer nerd, Edwin. The group is diverse and modern and meant to feel like real young adults you might find in a major city like New York.
DF: I know it is early, but how much of the main thrust of the AfterShock comic will go into the small screen adaptation?
Zack Kaplan: It's always hard to say, but the current vision is to have it be pretty close. I think the story is all there in the comic! We're excited about the TV medium because it leaves so much more room to really get to know these characters and spend time with them, and really capture the teen drama going on. There's also room to capture an explorer's feel, to marvel at this amazing subterranean world that is underground New York City! I could easily see the fast-paced five issue first arc of the comic slowed down and elevated to an awesome first season.
DF: Kind of spinning off the above query, now that you have the same characters and world but a different medium and clean landscape, so to speak, is there anything major (OR minor) that you would like to drastically change about the comic as a whole for TV?
Zack Kaplan: Honestly, it's too early to really say how the TV version will shape up. I will say that comics are a very fast medium. There's a cliffhanger at the end of every issue and a major climatic set piece at the end of the first arc, which is only 80 pages into the story. I would love nothing more than to take a slower pace in the comic, spend more time getting to know the characters before the adventure, getting to know the antagonists more, but you just don't stop the action for six pages simply to get to know a character. It all has to fuse together. This muscular mix of character and on the road action creates a fast pace and a more fun feel. I look forward to a TV medium capturing the mature, slower suspense and high stakes emotion of the story. Equally, there's so much history underneath New York City to explore, so I would love to just see more of that. That's my vision: not different, just more!
DF: Will you or artist Alvaro Sarraseca be an active part of this adaptation process? And will you be on board if it makes series; if so, in what role(s)?
Zack Kaplan: We all want the series to be as good as it can be, so I don't think Alvaro or I will shy away from helping the team behind the TV show. I'm helping to write the show, but a lot of this depends on how the packaging of the project plays out. Alvaro and I are comic book creators, and so we're focused right now on making a great comic book series. When it comes time to make a TV show, Alvaro is an amazing visual storyteller, and I would want his creative insight at every chance we can get. In a perfect world, it would be constant open communication and participation and everyone working hand in hand to make the best show possible.
DF: Zack, what other projects, inside or outside comics, might you be working on that you can tell readers about?
Zack Kaplan: For now, my plate is full with The Lost City Explorers, Eclipse and Port of Earth all ongoing in comics form, and with the TV development. I am working on some new comics series for next year, but nothing yet to really talk about or reveal.
Dynamic Forces would like to thank Zack Kaplan for taking time out of his busy schedule to answer our questions. Stay tuned to DF News for more on this story.
For more news and up-to-date announcements, join us here at Dynamic Forces, www.dynamicforces.com/htmlfiles/, "LIKE" us on Facebook, www.facebook.com/dynamicforcesinc, and follow us on Twitter, www.twitter.com/dynamicforces.
---
NEW! 1. 11/25/2020 - STEVE SKROCE
4. 11/16/2020 - RYAN O'SULLIVAN
5. 11/16/2020 - RYAN O'SULLIVAN