SIMON SPURRIER

SEND THIS TO A FRIEND!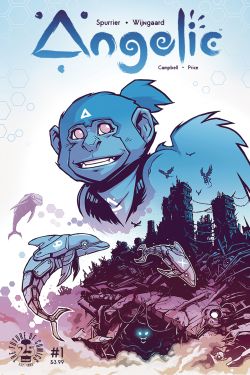 DF Interview: Simon Spurrier's Angelic – teenage rebellion and animal antics amidst the ruins of civilization
By Byron Brewer
Humanity's long gone. Its memory lingers only as misunderstood rituals among mankind's leftovers: the genetically modified animals they used and abused for eons. But for one young flying monkey, Qora, the routines are unbearable. All she wants is to explore. Instead she's expected to settle down, to become a mother... to lose her wings.
Eisner nominee Simon Spurrier (The Spire, Cry Havoc, X-Men Legacy) and rising-star Caspar Wijngaard (Limbo, Dark Souls, Assassin's Creed) present your new bittersweet adventure obsession: Angelic, from Image Comics.
Ready for the 411 from scribe Simon Spurrier? Here we go!
Dynamic Forces: WINGED MONKEYS! TECHNO-DOLPHINS! How can one NOT be curious about this book? Si, tell us about the concept and how you came up with this fantastic premise.
Simon Spurrier: Angelic's a story about Earth, after us.
Humanity's long gone -- the "where" and the "why" of that are key questions for our story. In the toxic ruins of our abandoned world the only signs of civilization belong to the leftover products of our bad science. So our story features weaponized gibbons, cybernetic dolphins, quantum alleycats and a whole tribe of flying monkeys living on skyscraper rooftops, high above the toxic fumes. And that's just for starters.
These creatures were obviously all engineered with a purpose - there are hints from the beginning of a great and terrible war which was fought in the distant past, with GM animals used as assets - but none of our characters truly understands what that purpose is in the present world. They're like children, going through the paces of the strange ceremonies they've passed down from generation to generation. They've inherited the earth - but they don't understand anything about it.
Most of our story's seen through the eyes of one winged monkey. She's this brave, amazing, curious little thing called Qora, struggling against the unforgiving rituals and doctrines of the tribe's religion. She's expected to take part in all these meaningless ceremonies - ceremonies which will ultimately cost her her freedom when she becomes an adult - but all she wants to do is go have adventures.
So she runs - well, flies - away. And then things get crazy…
As with most ideas, Angelic didn't so much hit me out of the blue as it accreted from a whole bunch of different slivers of interest or inspiration. I've wanted to do a story for a long time which skews away from exclusively mature content towards a more layered, all-ages-friendly sort of vibe. With Angelic we've leaned into the Pixar mindset, y'know? It's the sort of story which, if all you're looking for is a brilliant adventure about friendship and excitement and wonderful sci-fi animals, that's what you get. But if you're also looking for deeper meanings - religion, society, responsibility, science; all these fascinations I've been storing-up for years - then you'll find that in there too.
Frankly I've just been waiting for the chance to work with an artist of Caspar's caliber to make all this stuff come to life.
DF: What can you share about the world you will be building in Angelic? From all appearances, this is designed to be a fun adventure romp, but it takes place in the ruins of a post-apocalyptic world (at least for humans, it seems). How as a writer did you circumvent the depressing trope this type of setting has become?
Simon Spurrier: The trick lies in character-perspective, I think. When we (as in: the readers) see the world of Angelic we're very aware it's a place of ruined buildings, malfunctioning technologies, biological experiments and the scars of war. All pretty dark. But when it's seen through the eyes of our main character Qora - with her childlike sense of wonder, her indomitable courage and her sheer bloody-minded determination to explore - it becomes a place of bright and colorful magic, the mysterious secrets of the past, mystical monsters and wise allies. Mankind occupies roughly the same cultural space for Qora as a pantheon of gods or angels would for us.
It's easy to describe Angelic as a post apocalyptic story, but from the POV of Qora and the other animals we meet it's pure adventure-fable. She's on a quest to find out what happened to her own mythical creators.
DF: Tell us more about Qora, who I assume will be our POV character into this adventure.
Simon Spurrier: Yeah, mostly. By issue #2 we've introduced a second companion-protagonist who'll join her on her adventures. I won't say much about him because it's getting into spoilery territory, but he's sort of her perfect foil. He's surly and irritable where Qora is bright and adventurous. We get into this really wonderful buddy-movie vibe pretty quickly.
Anyway, Qora… she's so great. She's brave and optimistic and above all quizzical. Her biggest problem is that she's grown up in a society which condemns curiosity and applies some very rigid (and very different) expectations on its males and females.
In Qora's case, her immediate future hinges around a horrible ritual. It's supposed to be this big exciting Rite Of Adulthood - a very holy moment - but Qora's terrified of it. Two chosen monkeys step into "the alter-peace" - this holy shrine at the heart of the community (clearly a piece of old gene-splicing technology). Lights flash, steam blasts. And when the pair step back out again, the female is pregnant. Not with some dumb, voiceless "normal" monkey, but with all the gifts of the tribe's gods: "The Makers". Wings, opposable thumbs, colored fur. The tribe sees this as the holiest of miracles, and a sure sign of the Makers' favor.
But there's a cruel twist. When a female steps out of the Alter-Peace, pregnant, greeted by her cheering community, she's also had her wings surgically removed. Because - so the males say - a mother has no business flying around when she's got duties to attend.
Well, Qora can't think of anything worse. No wonder she flies away.
DF: Wow, Qora faces some big challenges ...
Simon Spurrier: She's spent her whole life in this weird buttoned-down faith-based culture. She's been taught from an early age that her gods - "the Makers" - ascended into the heavens long, long ago, leaving the monkeys as stewards. The last bastion of goodness against all the evil out there -- with the rampaging cybernetic dolphins known as "dolts" being at the top of that bad-guy list. The monkeys believe that if they do everything the Makers expected of them - endless rituals, cleaning and maintaining strange relics (actually machines) - then eventually the Makers will return from the heavens and cleanse the Earth.
There's a part of Qora which fully buys into this dogma. She's never known anything else, after all. But it all seems so horribly unfair. The females are treated appallingly, curiosity and difference are punished, and then there's that awful Alter-Peace ceremony...
To an extent she's a classic teenager, rebelling against social order. But she's also absolutely right to fear and loathe the life that's expected of her: the culture she was raised in really is pretty horrible.
There's a Great Devil in the mix too. Just as the Monkeys worship the absent "Makers", so do their enemies (like those crazy rocket-fuelled dolphins) have their own deity: a hedonistic god known only as "Ay". When Qora finally does the unthinkable and dares to flee from her tribe, she quickly encounters Ay's works. And has to make some really big decisions.
DF: Expectations of being a mother, her expected loss of wings … there is obviously a strong subtext here.
Simon Spurrier: As I mentioned, we're shooting for a very layered vibe. One of the things I love about movies like Wall-E or The Iron Giant is that to kids they're just a ripping sci-fi yarns about robots and friendships, but to adult audiences there are jokes and implications and themes far, far bigger.
So for those who care to see it, there's a pointed metaphor at work in Angelic. Qora's tribe represents a particular version of a faith-based society. It's dogmatic, set in its ways, ritualized… and willfully repressive. Literally the worst future imaginable for an adventurous young she-monkey. But their enemies - who represent a very different version of society - have a lot of mysteries and problems of their own.
Ultimately it's the story of Qora and her companion exploring with the specific aim of learning as much as they possibly can about their own lives. Discovering the histories and (often sinister) reasoning behind the day-to-day stuff they've been doing for years. Basically casting a whole new light on everything that they take to be "normal". And then having to decide what to do with that information … all whilst being chased by all manner of disgruntled beasties, representatives of their own clans, and the shadows of some really big secrets from the distant past.
DF: Other characters readers need to be on the lookout for in this story?
Simon Spurrier: Plenty! Expect avian sidekicks, morbid hermit crabs, cruel chieftains, eternally caffeinated cetaceans and above all the prime servants of the devil Ay, about whom I can say nothing at all... except that they're shiny, hovering... and heavily armed.
Oh, and in issue #2 there's a levitating whale, which is always a giggle.
DF: As a writer, how do you go about approaching an all-ages-friendly story like Angelic as opposed to other comics you have written (X-Men Legacy, et al)?
Simon Spurrier: It's that whole idea of layering, basically, and making sure there's something in there for everyone, of any age. A very Pixar-y vibe.
The one thing I'd add is that I don't entirely subscribe to the view that "child friendly" should always mean "simple", or indeed "light". I think kids have a lot more capacity for dealing with dark, difficult, scary stuff than we give them credit for.
I'm not saying Angelic is a heartbreak-marathon like Watership Down - the call to adventure is always at the forefront - but there's definitely a sliver of that vibe in there. Now and then a gentle delve into darker waters.
DF: Tell us about working with Caspar Wijngaard. The artist certainly hit the mark on Dark Souls and Assassins Creed.
Simon Spurrier: And even moreso on his seminal Image series Limbo, with Dan Watters writing. (Dan and I are actually co-writing my Shadow series from episode 2 onwards, so I'm keeping both these geniuses busy all at once. I'm despicable.)
Caspar's a proper superstar, honestly. Those clean lines married to a bold palette and dreamlike backgrounds. The lovely thing is that I can no longer remember how much of the look of the characters and their world comes from my hazy descriptions when we were first discussing the project, and how much of it has spumed forth copiously from Caspar's brain and pen. There are whole chunks of the plot in later episodes which hinge entirely on details Caspar's come up with along the way. That's the nature of a really great collaboration, y'know? Where literally everything feels greater than the sum of its parts.
Dynamic Forces would like to thank Simon Spurrier for taking time out of his busy schedule to answer our questions. Angelic from Image Comics hits stores Sept. 20th!
For more news and up-to-date announcements, join us here at Dynamic Forces, www.dynamicforces.com/htmlfiles/, "LIKE" us on Facebook, www.facebook.com/dynamicforcesinc, and follow us on Twitter, www.twitter.com/dynamicforces.
THE SHADOW VOL. 3 #1 - NEAL ADAMS EDITION SIGNED BY NEAL ADAMS
---
NEW! 1. 11/25/2020 - STEVE SKROCE
4. 11/16/2020 - RYAN O'SULLIVAN
5. 11/16/2020 - RYAN O'SULLIVAN