GREG PAK

SEND THIS TO A FRIEND!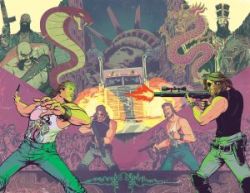 DF Interview: Greg Pak releases Kurt Russell double-trouble in Big Trouble in Little China/Escape from New York mash-up
By Byron Brewer
Do you believe you can never have too much Kurt Russell? Then you are going to love the new Big Trouble in Little China/Escape from New York comic from BOOM! Studios.
Written by Greg Pak and illustrated by Daniel Bayliss, the title finds big-mouthed truck driver Jack Burton (played by Kurt Russell in 1986's kung fu extravaganza Big Trouble in Little China) transported to the dystopian future of 1997, where he meets his taciturn, eyepatch-sporting doppelgänger Snake Plissken (also played by Kurt Russell in 1981's science fiction classic Escape from New York).
The six-part series debuts this October, so DF caught up with Greg Pak to get the 411. And just for you!
Dynamic Forces: Greg, I know that Big Trouble in Little China celebrates its 30th anniversary this year and that BOOM! Studios had a comic adaptation of the 1986 movie which wrapped earlier this year, but how did this mash-up with Escape from New York come about?
Greg Pak: A few months ago, I got an email from my friends at BOOM! saying they were thinking about making a comic starring the Kurt Russell characters from Big Trouble in Little China and Escape from New York and I was pretty much hooked. I just couldn't stop thinking about that combo of characters and what kind of loopy scenario could put them in the same world and what kinds of fun conflicts could result. I'm a big believer in the idea that comics should be weird. Comics should take the kinds of big risks that movies and television often can't. I couldn't say no to a project this gonzo.
DF: Get it out early: Were you a fan of either or both movies, and what type of research (aside from watching the films a few times, I take it) has gone into this project by you as a writer?
Greg Pak: I've probably seen Escape from New York a half dozen times over the years—most recently and randomly, just a few months before I got the call from BOOM! It made a huge impression on me when I first saw it in high school—it was one of the darkest and funniest sci-fi movies I'd ever seen. In contrast, I only knew Big Trouble in Little China by reputation and because my good buddy Fred Van Lente had written a ton of BTILC books for BOOM! When I finally sat down to watch it, I immediately saw how much fun it would be to put Jack and Snake in the same world. I also loved the fact that BTILC included so many great Asian-American roles, which made it stand out in 1987 and, sadly, still makes it stand out today. In that tradition, you'll definitely see a bunch of fun, multi-dimensional Asian-American characters in the BTILC/EFNY series.
DF: Of course, both film franchises here are John Carpenter-directed. Did he have any say at all into this book, or play any creative role at all?
Greg Pak: The folks at BOOM! sent him the outline I wrote for the series, which apparently he loved. And then I got the chance to have a phone meeting with him last month wherein he gave us the big thumbs up and I got to pick his brain a bit about the characters. Carpenter's a legend—it's a huge pleasure working on these characters with his input and blessing.
DF: Greg, as a writer, was it hard to get the individual "voices" of the lead characters down since Snake and Jack Burton are played by the same actor, Kurt Russell?
Greg Pak: Not at all, honestly. The two characters have such distinct speech patterns. That's a big part of writing the story—Snake's so laconic and Jack's such a blabbermouth that I knew it would be a blast writing them together.
DF: What if anything can you tell us of the storyline?
Greg Pak: Jack Burton, the truck driving hero of Big Trouble in Little China, is mysteriously transported to the world of Snake Plissken, where he immediately finds himself hunted by marauders in machine-gun-equipped, armored death cars on the shattered highways of post-disaster America. And eventually he comes face-to-face with Snake Plissken himself who, strangely enough, looks exactly like Jack … minus the mullet and one eye, natch. Mayhem ensues, involving the fate of civilization and country blues music. Dontcha dare miss it!
DF: Will any of the iconic supporting characters from either movie be along for the ride? If so, which ones?
Greg Pak: Yep! Can't reveal exactly who just yet, but the story takes place after the Escape from New York movie, so any characters we use there need to have survived that story. (wink)
DF: Finally, and just as a possible salute to Russell, I wondered if any other characters he has famously portrayed on TV or film might work their way into the script for cameos. (Harkening back to Disney, the man's been acting for a while.)
Greg Pak: That would be awesome, but alas, I think licensing issues will limit us to these two roles. But these guys are more than ready for the job! It's gonna be awesome—hope you dig!
Dynamic Forces would like to thank Greg Pak for taking time out of his busy schedule to answer our questions. Big Trouble in Little China/Escape from New York" #1 from BOOM! Studios hits stores in October!
For more news and up-to-date announcements, join us here at Dynamic Forces, www.dynamicforces.com/htmlfiles/, "LIKE" us on Facebook, www.facebook.com/dynamicforcesinc, and follow us on Twitter, www.twitter.com/dynamicforces
DF'S DOUBLE "INCREDIBLE" HULK VARIANT SET-SIGNED BY STAN LEE AND GREG PAK!
PLANET HULK #1 FIRST PRINTING SIGNED BY GREG PAK!
BATMAN SUPERMAN #13 BATMAN 75 VARIANT SIGNED BY GREG PAK!
BATMAN SUPERMAN #13 FIRST PRINTING SIGNED BY GREG PAK!
BATMAN/SUPERMAN: FUTURES END #1 3-D MOTION ULTRA-LIMITED GOLD SIGNATURE SERIES ELITE EDITION SIGNED BY GREG PAK!
STORM #1 FIRST PRINTING SKOTTIE YOUNG VARIANT ULTRA-LIMITED EDITION SIGNED BY GREG PAK!
STORM #1 FIRST PRINTING SIGNED BY GREG PAK!
BATMAN SUPERMAN #12 BOMBSHELLS VARIANT SIGNED BY GREG PAK!
SUPERMAN DOOMED #1 GOLD SIGNATURE SERIES SIGNED BY GREG PAK!
SUPERMAN DOOMED #1 SILVER SIGNATURE SERIES SIGNED BY GREG PAK!
ALPHA FLIGHT #1 - (1:25) EAGLESHAM VARIANT - SIGNED BY WRITER GREG PAK!
INCREDIBLE HULK #617 - SIGNED BY GREG PAK!
SILVER SURFER #1 - SIGNED BY GREG PAK
CHAOS WAR #1 - SIGNED BY GREG PAK
WAR MACHINE #11 - SIGNED BY GREG PAK
---
NEW! 1. 11/25/2020 - STEVE SKROCE
4. 11/16/2020 - RYAN O'SULLIVAN
5. 11/16/2020 - RYAN O'SULLIVAN