JIM ZUB

SEND THIS TO A FRIEND!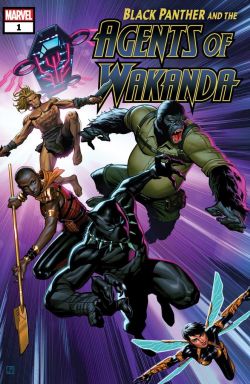 DF Interview: Jim Zub brings 'Black Panther & the Agents of Wakanda' to series in September
By Byron Brewer
Vampires. Aliens. Angry fish kings. Black Panther's hand-picked Agents of Wakanda can handle it all. And who better to lead them than the king of the world's most technologically evolved country? Wakanda is making waves on the world's map– and not everyone's a fan. With General Okoye's help, T'Challa will take Gorilla-Man, Ka-Zar, the winsom Wasp and more on a global fight for survival – to handle threats S.H.I.E.L.D. could only dream of!
From the pages of Jason Aaron's Avengers comes Black Panther & the Agents of Wakanda, put together covertly for the House of Ideas by writer Jim Zub and artist Lan Medina. To learn more about this new team-within-a-team comic, DF met with its scribe in the Solar Plexus Room of Avengers Mountain. Here's what the Zubmeister told us.
Dynamic Forces: Jim, this latest book, Black Panther and the Agents of Wakanda, is spinning out of Jason Aaron's popular current run on Avengers. When the characters were intro'd in that book as an Avengers support team, was it always conceived they would be getting their own title?
Jim Zub: I don't know internally at Marvel what the plan was in terms of giving the Agents of Wakanda their own series, but I was asked if I'd be interested in pitching on it after Avengers #12 and Thor #9 had already come out, so I saw Jason's concept for the team there and the line-up of characters and incorporated that into my pitch.
DF: I've seen coming covers, but can you give us a complete list of the characters involved in your book? Will Odin be on board? Also, I take it they will still be HQ'd at Avengers Mountain?
Jim Zub: The Agents of Wakanda are expansive, but we won't be fielding the full team all at once in every issue. The stories will utilize two- to four-member strike teams based on what each mission requires. That way we get a character-focused series of stories that keeps growing and changing.
At the start of the series, here's who's available for missions as Agents of Wakanda: Black Panther, Okoye, American Eagle, Broo, Doctor Nemesis, Fat Cobra, Gorilla Man, Ka-Zar, Man-Wolf, Roz Solomon and the Wasp.
In addition, we'll be adding members and having other characters from the Marvel Universe pop up from time to time.
DF: So, will this team be doing Avengers-types of adventures? Can you describe what direction their stories will be going?
Jim Zub: Black Panther is Chairman of the Avengers and also leader of the nation of Wakanda, a mixture of superheroics and politics that has put foreign governments in an uneasy position. Global support the Avengers took for granted no longer exists and T'Challa realizes he needs to assemble a "ground crew" to handle intelligence gathering and ops that used to be dealt with by S.H.I.E.L.D. and other espionage agencies around the world. Enter the Agents of Wakanda! This cadre of unusual characters will be tasked with dangerous quick response missions on Earth or even in other realities, gathering information about and defending the planet from threats both known and unknown.
Doctor Strange, assisted by Odin, helped T'Challa build a powerful scanner (now in orbit) that seeks out traces of extradimensional energy, providing a constant update of potential threats at points around the globe (and sometimes beyond). The largest of these threats might require the Avengers themselves to step in, but many will first be investigated and neutralized by the Agents of Wakanda, using whoever and whatever resources they have available. In this way, the AoW operate independent of the Avengers and deal with a staggering array of dangers, big and small.
DF: Beyond T'Challa, who is everywhere since hitting box office gold, who will be calling the shots for this diverse group of characters? Will this be more of an action book or will we be delving into these characters' lives and feels as well?
Jim Zub: General Okoye, leader of the Dora Milaje, is Director of the Agents of Wakanda. This new responsibility as director will test her in ways she hasn't anticipated. Her life is one of strict duty and intense concentration, but the others operate quite differently, and that's going to be a challenge for her to navigate. The team's varied backgrounds are part of their strength, but also create a lot the internal conflict as well.
Each issue is heavily focused on action, but that doesn't mean we won't be seeing character interactions and drama. I try to bring both into the mix. Each mission will reveal something about these characters and how they deal with each other.
DF: What can you tell us about the first arc as readers check out #1? Any new big-bads coming our way?
Jim Zub: Our first arc will be comprised of three missions, each two issues long. They'll all have quite different stakes and problems that need to be solved, both in terms of the threat they're facing and how it affects the agents on that mission.
In issue #1, a strange energy signal from middle-America turns a relatively routine scouting mission into a pitched battle against horrifying creatures. Where they came from and who brought them here is a mystery that gets revealed in our cliffhanger, and I think that surprise will pique a lot of interest.
So yeah, a big-bad that I don't think people will see coming, a threat that tests our crew in a big way right from the start.
DF: Talk about the awesome art of Lan Medina.
Jim Zub: Lan has been working in comics for 20 years, plugging away on beautiful artwork without sacrificing rock-solid storytelling. His work feels both contemporary and classic in all the right ways. Simply enough, Agents of Wakanda is being built as a showcase for Lan's top-notch abilities. I'm writing really wild stuff—huge action set pieces that offer a lot of artistic challenges and Lan is knocking each one right back at us with the best art of his career so far. When he works this hard on the book, it encourages me to dig down even deeper and make sure the stories we're telling are worthy of that artwork.
DF: Jim, it's a busy autumn coming for comics. What do you tell new readers – and old readers like me – to get enthusiasm for the book? (Can you do it without mentioning the word "Avengers"? LOL)
Jim Zub: Black Panther & the Agents of Wakanda is Kirby-fueled Mission: Impossible in the Marvel Universe. It's over-the-top action and unexpected twists with a cast of characters pulled from strange places in the Marvel Comics canon. This is a strike force of misfits and monsters tasked with defending humanity and that gives me the freedom to tell a huge range of stories—serious and sadistic, epic and emotional.
DF: What other projects (unrelated in ANY way to Dungeons and Dragons, LOL) can you tell our readers about?
Jim Zub: This Fall, beyond Black Panther and the Agents of Wakanda and the D&D stuff I'm working on, I'm wrapping up a three-part story in Savage Sword of Conan, taking the Champions into unexpected places, and co-writing Tony Stark: Iron Man with Dan Slott as we face the Ultron Agenda. It's big, crazy stuff and I'm excited for readers to see how all these stories play out.
Dynamic Forces would like to thank Jim Zub for taking time out of his busy schedule to answer our questions. Black Panther and the Agents of Wakanda #1 from Marvel Comics hits stores on Sept. 18th!
For more news and up-to-date announcements, join us here at Dynamic Forces, www.dynamicforces.com/htmlfiles/, "LIKE" us on Facebook, www.facebook.com/dynamicforcesinc, and follow us on Twitter, www.twitter.com/dynamicforces.
PATHFINDER VOL. 1: DARK WATERS RISING HC - SIGNED BY JIM ZUB
PATHFINDER VOL. 3: CITY OF SECRETS TRADE PAPERBACK
PATHFINDER VOL.2: OF TOOTH & CLAW TRADE PAPERBACK
PATHFINDER VOL. 1: DARK WATERS RISING TRADE PAPERBACK
---
NEW! 1. 09/16/2021 - JON TSUEI