ETHAN SACKS

SEND THIS TO A FRIEND!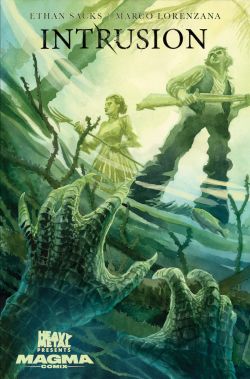 DF Interview: Ethan Sacks presents an innovative horror one-shot to flip over in 'Intrusion'
By Byron Brewer
After being cast out of Canada, the Broussard family is trying to build a new life in a "cursed" Louisiana swamp in 1766. They fight to defend their homestead... even if that puts them on a collision course with a creature that dwells in the bayou.
Intrusion, a 36-page horror comic from creators Ethan Sacks and Marco Lorenzana, makes use of the flip-book format in an innovative way to tell the story through the eyes of both the human and the monster. Always intrigued by innovation, I sat down and discussed Intrusion with my friend, scribe Ethan Sacks.
Byron Brewer: Ethan, I've got to hand it to you: you never take the easy way out. Your latest comic, Intrusion, comes from one of the newer imprints of iconic Heavy Metal, Magma Comix, and utilizes ye olde flip-book format to present two distinct views of this horror tale – one of them being the monster's?! Tell us the genesis of this coming one-shot.
Ethan Sacks: Thanks for your interest in this project, Byron. It's always a pleasure to geek out over comics with you.
As for Intrusion, the story clicked into place for me a few years ago when I learned about the legend of the Grunch. I already had a decades-long interest in the Acadian French migration to Louisiana. But the format was actually something that I was playing around with since high school, when I tried and failed to write a novel about two soldiers on opposite sides of a battlefield who would be heading towards a collision course in the middle of the book. I just couldn't crack the structure back then. But as a comic flip-book, especially fueled by the expert artwork of my creative partner Marco Lorenzana, it turned out to be the best way to tell this story.
BB: What type of book can readers expect when they grab this in September? What can you tell us about the storyline?
Ethan Sacks: Intrusion makes use of the flip-book format in what we think is an innovative way to tell the story from two very different perspectives—the human and the monster. It's a horror story first and foremost, and we spent a lot of time really honing the real-life historical background, but at its heart it's also a story about misunderstanding and prejudice. And they can expect it to look amazing courtesy of Marco, colorist Erick Arciniega, letterer Jaime Martinez, and cover artist Daniel Govar.
BB: I am a big history buff and also a lover of "Evangeline", the epic poem about Acadie by Henry Wadsworth Longfellow. Tell readers your story's connection with French Acadian history and what research both artist Marco Lorenzana and you may have done for this period horror fiction.
Ethan Sacks: Gold star for Byron! That poem is actually on page two of the 17-page research document I put together, complete with reference photos and illustrations. Because I'm a veteran journalist at heart, I tackled this by reporting out what I could; I read several history books and interviewed experts on the history of the Acadians and the Chitimacha natives in Louisiana. Marco also studied the reference photos — from Acadian costumes of the era to the flat-bottomed boats.
This may be a fantastical story, but it's rooted in real history: The exile of the Acadian French from Canada, after being forced out by the British. Some found a second chance in Louisiana; their descendants would become known as Cajuns.
BB: Ahh, "Evangeline". After I finish Intrusion, I am going to read Longfellow's poem again… Ethan, please introduce us to the Broussard family and their circumstances.
Ethan Sacks: The Broussard family are Acadians seeking a new life after being cast out of Canada by the British and having lived the last several years in indentured servitude in Maryland. Those years were rough and resulted in the death of one of their children. So when they receive the chance to own a patch of land in the bayou in Louisiana, the patriarch sees this as their second chance to build a home. Unfortunately for them (and perhaps fortunately for the readers), it's an area that's not exactly unoccupied.
BB: For non-cryptozoologists, what is the Grunch?
Ethan Sacks: The Grunch is a type of cryptid, a local legend that dates back at least to the early 1800s around New Orleans. There are all sorts of descriptions of how they look, most are some sort of variation of the Chupacabra, and there are a number of origin stories. Some say these creatures are the result of a voodoo priestess curse or the spawn of the devil or the result of generations of inbreeding by deformed societal outcasts. We came up with our own look, courtesy of Marco's twisted imagination, but the roots of the creatures have been around a long time. It takes its name from Grunch Road, a former unpaved road that snaked in and out of New Orleans, apparently the site of some mysterious disappearances. Cue the creepy music.
BB: Talk about your collaboration with Marco. It's something both of you have been wanting to do for awhile, no?
Ethan Sacks: Marco is the very first artist I worked with as a professional comic writer — on an eight page story about the reporters and editors of the Daily Bugle in the Secret Empire spinoff series for Marvel's big Secret Empire event a few years back. We had such a great experience we vowed to work together again. It took a few years, but we started working on a different creator-owned project. Then this opportunity with Magma Comix came up and we couldn't pass it up.
BB: I know the Magma Comix imprint is relatively new, but how does it feel to work with such an iconic brand as Heavy Metal? Is this your first work for them?
Ethan Sacks: I grew up with Heavy Metal in the '80s so that was a huge draw, but an even bigger lure was the chance to work with Denton Tipton, a legend in this business. The Magma Comix imprint is his baby, and he is building it as a haven for creators to dream big and dream innovatively. I will forever be grateful that Denton had the faith and foresight to greenlight a project that didn't fit in one of the industry's round holes — it's neither a serialized mini-series nor graphic novel length. And it's a flip-book on top of all that! But we really wanted this to be a single story that a curious reader could pick up at their local comic store and get a self-contained story for a good price.
BB: Ethan, what other projects might you be involved in that you can tell readers about?
Ethan Sacks: There are a couple of Marvel projects in the works … and perhaps another creator-owned project. But unfortunately, I'm still at the I'd-tell-you-but-then-I'd-have-to-kill-you stage of the process. In the meantime, readers can continue to check out my run on Star Wars: Bounty Hunters with artist Paolo Villanelli and colorist Arif Prianto! We're in the midst of an amazing event called "War of the Bounty Hunters," masterminded by the amazing Charles Soule, that ties into all the Star Wars books.
Dynamic Forces would like to thank Ethan Sacks for taking time out of his busy schedule to answer our questions. The Intrusion one-shot from Magma Comix/Heavy Metal is slated to be on sale Sept. 22nd!
For more news and up-to-date announcements, join us here at Dynamic Forces, www.dynamicforces.com/htmlfiles/, "LIKE" us on Facebook, www.facebook.com/dynamicforcesinc, and follow us on Twitter, www.twitter.com/dynamicforces.
KISS: ZOMBIES #1 - GENE SIMMONS SIGNED VIRGIN PHOTO COVER
KISS: ZOMBIES #1 - STUART SAYGER LIMITED VIRGIN COVER
KISS: ZOMBIES #1 - CGC-GRADED PHOTO COVER
KISS: ZOMBIES #1 - ARTHUR SUYDAM LIMITED GRAYSCALE VIRGIN COVER
---
NEW! 1. 09/23/2021 - CONOR MCCREERY & NEIL GIBSON