NEIL VOKES

SEND THIS TO A FRIEND!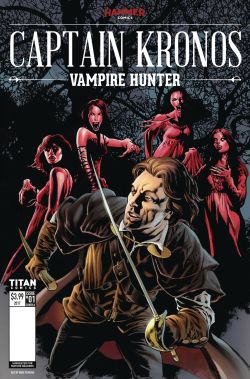 DF Interview: Neil Vokes unleashes old school horror this summer in Dark Tales from the Vokesverse
By Byron Brewer
This summer, fans of classic horror will receive a very special treat. Neil Vokes -- the incredible illustrator and creator of comics like Eagle, The Black Forest and Flesh & Blood -- is unleashed to tell new and classic tales of terror in a brand new anthology. If you love all things creepy and crawly, prepare for old school horror and modern storytelling to collide in a one-of-a-kind new series.
In our Dynamic Forces interview today, Vokes answers questions about this upcoming project, Dark Tales From The Vokesverse.
Dynamic Forces: Neil, to the best of my memory, you have been illustrating comic book nightmares (so to speak) for over 30 years now. Let's take a little time and tell us about your career.
Neil Vokes: Well... I've been telling stories in comic books professionally now for just over 32 years. In 1984, I was assigned the Japanese cartoon based Robotech series for Comico Comics. This led to my co-creating Eagle, which my partner, Rich Rankin, and I self-published for several years through Crystal Comics (our own label.)
As time went on, I was lucky to have gotten more work in mainstream comics and several more creator-owned titles, including: Superman Adventures; Tarzan the Warrior; Untold Tales of Spider-Man: Strange Encounters; Teenage Mutant Ninja Turtles; Jonny Demon; Teenagents; Congorilla; Ninjak; Parliament of Justice; The Black Forest Vols1 and 2 (Bob Tinnell, Todd Livingston and I won Rondo Awards for both volumes);The Wicked West Vols 1 & 2; Flesh & Blood (Bob and I won a "Ghastly Award" for Best Original Graphic Novel) and Dr. Strange: From the Marvel Vault #1. I've left quite a few out due to space and humility ... well, OK ... just space.
I also did chapter illustrations for two film books: In All Sincerity, Peter Cushing by Chris Gullo, and Vincent Price: The Art of Fear by Denis Meikle.


I'm now working on new Eagle and Death's Dark Angel books (with several spin-off titles) along with several horror-related titles (among others) through American Mythology.
DF: Of all the characters you have illustrated/created, which one means the most to you, personally? Is there a character you would like to see return to the comic book pages that may have been gone quite a while?


Neil Vokes: Eagle means the most to me. It was the first published work I did that wasn't "work for hire" (that is, along with co-creator Rich Rankin). I had done many stories before becoming a pro artist (best to forget most of them, save for what I learned telling my own stories).
Most are being resurrected by the very generous American Mythology. There are a few more that I'd love to return to someday, including Jonny Demon and Teenagents (with writer Kurt Busiek), Parliament of Justice (with writer Mike Oeming), The Black Forest and Wicked West (with writers Bob Tinnell and Todd Livingston) and Flesh and Blood (with Bob)
DF: Who were some of your inspirations in the field of comic book illustration?


Neil Vokes: The usual giants of the industry: Kirby, Gil Kane, Alex Toth, Ross Andru and Steve Ditko among others. (I look on them as mentors who taught me while being totally ignorant of that fact.)
DF: I normally associate your name with the horror genre. Is this your favorite in which to work, and if so, why?


Neil Vokes: I never thought that I was associated with horror until more recently, when many of my graphic novel works were in that genre. I have done a few horror-related things before that, including Fright Night and Blood of Dracula, but mostly I did superhero and adventure books. But looking back over three decades I guess, yes, that IS my preferred genre.
I've always loved movies, since I was a kid, and horror (and western) films most of all! The books I do have all essentially been 2D movies, in a way.
DF: There are a lot of new stories coming in Dark Tales from the Vokesverse. Tell us about a few of them, and some of the great writers you will be working with.


Neil Vokes: There's Claws of Frankenstein Island with new writer David Zuzelo, an old friend and fanwho, like me, has always enjoyed the fantastic films of so-called Exploitation Cinema (Jess Franco, Paul Naschy, etc.) and old pulp horror/adventure paperbacks. Claws will certainly be tapping into those influences as the story progresses. Novelist James R. Tuck and I are doing a horror story called Shadows Over Whitechapel, with elements of Gotham by Gaslight, H. B. Lovecraft, Dr. Jekyll and Mr. Hyde, and Jack the Ripper (though this only gets a single page promo in the first Dark Tales; more to come).
I've written/drawn a story with a character of mine called Marc (of the Vampires), I've been trying to do something with him for many years. Most of the stories have seen limited print in several different books, but are probably virtually unknown to the mass audience. These were written by writer friends of mine such as Jack "Eagle" Herman, Bob Tinnell, Todd Livingston and James Kuhoric.
DF: Just as an aside, and since you mentioned it, I noticed your cult classic hero Eagle is appearing in new adventures again, courtesy of American Mythology. For the uninitiated, tell us about the vigilante Richard Eagle and what he will be up to in that series.


Neil Vokes: Richard Eagle is a martial arts master swordsman who is virtually immortal. With a mysterious, otherworldly symbiotic orb within his body, he battles to bring justice to his megalopolis home of Crystal City.
As to what he'll be up to, I'd rather let the readers discover that for themselves. But needless to say, it will be in the same vein as his past adventures.
DF: Neil, any other projects underway you can talk about?


Neil Vokes: The newest projects will be the aforementioned Shadows Over Whitechapel, an as-yet untitled sci-fi adventure with touches of New Gods-like situations and some Prof. Quatermass thrown in (written by Jack Herman), several others and hopefully more Eagle.


With any luck, I'll get to most of them before shuffling off this mortal coil.
Dynamic Forces would like to thank Neil Vokes for taking time out of his busy schedule to answer our questions. Dark Tales from the Vokesverse #1 from American Mythology hits stores Aug. 31st!
For more news and up-to-date announcements, join us here at Dynamic Forces, www.dynamicforces.com/htmlfiles/, "LIKE" us on Facebook, www.facebook.com/dynamicforcesinc, and follow us on Twitter, www.twitter.com/dynamicforces
DOCTOR CYBORG: OUTPATIENT Neil Vokes art
---
NEW! 1. 11/30/2020 - SKYLAR PATRIDGE
5. 11/16/2020 - RYAN O'SULLIVAN