CULLEN BUNN

SEND THIS TO A FRIEND!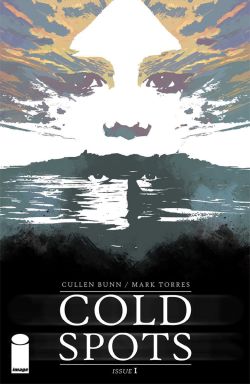 DF Interview: Cullen Bunn begins a chilling new horror miniseries in Cold Spots
By Byron Brewer
Ten years ago, Dan Kerr turned his back on his wife and unborn daughter. Now, both mother and child have gone missing, and Dan must face cosmic terrors to find them again. He soon finds that ghosts stir when his estranged daughter is near. And as the dead grow restless, the cold deepens.
Psychological terror, the undead and a supernaturally bitter chill come together in Cold Spots, a spine-tingling miniseries from writer Cullen Bunn (Regression, Harrow County) and artist Mark Torres (Zombies vs. Robots: Undercity).
DF sought out the scribe to get the rest of the 411 for you.
Dynamic Forces: Oooh, Cullen, Cold Spots sounds like one of those multi-layered horror tales that is right up your alley. Moody. Am I correct, and tell us how this miniseries came about.
Cullen Bunn: Definitely a moody horror story. It starts as a mystery, turns into a gothic ghost story, then becomes sort of a tale of cosmic level terror. This miniseries, which could be the start of a much bigger story and world, started with the notion of temperature dropping when spirits were present. I wanted to take that to a deadly level. And then take it even further.
DF: Before we begin with the book proper, what is the allure this certain genre has for you as a wordsmith?
Cullen Bunn: Are you asking "Why horror?" Because that is a tough, tough question. Every time I answer it, I say something a little different.
I've long felt that horror, when done right, can provoke the strongest emotional response in the reader. As Lovecraft said, the oldest and strongest emotion of mankind is fear.
Horror is truth, to some degree. Dig deep down into the core of our beings, deep into our subconscious, and you'll find that we're all very, very afraid. Cold Spots, for instance, is about fears I have as a parent… the fear of fowling everything up… the fear of losing the connection between parent and child… the fear of something awful happening to a child. So, writing a story like this helps to exorcise those fears. Hopefully, it helps the reader deal with them too.
But, really, the name of the game is entertainment. And horror is fun.
DF: Introduce us to Dan Kerr, if you would please… as a man, and as a character.
Cullen Bunn: Like many of the characters I write, Dan is not a good guy. He's a bit of a sleaze. He has done some bad things, and he's willing to do more bad things for money. He doesn't care about anyone but himself, so he has a lot of room to grow. He is brought into this story when he is hired to find his missing ex-wife and the daughter he didn't know he had. This, as you can imagine, can shake a guy up and cause him to start reevaluating what he holds dear.
DF: Tell us more about Kerr's wife and daughter in the saga, and how the baggage that Dan carries affects the way he lives.
Cullen Bunn: Alyssa (Dan's ex) and Grace (his daughter) have gone missing. At first, this is the kind of thing Dan might brush off. In the past, he was paid by Alyssa's father to get out of her life. Like I said, he's not a nice guy. But as he investigates their disappearances, he starts to think about his own failures as a husband, as a man, and as a father (chief among those failures is that he didn't even know he had a kid). Can he change as a person and be the man his estranged family needs him to be?
All this is complicated, of course, by the fact that spirits grow very, very restless around Grace. The ghosts are drawn to her. And the cold is drawn to the ghosts.
DF: Aside from the Kerrs, any other characters for whom we should be on the lookout?
Cullen Bunn: Alyssa's father, Arthur, is important in kicking this story off, but the people you should really look out for are the Quarrels, an old degenerate family who lives in a moldy, crumbling mansion on Quarrels Island. They are cunning, ruthless and dangerous. They have insidious designs in mind for poor Grace.
DF: Even Mark Torres' cover for issue #1 gives me shivers and evokes that cold, cold feeling you might have in a spooky old manse on a dark winter's night. Talk a little about Mark as the artist and what he brings to this table. (Spooky!)
Cullen Bunn: We talked a lot about ambiance and mood, and Mark delivers on those fronts. We both wanted this book to feel COLD. We wanted the reader to sense dampness and cold seeping into their bones as they read the book. We wanted them to worry that cold, misty fingers might be reaching out for them from behind. As a designer and artist, Mark brings that to life… or at least to unlife!
DF: Aside from Cold Spots, what else is on the comic book shelf from Cullen Bunn for the month of August?
Cullen Bunn: Oh, I'm sure there are a number of comic books coming out around the same time. For instance, Bone Parish, another horror story from BOOM! Studios, will be starting in July, so the second issue will be hitting the shelves in August. Also… writing adjacent… is that I am co-sponsoring a first-year convention with my local comic book store. The convention, Cave Con in Springfield, MO, is in September, so I'm sure I'll be busy with that too!
Dynamic Forces would like to thank Cullen Bunn for taking time out of his busy schedule to answer our questions. Cold Spots #1 from Image Comics hits stores Aug. 22nd!
For more news and up-to-date announcements, join us here at Dynamic Forces, www.dynamicforces.com/htmlfiles/, "LIKE" us on Facebook, www.facebook.com/dynamicforcesinc, and follow us on Twitter, www.twitter.com/dynamicforces.
DEADPOOL: SPECIAL MISSIONS #1 SIGNED BY CULLEN BUNN
VENOMVERSE #1 ULTRA-LIMITED SYMBIOTE SILVER EDITION - SIGNED BY CULLEN BUNN
X-MEN: BLUE #1 SKOTTIE YOUNG VARIANT ULTRA-LIMITED BLUE SIGNATURE SERIES SIGNED BY CULLEN BUNN
X-MEN: BLUE #1 ULTRA-LIMITED BLUE SIGNATURE SERIES SIGNED BY CULLEN BUNN
DARTH MAUL #1 ULTRA-LIMITED CRIMSON RED SIGNATURE SERIES EDITION SIGNED BY CULLEN BUNN
MONSTERS UNLEASHED #1 SIGNED BY WRITER EXTRAORDINARE CULLEN BUNN
DEADPOOL BACK IN BLACK #1 SIGNED IN BLOOD RED BY CULLEN BUNN
MICRONAUTS REVOLUTION #1 SIGNED BY CULLEN BUNN
IDW'S REVOLUTION #1 SIGNED BY CULLEN BUNN
---
NEW! 1. 01/21/2021 - RORY MCCONVILLE
5. 01/07/2021 - DARICK ROBERTSON