DAN PANOSIAN

SEND THIS TO A FRIEND!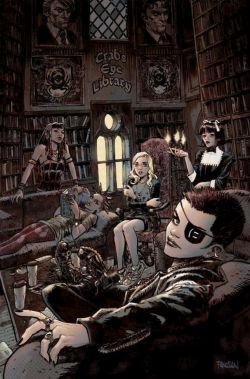 DF Interview: Dan Panosian spins a supernatural mystery in 'An Unkindness of Ravens'
By Byron Brewer
Not all the witches burned during the Salem Witch Trials—and the ones that survived did so together, protecting the ancient secrets entrusted to them for generations. They call themselves the Ravens.
Wilma is the new girl in school, and she plans to go completely unnoticed—except that she bears an eerie resemblance to the Raven member Waverly, who just went missing. The truth behind Waverly's disappearance will put the entire coven in danger—and Wilma will have to rely on powers she never knew she had if she wants to save her new friends.
From BOOM! Studios comes a new five-issue miniseries, An Unkindness of Ravens, written by acclaimed cartoonist Dan Panosian (Slots) with art by Marianna Ignazzi. DF wanted to learn more about this teen supernatural mystery, so we walked to the middle of the haunted forest to chat with Dan Panosian.
Dynamic Forces: Dan, this is a very interesting concept for a new limited series (which I could see becoming an ongoing very easily). Is this something you have had on the backburner a while?
Dan Panosian: I've always been fascinated by the occult, secret organizations and stories that span generations. Ideally, there's an opportunity to tell the full story, which would span five story arcs.
DF: Tell us what you can about the Ravens as a group, then (in old Salem, Mass.) and today.
Dan Panosian: The Ravens are a secret coven descended from the escapees of the infamous Witch Trials, hellbent for revenge on the patriarchal hierarchy responsible for hunting their ancestors centuries ago.During the trials, many went into hiding. They had to in order to survive. Fueled by vengeance, they thrived. Unlike fairy tales witches, they didn't wear pointy hats. They became lawyers, judges, business owners. The Ravens insured their survival and have been carefully plotting their revenge.
DF: I take it Wilma will be our POV character, at least in the beginning. Whether or not that is true, tell us about the character and also her connection (if any) with the Raven Waverly (spoiler-free, of course).
Dan Panosian: The day Wilma Farrington arrives at her new school, she learns that a girl (Waverly … yes, both names start with "W" – and that becomes important later) has gone missing and notices that the clique the missing girl was a part of seems to be keeping a very close eye on her. Weird coincidences between Wilma and Waverly keep popping up as well. She's also given her old locker and all of her old seats in her classes (which she'll discover contain carved-in clues to her disappearance). It's almost like she's the NEW Waverly. Wilma begins to suspect the Ravens may have killed her and that she's next on their list. Luckily, she's met another new kid in town more spooked out about the Ravens than she is.
DF: Who are the other Ravens in the "coven"?
Dan Panosian: Vikki Bishop is clever and a bit scary, she appears to be the leader of the Black Ravens. Everyone in school talks about her but no one talks directly to her, except her four, now three, close friends... Rumor has it she throws a nasty uppercut. Supposedly a linebacker on the football team picked on her boyfriend and he was drinking milkshakes for six weeks after they had "a talk".
Xoey and Zaida are African American sisters and no one is quite sure which one is the evil twin – mainly because they enjoy that no one can tell them apart. When they're together, they do annoying things like finish each others' sentences and sometimes speak simultaneously. It's best not to trust them.
Yana is the most approachable Raven in the group. She's half Native Asian, half Caucasian. She has a good sense of humor, considering one of her best friends is missing, which is a bit off-putting for Wilma.
DF: I just know there is a big-bad lurking somewhere in here? Any clues for dedicated readers-to-be?
Dan Panosian: Clues? NEVER! Alright, fine – here's one: The Witch Trials were a big misdirect on behalf of the witnesses and plaintiffs. They were the ones really practicing black magic. But when it comes to revenge, sometimes you have to fight fire with fire.
DF: Did you REALLY say "Revenge is a dish best served monthly"?! (laughs) Love it!
Dan Panosian: I did. I was going to apologize, but since you like it...!
DF: Tell us about the moody art of collaborator Marianna Ignazzi.
Dan Panosian: The good news is that, along with being extremely talented, Marianna is one of those rare artists that can handle a monthly comic book schedule!
I noticed her work a while ago. I believe it was her Instagram account. www.instagram.com/marianna_ignazzi It's very fresh, but it also has a timeless quality to it. With a story that has so many nods to the past, her unique approach was a perfect fit for a book like this.
The color artist, Fabiana Mascolo www.instagram.com/bibidoodles is another fantastic artist in her own right. Combining their skills... I can't wait till you see the first issue. They both did amazing jobs.
DF: Dan, what can you say about any projects of yours coming up in the near-future?
Dan Panosian: I'm writing another book at AWA/Upshot that hasn't been announced yet. I wish I could tell you more about it and the all-star talent illustrating it but... you know how that goes! I'm also adapting a novella by a world famous science fiction author that will be out sometime around Christmas. It's a true graphic novel, in the sense that it's not a collected volume of individual comic book issues – it's one 75-page story. It's hard to say I'm writing the book, since it's an adaptation, but I'm also drawing and coloring it. And lastly, I have another book I'm doing the art chores on and some nobody [Scott Snyder] is handling the writing. Again, I wish I could announce it here – but this just gives us another opportunity to chat in a few months!
Thanks Byron! Cheers!
Dynamic Forces would like to thank Dan Panosian for taking time out of his busy schedule to answer our questions. An Unkindness of Ravens #1 from BOOM! Studios is slated to hit stores Sept. 23rd!
For more news and up-to-date announcements, join us here at Dynamic Forces, www.dynamicforces.com/htmlfiles/, "LIKE" us on Facebook, www.facebook.com/dynamicforcesinc, and follow us on Twitter, www.twitter.com/dynamicforces.
THE LEGEND OF SUPREME #1 - SIGNED BY JEFF JOHNSON AND DAN PANOSIAN
UNCANNY #1 DAN PANOSIAN "BLACK & WHITE" MIDTOWN EXCLUSIVE
JAMES BOND ORIGIN VOL. 2 HARDCOVER
GARTH ENNIS' RED TEAM VOLUME 2: DOUBLE TAP, CENTER MASS TRADE PAPERBACK
UNCANNY #1 EXCLUSIVE SUBSCRIPTION VARIANT
---
NEW! 1. 11/25/2020 - STEVE SKROCE
4. 11/16/2020 - RYAN O'SULLIVAN
5. 11/16/2020 - RYAN O'SULLIVAN