PAUL TOBIN

SEND THIS TO A FRIEND!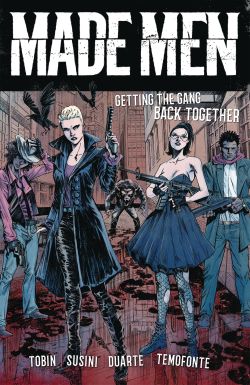 DF Interview: Paul Tobin gets the gang back together in the Made Men TPB
By Byron Brewer
When Jutte Shelley and her squad are gunned down in an ambush, it looks like the end for the Detroit police officers, but Jutte comes from a very storied family… named Frankenstein. Using the secrets of her ancestors, Jutte enters the family business of resurrection, bringing her squad back from the dead. Sort of. As long as you don't look too close. Eager for revenge, they've no choice but to team with the Detroit mob, using them for the resources to find the lowlifes who did them in, now that Jutte has quite literally gotten the gang back together.
From writer Paul Tobin and artist Arjuna Susini comes a new trade from Oni Press, Made Men: Getting the Gang Back Together. To learn more, DF talked to the mad scient… er uh, wordsmith himself, Paul Tobin.
Dynamic Forces: Paul, right out of the gate (as we say here in Kentucky horse country), who came up with this tome's title, which is a genius double entendre?
Paul Tobin: That was me. I was musing over possible titles and this one just totally stormed the castle and kicked in all the doors.
DF: This year being the 200th anniversary of Mary Shelley's immortal and imaginative horror tale, it seems appropriate this TPB focuses on a member of the Frankenstein family… and – AND – her last name is Shelley! Love it! So give readers, please, the backstory of how the original comic book collected in the trade came to be.
Paul Tobin: I'd been thinking for a long time about the slew of police / detective procedurals on the airwaves, and in particular how at the end of each episode the murder (it's ALWAYS murder) is solved. But I was thinking in terms of how the murder wasn't EVER solved. It was just that the murderer was revealed. Not the same thing at all. I wanted a lead character who could actually solve the murder itself, reverse the course of death. And that's where the Frankenstein family entered the picture. I'd been working, at the time, on a big Prometheus / Aliens / Predator crossover with some friends, and we had "Frankenstein" as a theme, and so it just clicked to add these two elements together in my head, and the genesis of Made Men was on the way.
DF: Introduce us to Jutte Shelley.
Paul Tobin: Jutte was born out of my feelings for the Frankenstein family, and their experiments. In particular, my thoughts on, are the experiments ethically right, or wrong? Really, they're both. And not just a little ways in either direction. They're somehow absolutely right, and also terribly wrong. And that's the kind of character I wanted Jutte to be. She's either doing the right thing for all the wrong reasons, or doing the wrong thing for all the right reasons. She doesn't know herself. I wanted a complex character. I wanted someone that I could bring to life, and create my own Frankenstein.
DF: Who are some of the other protagonists?
Paul Tobin: There's Gemini, who's a lot of fun to write, because in order to save anything of two of her friends, Jutte had to link their minds together, causing all sorts of fun-to-write complications. And Leo, a friend that Jutte failed to save, although she did manage to put an actual lion's head (and brain) on a human body. In addition, there's Ex, a man that Jutte used to date, but they had a bad enough breakup that Jutte REALLY had to consider bringing him back from the dead. And then probably the most interesting to write is Hadry, a woman who's the result of Jutte not being able to save a friend's brain, but still wanting to preserve the body, so Jutte dipped into the family "reserves" and nabbed a brain from an early Italian suffragist, a political rabble-rouser, a woman who was executed in a quasi-legal fashion for the crime of being an outspoken female. Hadry is lesbian as all hell, active as all hell, loving the modern world, and rarely chooses the right time to speak or the proper thing to say… but she loves it all. Hadry's fun to write because of all that, but also because she's a link to the past, and her role in the formation of the Frankenstein legacy has yet to be revealed.
DF: In non-spoilery terms, can you give us any clue at all about the lowlifes who gunned down a squad of Detroit's Finest?
Paul Tobin: I can say that they're a mess of conspiracies, and that some of it goes back far longer than Detroit itself. There's some dark secrets involved, and a mastermind who's playing the long game.
DF: What kind of research, if at all, did you and/or artist Arjuna Susini do on the environs of Detroit and the Frankenstein mythos?
Paul Tobin: I spend a fair amount of time, when I'm working on scripts, jumping onto the internet and providing reference for Arjuna to work from. I don't like writers who just say, "Detroit street" and then move on, so I try to provide Arjuna with as much possible reference for proper looks of streets, buildings, police cars, police uniforms, all that stuff. It also helps build the story from my side.
DF: Speaking of the Italian artist, talk about the works of your collaborator, Arjuna, and the color stylings of Gonzalo Duarte. How does their work embellish your scripts, set the mood, etc.?
Paul Tobin: Arjuna is PERFECT for Made Men. He's got grit to his artwork. I feel like everything's happening in a greasy back alley, and that I can smell the car exhaust, the bum piss, the colognes and perfumes, a hint of cordite. And Gonzalo really adds to that as well. Plus Arjuna is good at characters who don't just look like slightly altered versions of stock bodies. He gives everyone their own presence, and then chooses off-kilter angles to showcase the events, so that there's always an unbalanced sense of menace. I love it.
DF: Paul, I know you are excited to have this work in trade this fall. But what other projects present or near-future can you let readers know about?
Paul Tobin: There's my weekly Messenger comic over on Webtoons (free!) and I have a good number of Plants vs. Zombies graphic novels on the way. Then there's more of my multiple Eisner-award-winning Bandette series with my wife, Colleen Coover. Colleen and I will also be co-writing a series of graphic novels, working with another artist. And I have two series I can't discuss much, yet, one where I explore my love for fantasy RPGs, and another where I delve into my fascination with the intersection of romance and horror. Plus I have the novels: more novels for middle grader readers, and then one for a somewhat older audience, and then I'm currently working on a sequel (of sorts) to my first novel, Prepare to Die. I'm sure I'm forgetting something else. I keep pretty busy!
Dynamic Forces would like to thank Paul Tobin for taking time out of his body… er uh, BUSY schedule to answer our questions. The Made Men: Getting the Gang Back Together TPB from Oni Press hits stores July 11th!
For more news and up-to-date announcements, join us here at Dynamic Forces, www.dynamicforces.com/htmlfiles/, "LIKE" us on Facebook, www.facebook.com/dynamicforcesinc, and follow us on Twitter, www.twitter.com/dynamicforces.
AVENGERS ACADEMY GIANT-SIZE #1 - SIGNED BY PAUL TOBIN!
SPIDER-GIRL#1 (OF 5) - SIGNED BY PAUL TOBIN
MARVEL ADVENTURES SPIDER-MAN #59 - SIGNED BY PAUL TOBIN
TWO BOOK SET! BLACK WIDOW AND THE MARVEL GIRLS #1 AND #2 - SIGNED BY PAUL TOBIN
THE BIONIC WOMAN VOL 1: MISSION CONTROL TPB
TUROK: DINOSAUR HUNTER VOL. 3 TRADE PAPERBACK
THE KING COLLECTION TRADE PAPERBACK
---
NEW! 1. 11/25/2020 - STEVE SKROCE
4. 11/16/2020 - RYAN O'SULLIVAN
5. 11/16/2020 - RYAN O'SULLIVAN