BRANDON EASTON & TONY VARGAS

SEND THIS TO A FRIEND!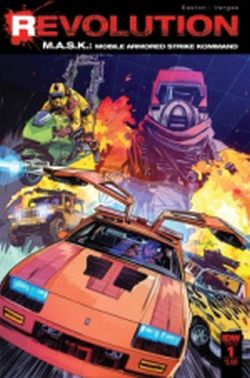 DF Interview: Fast and furious-ly, Brandon Easton & Tony Vargas bringing M.A.S.K. into the 21st century
By Byron Brewer
Any kid who rushed home to watch G.I. Joe and Transformers after school probably had M.A.S.K. on their TV and in their toy boxes too. And this fall, super-powered masks and transforming vehicles are revving up pop culture again with a high-octane hero's origin story.
Writer Brandon Easton and artist Tony Vargas are putting a Fast and Furious spin on the mid-1980s franchise with a new M.A.S.K. comic book debuting from IDW.
Excited? Us too! So DF set out to learn more from Messrs. Easton and Vargas.
Dynamic Forces: Brandon, how did you come to be attached to the revival of such an iconic '80s franchise as M.A.S.K., now coming to comic books? Was it something you pitched?
Brandon Easton: I've been pitching stuff to IDW for a while now after being introduced to some of the editors at conventions in 2014. Eventually that led to me getting the opportunity to work on Transformers: Deviations and then I was asked to submit a pitch for M.A.S.K. I wasn't the one who came up with the idea since Hasbro and IDW already had a pretty cool framework in place.
DF: As writer, are there any changes being made in the concepts of M.A.S.K. to bring it in line for modern comics readers? If so, tell us about some of those?
Brandon Easton: Most of those changes will be a surprise for readers -- however, there was a need to update the visual style of the technology and vehicles to a 21st century aesthetic. It's all going to be less blocky and more streamlined like the hardware we use today. I've stripped away many of the campy elements from the cartoon and replaced that with an intense focus on character development. The show had a rotating cast of heroes and villains that were one-dimensional and for this comic to work, we have to give these characters real personalities and potential for growth and change. There won't be a reliance upon the status quo.
DF: What can you tell us about the main cast?
Brandon Easton: The best way to describe them is to think of the Fast and the Furious franchise. You have a diverse assortment of men and women who initially exist in a morally grey area yet they all ultimately grow to make heroic choices in the face of deadly situations. These won't be cookie cutter good guys and bad guys; they'll be well-rounded characters with flaws and insecurities who will have to adapt to the otherworldly circumstances around them.
DF: Tony, I am sure as artist on a property with such a fan base, there will be "throwbacks" as well as some updating in designs. Tell us what is old and what is new in M.A.S.K.
Tony Vargas: The names are old. Everything else is new! That's about as much as I can divulge right now.
I find this is a tough question to answer, because I'm sure there are some out there who feel that too much deviation from the original content can set a negative tone for all those who used to love the series. However, I feel if you have a chance to make something different and still maintain a certain level of familiarity, you've got the best of both worlds.
Going into the design phase of this book, I hoped to create a memorable look and feel that doesn't unseat what you loved about the show, it enhances it.
DF: As you mention, what can you tell us about the "look/atmosphere" for this new series and how you are achieving that?
Tony Vargas: Some things are still evolving as we get further and further into the development of the book. I can tell you that I don't foresee us taking a darker approach to the book. Too many times (specifically in movies) you see creators taking something that was colorful and vibrant, then they start drenching everything in shadow as though it's the only way to make it grown-up and relatable. I don't see us handling M.A.S.K. that way. I think there is a way to maintain the in-your-face color and neck-breaking action while not making it seem too simple.
DF: Were you fans of the cartoon show? Do you have a favorite character in the comic as yet – and if so, why?
Brandon Easton: I watched the show when I was a kid and I remember enjoying a few episodes here and there. It's definitely a product of the 1980s! I'm enjoying all of the characters so far, but I'm very interested in seeing how the fans respond to [our] versions of Sly Rax, Gloria Baker and Vanessa Warfield.
Tony Vargas: I had a REALLY big blanket that had the M.A.S.K. logo on it as a 4-year-old kid. It belonged to my brother and at some point I just kept it.
Presently in the comic, I'm always very drawn toward designing the female characters, so right now Gloria Baker is my fave. I'm going to try working some cool effects regarding her M.A.S.K. functions. Gloria's M.A.S.K. can help her hack into any system and uses a kind of holographic interface with voice commands. Should be fun to see and I really want to make that happen.
DF: Tell me about working together on this book, the creative process.
Brandon Easton: Tony has been a pleasure to work with. His designs have been incredible and when his artwork is released people are going to lose their minds. As a comic book writer, I try to give clear directions within the outlines and scripts, but I am of the belief that the artist should always have plenty of room to experiment and offer their interpretations of the material.
Tony has gone above and beyond what I expected as his conceptual art is astonishing. That's all I'm going to say.
Tony Vargas: He makes the stories, I draws them. (smiles)
In the pitch that Brandon made, I saw a fresh approach that I was really excited for. I didn't know how much of it IDW or Hasbro would go for, but I was hoping they'd be on-board with all of it!
Brandon is a top notch talent and I'm proud to be heading the project with him.
DF: What other projects are you working on you might want to mention?
Brandon Easton: As I mentioned before, there's Transformers: Deviations and last year the critically-acclaimed graphic novel Andre the Giant: Closer to Heaven was released. I produce a podcast called Writing for Rookies (writingforrookies.podcastpeople.com) that gives real, practical advice for aspiring writers of sci-fi, fantasy, TV and comics.
Tony Vargas: I like to take my projects one at a time, so I'm wrapped up in M.A.S.K. right now. I've been working on a pitch of my own, but the time for that is not yet nigh.
Just wrapped a Teenage Mutant Ninja Turtle table top game for IDW Games. That was fun! Going to be doing more work on that soon as well.
Dynamic Forces would like to thank Brandon Easton and Tony Vargas for taking time out of their busy schedules to answer our questions. M.A.S.K. #1 hits stores in November!
For more news and up-to-date announcements, join us here at Dynamic Forces, www.dynamicforces.com/htmlfiles/, "LIKE" us on Facebook, www.facebook.com/dynamicforcesinc, and follow us on Twitter, www.twitter.com/dynamicforces
---
NEW! 1. 11/25/2020 - STEVE SKROCE
4. 11/16/2020 - RYAN O'SULLIVAN
5. 11/16/2020 - RYAN O'SULLIVAN