MAX GADNEY

SEND THIS TO A FRIEND!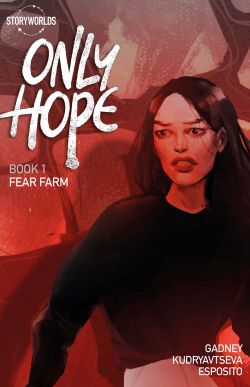 DF Interview: Max Gadney explores fear in the age of social media in 'Only Hope: Fear Farm'
By Byron Brewer
Last October, Max Gadney announced the founding of his UK-based graphic novella publisher, Storyworlds, and the first of its catalog. Among those books was Only Hope: Fear Farm.
On a remote Pacific island where moderation staff filter the internet for extreme material, Hope Farrar, a new employee, discovers a terrible secret and vows to fight back.
From writer/publisher Max Gadney with art by Ksenia Kudryavtseva comes Only Hope: Fear Farm, a suspenseful and profound sci-fi tale of one woman's battle against social media conspiracy. I wanted to learn more, so I sat down with Max Gadney.
Byron Brewer: Max, I cannot imagine a more timely tale for Storyworlds Media, your UK-based publishing house, to launch with than Only Hope: Fear Farm. Internet addiction and fear-mongering in media and politics, as well as other aspects of the script, certainly speak to early 21 st century life. Tell us a little about the genesis of this story, how you created it.
Max Gadney: Thanks. Our muse at Storyworlds is 'fantastic subversion'. This means talking about the ills of the world in an amplified manner. Only Hope is a 'workplace horror'. The workplace is so known to us and yet, also in the 'unheimlich / uncanny' concept, still unknown, mysterious and full of potential weirdness.
The workplace we chose was a Big Tech company. I'm no luddite. They do a lot of good, but there are also many ills, principally their refusal to control the streams of toxic content they pump into our culture. These companies insist on being regulated as communications companies, like phone companies, so they cannot be held accountable for the content that flows through them. If they were regulated as media companies they'd never get away with all the lies, conspiracies and hate that floats out. So the way they placate regulators is with the bare minimum of policing by moderation farms where often Global Southern employees spend hours looking at the absolute worst of humanity without any counseling. This is the hell-hole into which we dropped our hero, Hope.
BB: A step sideways for a second: Tell readers about Storyworlds' Graphic Novella format. What makes it different from a graphic novel?
Max Gadney: At 64 pages, they are a little shorter than a traditional graphic novel, but they allow us to tell a complete story in one read. This format is popular for ongoing series and one-shots in the European comics market, that is roughly 70% as big as the U.S. market. So it's a format we know has traction.
A book this size helps new readers find an entry point to a new story without having to navigate through monthlies and it helps stores sell them as they don't go out of date.
BB: This book certainly has a believable and worthy protagonist in Hope Farrar, whose given name lends so much to the title of this first book by its ending. Introduce Hope to readers here, if you would, and tell a little about her, and what her friends are up to that begins the intrigue and chaos.
Max Gadney: I wanted to speak to the universal experiences of young people trying to start their lives and careers and what happens when they encounter challenges in a heightened and, in this case, horrific way. It's a horror comic and it's fun to stick to the idea of the gang of friends as they embark on a path together.
Hope is not necessarily their leader, but we see that she doesn't have the privilege of her friend Gina and early on we see her dilemma between earning a living and doing the right thing. Her friends reflect these quandaries. Ksenia's portrayal of Hope, the likeable, cautious, mindful hero is spot on. Throughout the series we will see her develop her strength of conviction and sense of morality. It is a book about ethics.
BB: Can you briefly spotlight Gina and some other of Hope's friends?
Max Gadney: Gina reflects the inequality of our age. She is very charming and like many privileged people she's a bit useless. She doesn't need to work and could have just as easily found a job in an art gallery or something easy, but she has enough humanity to want to help her friends, or so she thinks. She shares her opportunity, which, as we see, is not always a good thing. Floy is, like 95% of people, impressed by a free cafeteria and beer on tap after work. It's totally human but is one of many micro-control mechanisms that corporations exert on their workers to trap them in. Fran has possibly the strongest moral compass, and she shows the reader what Hope could aspire to in terms of idealism. All our new books try to show groups of people and I want these groups to grow as we carry on. But a caveat being, in a horror book, they're not all going to make it.
BB: Tell us what you can about Market.
Max Gadney: Market is the tech company that Hope joins. It's actually more like a conglomerate with health and defense subsidiaries among many interests (that we will see in other Storyworlds books).
We are in a new, feudal, gilded age and the tech companies are the nobility. The unique trick that Jobs, Zuckerberg and all practice is fusing technology with an understanding of psychology, specifically behavioral economics. These practices are now as used in marketing and tech as the 7.62 rifle round is used in battlefields. It's just that no one scrolling social media compulsively can feel the shots going in.
Mason, their guide, encapsulates this. He gives them permission to progress, to do bad things. Bad corporate behavior is like the devolvement of responsibility in a firing squad. A senior person tells you it is OK and your friends are doing it too so you do it.
But as the series progresses, we will discover that Market is trying to achieve good ends, just through bad means and I hope it will provoke an identification with the reader that we are all complicit in technology's grasp of humanity.
BB: I do not want to give away anything about the book but was wondering if these characters and threads will be continuing into an Only Hope, Book 2?
Max Gadney: Absolutely. We are working in a six-book arc. There is a big picture that will become clearer in each book as Hope peels back a layer of truth and terror each time.
In Book 2, I'm really happy to have Helen Mullane stepping in, to take Hope onwards. Helen wrote Nicnevin and the Bloody Queen and understands contemporary horror really well. Helen has produced a really exciting treatment for Book 2 that we are developing.
I'll be involved as a kind of a "showrunner role" as I am across all SW books now, handing over the initial concepts to new and exciting writers. What I can say is that Hope's friendships will get more complex. She will need to step up and become more heroic.
Hope won't become Sarah Connor, but imagine if Sarah Connor decided she could do more good from within Skynet. That's kind of where we are going. She will become our only hope.
BB: Talk about the rather chaotic and anxious art style of Ksenia Kudryavtseva.
Max Gadney: Ksenia's work is perfect for a contemporary horror book and we had great fun collaborating on this. I'm glad you sense some anxiety in the style. It's the visual equivalent of sound design in horror movies, ratcheting up the tension. Ksenia draws with an honesty that immerses the reader immediately. There are no tropes or habits – it's raw and authentic. Identification with hero and villain is very important in horror. She chooses just the right moments for both heroes and villains to drag us in.
Ksenia is heavily influenced by film, cinematography, but you can also see that culturally, being Russian, she has a European and expressive quality to her art that is rare in Western comics, certainly in superhero books.
She draws young people wonderfully. They look normal, they dress normally. Ksenia's use of color is also very powerful and a strong tonal underpinning to each scene. Her art is evocative of the 1920s German Expressionism of Ludwig Kirchner or Käthe Kollwitz, bringing the darkness of the human condition to life. And that Ksenia could do this in the confines of sequential storytelling is awesome.
Horror is about tension and waiting for that tension to break. We wanted scenes to build from the quieter stasis of early scenes to a wave of rich red terror that breaks like John Carpenter, Eli Roth or Jordan Peele movies. As Hemingway wrote of bankruptcy in The Sun Also Rises, things happened "gradually, then suddenly".
BB: Max, tell readers about your other book that has launched, United States of Magic, and any other projects you might have coming up in the near future.
Max Gadney: United States of Magic is a magical conspiracy for people who like spies and supernatural alternative history. Check it out if you liked Department of Truth or Hunters and Man in the High Castle on TV.
The other launch book, FAB, shows two detectives trying to prevent an outbreak of 3D printing technology that threatens to swamp the world in whatever and whoever mankind can dream up. Ramzee wrote it and it's high octane and fantastic. It's a rich world and we're doing an anthology from the FAB world in October, with 10 stories from up and coming creators.
Finally, around October, we will release The Sword and the Six-Shooter. It's a samurai western that explores the bloody beginnings of the American myth, infused by that fantastic subversion that runs through everything we do at Storyworlds.
Dynamic Forces would like to thank Max Gadney for taking time out of his busy schedule to answer our questions. Only Hope: Fear Farm from Storyworlds Media is slated to be on sale July 14th!
For more news and up-to-date announcements, join us here at Dynamic Forces, www.dynamicforces.com/htmlfiles/, "LIKE" us on Facebook, www.facebook.com/dynamicforcesinc, and follow us on Twitter, www.twitter.com/dynamicforces.
---
NEW! 1. 07/26/2021 - JIM ZUB
2. 07/22/2021 - PETER MILLIGAN
4. 07/15/2021 - SKOTTIE YOUNG AND JORGE CORONA
5. 07/12/2021 - JOHN ZUUR PLATTEN