CULLEN BUNN

SEND THIS TO A FRIEND!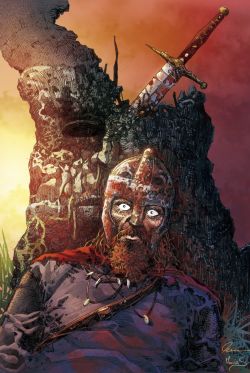 DF Interview: Through a glass darkly: Cullen Bunn's Lovecraftian take on Arthur in Unholy Grail
By Byron Brewer
Arthur Pendragon was the king of all Britain. His story is legendary. Merlin. The Lady of the Lake. Excalibur. Camelot. The Knights of the Round Table. But these stories are bright lies painted over the truth. Here is presented the gospel of Arthur's bloody rise to power and his unholy reign. The legend of King Arthur is not the stuff of legends, but the fuel of nightmares.

From writer Cullen Bunn (Uncanny X-Men, Deadpool) and artist Mirko Colak (Punisher) comes Unholy Grail, a Lovecraftian take on the Arthurian legend. For the 411, DF needed to search no further than the scribe who is writing every title for every publisher: Cullen Bunn.
Dynamic Forces: Arthurian legends seem to have really taken an upswing in pop culture of late. Are Excalibur and the Knights of the Round Table your cup of tea, Cullen?
Cullen Bunn: For sure. I've loved the Arthurian legends since I was very young. With this story, I wanted to add my own spin to the legends. But I wanted to do so in an unexpected way. This is the story of King Arthur… as seen through the lens of a horror tale.
DF: From what I have heard, Unholy Grail gives those Arthurian legends a real Lovecraftian twist. How did the tales of noble knights descend into the halls of horror in your writer's mind? (I heard you also 'had a dream' …?)
Cullen Bunn: Yeah, this story was the result of a strange dream I had a long, long time ago. I still have the notebook in which I wrote my initial ideas for Unholy Grail. It started with a single sentence: "The demon, who had no name in his own infernal tongue but would be called Merlin in the language of men, uncoiled in the darkness."
DF: How came Unholy Grail to AfterShock Comics?
Cullen Bunn: I have been talking to AfterShock since their earliest days, just waiting for the right project to publish through them. At San Diego Comic Con last year, I met with the AfterShock crew and gave them my master list of active story ideas. This was one of the projects they got really excited about. I'm thrilled to finally be bringing this story to life.
DF: What can you tell us about the Bunn Arthurian universe herein?
Cullen Bunn: It's a dark, scary place. But even though this is a twisted version of Arthur's England, I feel as though it is very true to Arthurian legend too. I approached this series as a genuine addition to the mythos.
DF: So tell us what you can about your iterations of Arthur, Merlin and any other major protagonists in your coming saga.
Cullen Bunn: Merlin (or at least the demon called Merlin) is the catalyst for the events of this series. Once he takes the guise of Merlin, he has one goal in mind: the spread of chaos. He does this by influencing the events that are unfolding around him. These events, of course, include Arthur's rise to King of England. He takes Arthur under his wing, teaching him in the Dark Ways and guiding his actions. It is Merlin who turns the story everyone knows on its ear.
DF: If Arthur and his fellows are the hounds of hell, who represents goodness and light here, if anyone? The Black Knight?
Cullen Bunn: This is not a mirror universe where what was good is turned evil and where what is evil is turned good. It's much darker than that. But there are still bastions of goodness in the world. Lancelot, Percivale, Galahad… these are noble characters. But in a kingdom this dark, the noble do not always fair so well.
DF: I know Mirko Colak does a badass Punisher. What does this artist bring to this (round) table? (laughs)
Cullen Bunn: Mirko brings a dark grittiness to the series. It is wet and cold and dark. It looks uncomfortable for the characters who are exploring this landscape. It looks grimy and dirty and sweaty. He manages to bring out the creeping sinister qualities of the world and the characters. And the more horrific elements—he absolutely nails them.
DF: Cullen, since you are writing every book on the shelf for every company, can you give us a brief rundown of what's out there and available in the Wonderful World of Bunn?
Cullen Bunn: Every book might be a little bit of an exaggeration, but this is definitely a busy time for me. In addition to Unholy Grail, I'm writing Harrow County (Dark Horse); The Damned (Oni Press); The Unsound (BOOM! Studios); and X-Men Blue, Monsters Unleashed, and Deadpool Kills the Marvel Universe Again for Marvel. I also wrote a reboot of the classic comic Warlock 5 (along with Jimmy Z) which is on a Kickstarter campaign right now.
Dynamic Forces would like to thank Cullen Bunn for taking time out of his busy schedule to answer our questions. Unholy Grail #1 from AfterShock Comics hits stores July 5th!
For more news and up-to-date announcements, join us here at Dynamic Forces, www.dynamicforces.com/htmlfiles/, "LIKE" us on Facebook, www.facebook.com/dynamicforcesinc, and follow us on Twitter, www.twitter.com/dynamicforces.
X-MEN: BLUE #1 SKOTTIE YOUNG VARIANT ULTRA-LIMITED BLUE SIGNATURE SERIES SIGNED BY CULLEN BUNN
DARTH MAUL #1 ULTRA-LIMITED CRIMSON RED SIGNATURE SERIES EDITION SIGNED BY CULLEN BUNN
MONSTERS UNLEASHED #1 SIGNED BY WRITER EXTRAORDINARE CULLEN BUNN
DEADPOOL BACK IN BLACK #1 SIGNED IN BLOOD RED BY CULLEN BUNN
MICRONAUTS REVOLUTION #1 SIGNED BY CULLEN BUNN
IDW'S REVOLUTION #1 SIGNED BY CULLEN BUNN
CIVIL WAR II: X-MEN #1 SIGNED BY CULLEN BUNN
DEADPOOL AND THE MERCS FOR MONEY #1 BLOOD RED SIGNATURE EDITION SIGNED BY CULLEN BUNN
DEADPOOL'S SECRET SECRET WARS #1 ULTRA-LIMITED EDITION SIGNED IN BLOOD RED BY CULLEN BUNN!
---
NEW! 1. 11/25/2020 - STEVE SKROCE
4. 11/16/2020 - RYAN O'SULLIVAN
5. 11/16/2020 - RYAN O'SULLIVAN