CHRIS SEBELA

SEND THIS TO A FRIEND!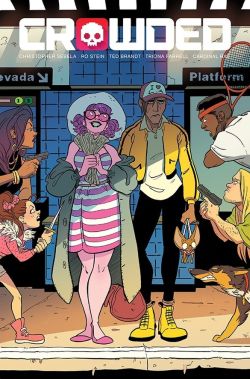 DF Interview: Chris Sebela takes Charlie & Vita eastward to Vegas, baby, as he begins a new arc in 'Crowded'
By Byron Brewer
After escaping a brutal—and televised—attempt on their lives, Charlie and Vita abandon Los Angeles for the utopian desert paradise of Las Vegas. With the Reapr campaign against Charlie now worth over two million dollars, it's more important than ever to find out who's behind it and how to shut it down. But the journey is half the battle, and even if they manage to live through two states' worth of killers, they'll still have to survive each other.
From writer Chris Sebela (Heartthrob, We(l)come Back, Harley Quinn) and artists Ro Stein & Ted Brandt (Captain Marvel, Raven: The Pirate Princess) comes issue #7 and a brand new arc for Crowded! To get the full 411, DF chatted it up with scribe Chris Sebela.
Dynamic Forces: Chris, for those who have been under a rock in recent weeks (and these days who could blame them, LOL!), can you summarize the concept behind your great comic, Crowded?
Chris Sebela: Crowded is a book that takes place 10 minutes in the future in a world where apps rule everything around us. Including a crowdfunding platform for assassinations called Reapr. Our story is about a woman, Charlie, who wakes up with a campaign on her head for over a million dollars and no idea why. So she hires Vita from an uber for bodyguards app and they try to stay alive as regular people come out of the woodwork with a weapon, trying to collect this human lottery ticket. When they're not dodging death, they're trying to get along and figure out who wants Charlie dead.
DF: What essentials from the comic's last arc do new readers need to know before hopping on board the train in July?
Chris Sebela: That it's available in trade paperback for only $13? That's what I usually tell people. Now I tell them we just got nominated for an Eisner for Best New Series. But the last arc was a lot about Vita and Charlie getting used to being hunted for money and sort of establishing the rules about Reapr along with setting up a couple of big threats along with all the small ones that Charlie and Vita encounter on a daily basis. All you really need to know is that Charlie's campaign is up to 2 million bucks and they just had to shag ass out of Los Angeles for somewhere a little less murdery.
DF: Can you give us a bit of an idea of the storyline for this second Crowded tale?
Chris Sebela: We're heading East, to Las Vegas, specifically. That's our first stop, at least. Vita knows that Charlie isn't telling her everything about why there's this huge Reapr campaign open on her and she just found out that the main contributors to the killstarter are bots run by the U.S. Government. So there's a lot more pressure to figure out who started the campaign and why. They still have about 26 more days to live through before the Reapr ends and things are just gonna get bigger and crazier.
DF: Introduce us (again) to Charlie and Vita as characters … where they were and where they are going.
Chris Sebela: Charlie is the toxic reality of the manic pixie dream girl trope, basically. She's living a life where she has to hustle between a dozen different jobs a day on a dozen different apps and her survival is job number one. As a result she can be as selfish and oblivious as the rest of us, but maybe on a grander scale. As serious as the murder campaign against her is, she still tests the boundaries and does what she wants. She's someone that people love or hate or love/hate or love to hate. I love her, she's so obnoxious but it's not a power move, she's just being Charlie.
Vita is the brooding part of the equation. Her job for a long time now has been protecting people and while her rate on the DFEND app is great, she's lost some folks in the past and it still nags at her. She's just split up with her girlfriend and is pretty isolated from the world. She has a 1.4 star rating because she doesn't put up with a lot of guff and she's just met her match with Charlie, who is a guff-giving machine, at either the best or the worst time in her life to meet someone like that.
DF: Any new characters this time 'round readers need to know about? Can you intro some here?
Chris Sebela: Yeah, we'll have some new folks wandering in and out, including a weird Howard Hughes-type eccentric techbro billionaire and a militia and slot machines that harvest energy from gamblers' pacemakers and oxygen machines while they pump money into it. It's a bleak future, but it's very brightly lit, so we're having as much fun with it as we can fit into every issue.
DF: Talk about the great contributions by artists Ro Stein & Ted Brandt.
Chris Sebela: Ro and Ted are my co-creators on this book and they made Crowded what it is now. Both in terms of the tone and in the directions the story has taken and will be taking. All the little jokes in the background, the names of TV shows or companies on ads, that's all them. It's an amazing working relationship and friendship. They take my scripts and turn them into something completely their own and it's always glorious. I could fill up a whole page ranting and raving about how great they are. They are the literal Best.
DF: Chris, what else is coming from your keyboard we can talk about?
Chris Sebela: I have Test starting at Vault in June and Trust Fall starting at AfterShock, also in June. Heartthrob should be returning for our third and final arc before the year is up. I've also got a couple of other secret creator-owned things I'm always working on but mostly concentrating on wrapping up the second arc of Crowded and starting in on the third one.
Dynamic Forces would like to thank Chris Sebela for taking time out of his busy schedule to answer our questions. Crowded #7 from Image Comics hits stores July 3rd!
For more news and up-to-date announcements, join us here at Dynamic Forces, www.dynamicforces.com/htmlfiles/, "LIKE" us on Facebook, www.facebook.com/dynamicforcesinc, and follow us on Twitter, www.twitter.com/dynamicforces.
KISS/VAMPIRELLA #1 ATLAS COMICS SIGNATURE SERIES - SIGNED CHRIS SEBELA EDITION
AGENT 47 VOL. 1: BIRTH OF THE HITMAN TRADE PAPERBACK
---
NEW! 1. 11/25/2020 - STEVE SKROCE
4. 11/16/2020 - RYAN O'SULLIVAN
5. 11/16/2020 - RYAN O'SULLIVAN