CHRIS CONDON

SEND THIS TO A FRIEND!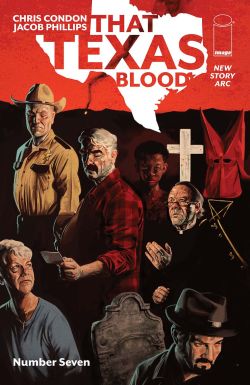 DF Interview: Chris Condon digs deep into Joe Bob's past in a new arc of 'That Texas Blood'
By Byron Brewer
That Texas Blood returns with a brand new story arc. Following the traumatic and bloody conclusion of "A Brother's Conscience", Joe Bob reminisces about one of his first cases: a haunting and bizarre evening that left a boy dead, a girl missing, a cult on the loose, and introduced a mysterious man called Harlan Eversaul.
From writer Chris Condon and artist Jacob Phillips comes That Texas Blood #7, with a new arc that does a deep dive into the past of Sheriff Joe Bob Coates. I sat down with scribe Chris Condon to see what he and Jacob have in store for readers this time.
Byron Brewer: Chris, why is now a great time for your crime series That Texas Blood to return?
Chris Condon: The truth is that I was ready to continue That Texas Blood in December of 2020 but Jacob needed some time to work on other things and, you know, live. It's a hard job being a one man band; penciler, inker, colorist, and letterer. After That Texas Blood issues one through six, I think he earned himself a much needed break. So it wasn't so much a question of when is a good time to return so much as when can we return. It turned out that summer 2021 was the best time for it, so here we are. But I will say that this arc deals with a lot of what I absorbed in 2020 and not all of it was intentional. I'm seeing a lot of it in hindsight. So maybe it was unintentionally beneficial to take the break between issues. If people like this arc as much as they liked the first one, perhaps we'll do the same next time.
BB: I know that the return of the series with issue #7 will drop readers right back into the bloody turmoil of Volume 1's conclusion. If you would, give us a brief explanation of what the original series was about.
Chris Condon: Well, issue one was a one-shot story about Sheriff Joe Bob Coates that sets the flavor for what kind of stories we will be telling in our fictional Texas county. Issues two through six are about a man who wants to break free from the past but can't. It winds up biting him.
BB: Introduce (or re-introduce) readers to Sheriff Joe Bob Coates and the gang in Ambrose County. New characters this time around, I would suspect?
Chris Condon: Sheriff Joe Bob Coates is tired. He's 70. He's a good man but he's troubled by all of the bad stuff that keeps happening around him to the people he knows. We will see familiar faces and we will most definitely meet some new ones. I'm excited for everyone to meet Eversaul, a private detective with a penchant for the weird stuff in life.
BB: What can you tell us about the new arc?
Chris Condon: What can I tell you? I'll tell you that it's another dark tale set in our fictional Ambrose County. This one inches us closer to the horror genre, mostly due to the fact that it's about a cult that worships an ancient god. It's set 40 years in the past, in 1981. It was a real joy to be able to write younger versions of the characters that we already know from our previous issues. I know Jacob has had a good time drawing them!
BB: I will wager you have been anxious to explore a bit of Joe Bob's past, which this arc does. What is it about this character that fascinates you (and readers)?
Chris Condon: I think it's his cadence, for one thing. I think he's relatable. Sometimes with figures of authority, they put up a coarse exterior that seems impenetrable – we see a bit of that with Joe's predecessor in this arc. Joe Bob is the opposite of that. You want to give him a hug, you know? He's a welcoming person trying to do what he thinks is right.
BB: With the great continuity of this book, will this be a welcoming issue for new readers?
Chris Condon: Yeah, I think so. It kicks off after the events of our last arc but you don't really need to know what happened aside from it was "bad stuff." This arc is its own thing. You can enjoy it either as a seasoned TTB reader or as a newbie.
BB: Talk about the jaw-dropping art of Jacob Phillips.
Chris Condon: I would, but I can't get my jaw off of the floor! In all seriousness, I'm beyond lucky to have connected with Jacob. He's a dream collaborator. In this arc, he gets to try something out that he hasn't before. He's inked the present and the past differently. For the past – that's everything set in 1981 – he's inked it traditionally. Likewise, he's coloring it differently. You'll see more of a classic '70s or '80s comic vibe in the colors than you will in the present day stuff, which is colored beautifully. It's great to see the different vibes that he brings to the table in a single issue.
BB: Chris, what other projects you are involved with can you tell readers about?
Chris Condon: I'm sworn to secrecy! But be assured, more is on the way. Though to be honest, I'm happy just to spend some more time in Fort Lehane with Joe Bob, Martha, and Ana Flores.
Dynamic Forces would like to thank Chris Condon for taking time out of his busy schedule to answer our questions. A new arc begins for the returning That Texas Blood from Image Comics with issue #7, slated to be on sale June 30th!
For more news and up-to-date announcements, join us here at Dynamic Forces, www.dynamicforces.com/htmlfiles/, "LIKE" us on Facebook, www.facebook.com/dynamicforcesinc, and follow us on Twitter, www.twitter.com/dynamicforces.
---
NEW! 1. 07/26/2021 - JIM ZUB
2. 07/22/2021 - PETER MILLIGAN
4. 07/15/2021 - SKOTTIE YOUNG AND JORGE CORONA
5. 07/12/2021 - JOHN ZUUR PLATTEN