TROY BROWNFIELD

SEND THIS TO A FRIEND!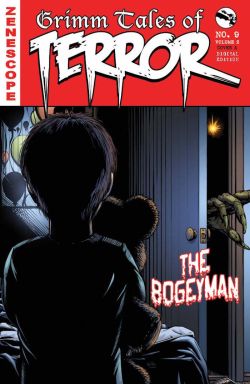 DF Interview: Troy Brownfield brings the Bogeyman to Grimm Tales of Terror
By Byron Brewer
The legend of the Bogeyman has been passed down for generations. Parents tell the tale of an evil entity who comes for children who are naughty, using the myth to scare children into behaving. But what if the Bogeyman exists? And what if he wants something else from his victims?
We had even more questions about this week's Grimm Tales of Terror #9 from Zenescope -- from writer Troy Brownfield and artist Eric J. -- so DF set down and chatted with the scribe himself.
Dynamic Forces: Troy, you have been doing various Grimm tales for Zenescope for a while now. Tell us about how you became involved in this franchise (for lack of a better term).
Troy Brownfield: On a legendarily eventful night in Chicago in the latter part of the last decade, I wound up hanging out with Raven Gregory, Ralph Tedesco and other Zenescope notables. At that point, I was already working for Newsarama and Fangoria Comics, and that's how the guys knew me. But this was a different context, and Raven and I stayed in touch. One day, he asked me to pitch a story for what would be a Wonderland annual. One of my ideas turned into an issue of Tales from Wonderland (The White Knight). I've been going back to the mad tea party ever since.
DF: What is it about these Grimm characters, especially looking at them from the perspective of mature readers, that makes them so endearingly popular?
Troy Brownfield: Frankly, the roots of the stories say a lot about the human condition. I know that sounds like grad school b.s., but there are archetypal ideas that come up in those stories that apply across a variety of spectra in terms of psychology, entertainment and more. "Stay on the path". "Make wise choices." "Bad deeds have consequences". And so on. We identify with the fairy tale characters because their mistakes are ours.
DF: When one says "Grimm," a reader usually thinks of charming childhood fairy tales. But there is quite the dark side to a lot of these, true?
Troy Brownfield: The original Grimm stories are, well, grim. If you check out the unabridged versions, they're loaded with horrible stuff. The Little Mermaid alone! But they lend themselves really well to horror and dark fantasy, particularly in this kind of anthology context. Tales of Terror pushes beyond the fairy tales and into urban legends and more, but the fundamental idea of cautionary terror remains.
DF: Tell us the storyline of Grimm Tales of Terror #9 … The Bogeyman??
Troy Brownfield: It's pretty straight-forward. We're reaching right for the panic button of The Thing in the Closet. Fear of the dark, fear of what's out there beyond the island of your bed … that's a pretty universal thing. Nearly every culture has a myth of the thing that goes bump in the night. But what does that thing want? If it just wanted to show up and eat you, or your children, then that's what it would do. What if it's there for something else? THAT is troubling.
DF: I think for many of us of a certain era growing up, the Bogeyman and creatures of parental imagination like him ring to the core of our inner beings. Troy, did you have your own "Bogeyman" as a child?
Troy Brownfield: I'll go pretty deep on this one. About the time that I was 7, I had a poster of Jor-El and the Kryptonian criminals from Superman 2 on the wall of my room. At night, the light from outside would hit that poster in a certain way and make it look like, instead of Brando and Stamp, a long-limbed old man with crazy tufts of hair reaching across the picture. That freaked me the hell out. That and the damn clown doll from Poltergeist. Good Lord. Funny side-note: in my childhood bedroom, my bed was positioned in such a way so that if I looked down at the foot of my bed, I'd look right at the closet door. When I saw the art, Eric had drawn the layout of the room EXACTLY like that. Probably goes back to the universal thing, but what an interesting coincidence on that.
DF: I believe you are doing GTT #12 as well? Can you whet our appetites just a little for that issue with some non-spoilers?
Troy Brownfield: That one gets into the more recent urban legend of certain phone apps being used for predatory purposes. Yes, I want to make you afraid of your phone.
DF: How is it working with artist Eric J.?
Troy Brownfield: I love Eric's work. I've been a fan for a long time, and we met years ago. We were both pretty delighted to finally work together on something (in terms of interiors; he did a cover for one of the Zombies issues I wrote a few years back). He's just a super talent, and he just tears it up in this story. Page 6 is just so unnerving, and it's just a little boy talking to his closet. I couldn't be happier with him and Fran (Gamboa, on colors).
DF: Troy, what else do you have coming down the road in the way of comics projects?
Troy Brownfield: Well, there's the GToT issues, more Sparkshooter (at www.sparkshooter.com) and … more prose? Yeah. You'll hear more about that in the future.
Dynamic Forces would like to thank Troy Brownfield for taking time out of his busy schedule to answer our questions. Grimm Tales of Terror #9 from Zenescope is in stores now!
For more news and up-to-date announcements, join us here at Dynamic Forces, www.dynamicforces.com/htmlfiles/, "LIKE" us on Facebook, www.facebook.com/dynamicforcesinc, and follow us on Twitter, www.twitter.com/dynamicforces
BLOOD QUEEN #1 RARE JAY ANACLETO INCENTIVE COVER SIGNED BY WRITER TROY BROWNFIELD
BLOOD QUEEN VS. DRACULA #1 (OF 4) RARE JAY ANACLETO "VIRGIN ART" EDITION Written by Troy Brownfield
THE BLOOD QUEEN ANNUAL 2014 Written by Troy Brownfield
---
NEW! 1. 11/25/2020 - STEVE SKROCE
4. 11/16/2020 - RYAN O'SULLIVAN
5. 11/16/2020 - RYAN O'SULLIVAN