RON MARZ

SEND THIS TO A FRIEND!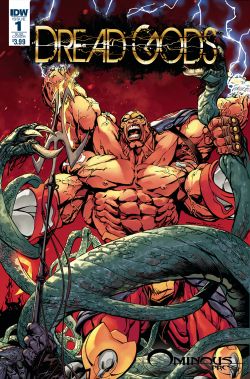 DF Interview: Gods or monsters? Ron Marz explores the question in Dread Gods
By Byron Brewer
Ominous Press launches with the first of three limited series set in a science-fiction/fantasy universe of epic heroes and insidious villains. In Dread Gods, deities in a fantasy world discover they're actually monsters in a post-apocalyptic landscape.
Acclaimed creators Ron Marz and Tom Raney join with art master Bart Sears to usher in an adventure like no other! And to gather more info for you, our beloved readers, on this book and revived brand, DF sat down with scribe Ron Marz.
Dynamic Forces: Ron, before we start talking about your new book Dread Gods, tell us a little about the return of 1990s publisher Ominous Press, its partnership with IDW Publishing and your role(s) therein please.
Ron Marz: Well, my official title with Ominous is Editor-in-Chief and Lead Writer, but obviously at a start-up publisher with a small staff, you do a little bit of everything. Ominous flourished in the mid-'90s during the comic boom, but got taken down like so many small publishers when the market crashed. I wasn't actually part of Ominous during that time. I was going to start writing for them, but then the bottom dropped out of the market. So, flash forward two decades and Ominous is back, thanks to the happenstance of me, Bart Sears, Andy Smith and Sean HusVar being in the same place at the same time at the Baltimore Convention. It was really meant to be a reunion, but it turned into the restarting of Ominous. It grew from doing a miniseries together, to really going for it with a whole publishing line. When we decided to seek a publishing partner, IDW was at the top of the list, and the deal was worked out pretty easily.
DF: Dread Gods – which I believe was announced last year as Prometheus – will be the first book coming from the new brand, correct? Why the name change and what other titles might we initially see?
RM: The working title was originally Prometheus, and we did our legal due diligence on the name. It obviously originates in mythology, but was recently a film title, as well as being used in a number of other venues. While there wasn't a specific legal reason that we couldn't call the book Prometheus, we decided to avoid any possible conflicts, and especially confusion, and come up with a fresh title. Dread Gods by me and Tom Raney is our first title, and it will be followed by Giantkillers by Bart Sears and then Demi-God by me and Andy Smith. The overall publishing push will be to do these titles as a series of four-issue miniseries, so we can have something out every month, but also make sure we're staying ahead of our deadlines.
DF: So tell us the concept of Dread Gods, and how this series came about.
RM: When we decided to do three initial titles, this was the third concept that fell into place. Giantkillers and Demi-God, respectively, were already set with Bart and Andy, so we knew we had to find an artist for this one. Tom was the first name I suggested, and I think he's the person who is absolutely best suited to draw this material. Dread Gods is the story of powerful beings who believe themselves to be gods in a pristine fantasy world of larger-than-life adventure. But the reality is they're actually monsters in a post-apocalyptic landscape, their lives used as entertainment to placate the masses. The story really begins when these "gods" discover the truth. So the story takes place in both in this glorious fantasy world and a grungy real world, and Tom is bringing both of them to life beautifully.
DF: Who are your protagonists? Can you introduce a few of the main ones to us please?
RM: The gods are patterned after the Greek gods, so their leader is Lord Zeus, and he's surrounded by other gods including Hera, Apollo, Artemis, Hermes and others. The other main character is a wheelchair-bound dwarf in the real world who figures out that these gods are actually prisoners. He becomes the instrument of freeing them. I really like the juxtaposition of the most human and most frail character being the one who has to save the gods.
DF: This being the first book for Ominous out of the gate, did you work with Tom on character designs (assuming he did those)?
RM: Yeah, absolutely. Tom spent a snowy winter weekend at my house while we designed characters and talked story. The initial concept is from Bart, something he's been carrying around in his head for more than 20 years, but he's really given it over to me and Tom and allowed us to run with it.
DF: From what I have seen, this book is really going to have almost a Kirby/Simonson-esque BIG feel. Gods that are monsters, I am guessing this is larger than life we're talking?
RM: Very much so. Kirby and Simonson are very much touchstones for me and for Tom as creators, and for Bart as well. But you're right, for this series in particular, that kind of epic visual storytelling is very much what we're going for. I'm a firm believer that your comic story is only as good as the artist drawing it. This is a visual medium, so I'm thrilled to be working with Tom on this. We've been friends for years, and have worked together here and there, but this is our first chance to really build something.
DF: Ron, not that I don't think Ominious will be keeping you busy, but any other projects ongoing or underway (including Ominous titles)?
RM: I mentioned Demi-God already, which will be the third Ominous title to debut. Beyond that, I'm still doing other things in other places. That's really the nature of being a writer in comics, you're constantly juggling multiple projects, usually in multiple places. We're started on the next series of The Protectors for Athlitacomics, which I'm doing with my friend and former NFL player Israel Idonije. There are some creator-owned things going on that haven't been announced yet, and a few other projects that are still under wraps.
Dynamic Forces would like to thank Ron Marz for taking time out of his busy schedule to answer our questions. Dread Gods #1 from IDW and Ominous Press hits stores July 26th!
For more news and up-to-date announcements, join us here at Dynamic Forces, www.dynamicforces.com/htmlfiles/, "LIKE" us on Facebook, www.facebook.com/dynamicforcesinc, and follow us on Twitter, www.twitter.com/dynamicforces.
JOHN CARTER: WARLORD OF MARS #1 RARE J. SCOTT CAMPBELL "MARS RED" EDITION Written by Ron Marz
MAGDALENA #1 DF EXCLUSIVE COVER! - SIGNED EDITION BY RON MARZ
JOHN CARTER: WARLORD OF MARS VOL. 2: MAN-MADE MONSTER TRADE PAPERBACK Written by Ron Marz
RED SONJA: TRAVELS TPB Written by Ron Marz, others
JOHN CARTER: WARLORD OF MARS VOL. 1: INVADERS OF MARS TRADE PAPERBACK Written by Ron Marz
RED SONJA VOLUME SIX HARDCOVER by Ron Marz, others
PATHFINDER GOBLINS HC by Ron Marz, others
PROPHECY VOL. 1 TP Written by Ron Marz
THE SILVER SCORPION TP Co-written by Ron Marz
---
NEW! 1. 01/21/2021 - RORY MCCONVILLE
5. 01/07/2021 - DARICK ROBERTSON