JOHN LAYMAN

SEND THIS TO A FRIEND!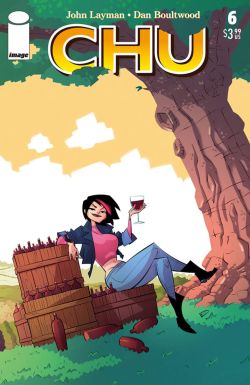 DF Interview: John Layman takes us on an art heist across time in 'Chu' #6
By Byron Brewer
Felon. Parole violator. Fugitive. Cibopars. Food-powered master criminal Saffron Chu is back, staring down the barrel of the biggest – and strangest – score of her career. Return to the CHEW-niverse once again for Saffron's second blood-soaked adventure and an alcoholic art heist that spans the centuries.
From Image Comics comes Chu #6 with a brand new arc, courtesy of writer John Layman and artist Dan Boultwood. I wanted to catch up on this great spinoff book and this new arc, so I discussed both with scribe John Layman.
Byron Brewer: John, your wonderful Image comic Chu saw its fifth issue published in November 2020. Now here comes #6, expected in April 2021 but on July's solicits. Is it fortune or happenstance that #6 returns this summer, and with the beginning of a new arc? Or should we chalk the whole thing up to the pandemic? (laughs)
John Layman: There is no doubt the pandemic slowed us down, but life seems to be returning to normal and with that… deadlines. Our plan has always been to move a little slower than Chew, but at least put out an arc a year. I'm already hard at work mapping out Chu's third arc, which will, I hope, have less of a delay than the second arc did.
BB: Okay, so before we get into the book proper, let's remind readers what Chew was and what its sequel Chu is, if you will please?
John Layman: Chu is the sister title of Chew—literally. Where Chew was the story of a food-powered cop fighting crime, Chu is the story of Saffron Chu, the black-sheep sister of food-cop Tony Chu. Saffron Chu is a food-powered master criminal, and Chu tells the story of her various criminal capers.
BB: Where in the life of Saffron Chu will readers find her as we rejoin her CHEW-niverse with #6? Wassup?
John Layman: At the end of the first arc, Saffron Chu spent some time in prison, thanks to her by-the-book brother. While the hope was she would use this time to reform, instead she used her proximity to other criminals to get a crash-course is becoming an even better criminal, and with issue #6 Saffron is out in the world, violating parole and on the run, ready to put her new skills to use.
BB: What can you tell us about a certain alcoholic art heist? And it involves priceless French art … and time travel?
John Layman: I'm gonna keep mum on the particulars of the heist, other than to reassure readers it's the sort of weirdo sh*t they've come to expect from the world of Chew, and can expect more of the same or very similar from Chu. This is a very oddball universe, after all.
BB: Any new characters we should be on the lookout for this arc? Can you intro any here for us perhaps?
John Layman: Having used the first arc to spin Chu out of Chew, this is the arc where the book really comes into its own as its thing, so we're focusing on Saffron and her sleazy boyfriend Eddie Molay. Rounding out the cast is Grandfather Ong Chu, who is the only carry-over character from Chew. Grandfather Ong is impossibly old and nearly comatose, but he hid away some Nazi gold decades ago, and Saffron is trying to get the location out of him. Mostly this old man gets dragged along for the purposes of hilarious elder abuse and Weekend-At-Bernie's-style lowbrow laffs. Nothing is funnier than being cruel to old people, because old people suck!
BB: Never say never, as Sean Connery discovered. Any appearances by law enforcer (and Saffron's brother) Tony Chu in this arc?
John Layman: As far as I'm concerned, Tony Chu's story has been told. That's not to say he or other characters from Chew might return to Chu someday—you can never completely get rid of family. But there are no plans to see Tony in this arc or for the foreseeable future. Or anybody else from Chew other than Grandfather Ong, for that matter.
BB: Talk a little about your collaborator, artist Dan Boultwood.
John Layman: Dan is fantastic and he brings a similar sort of wild energy to Chu that Rob Guillory brought to Chew, while completely owning it as its own thing. I could not be happier with the pages as they come in. Dan has a marvelous design sense, and his sense of humor shines through on the page. It's definitely different art than Chew, but a similar vibe which I don't think will be jarring for readers.
BB: John, what other projects of yours, inside or outside comics, can you tell readers about?
John Layman: Chu #6 drops on July 21, same day as the first issue of my gorgeous IDW book Bermuda, which I'm doing with Nick Bradshaw and Len O'Grady. Bermuda is the story of a girl on a mysterious lost island where everybody who's been lost in the Bermuda Triangle ends up. Crazy fun with dinosaurs and pirates and lost military men and dark magicians. I've got a couple of non-comics irons in the fire, so Chy and Bermuda are the only books I have coming out this year. Another reason I conveniently scheduled them for July 21st, which I hereby proclaim as International John Layman Day, the happiest, sexiest and most awesome day of the year!
Dynamic Forces would like to thank John Layman for taking time out of his busy schedule to answer our questions. A new arc begins in Chu #6 from Image Comics, slated to be on sale July 21st – International John Layman Day!
For more news and up-to-date announcements, join us here at Dynamic Forces, www.dynamicforces.com/htmlfiles/, "LIKE" us on Facebook, www.facebook.com/dynamicforcesinc, and follow us on Twitter, www.twitter.com/dynamicforces.
MARS ATTACKS RED SONJA #1 - JOHN LAYMAN SIGNED ATLAS EDITION
DETECTIVE COMICS #19 FIRST PRINTING STANDARD COVER SIGNED BY JOHN LAYMAN!
RED SONJA/CLAW #1 JIM LEE/ALEX ROSS COMPLETE COVER SIGNED PAIR - SIGNED BY WRITER JOHN LAYMAN AND ANDY SMITH!
MARS ATTACKS RED SONJA TRADE PAPERBACK
ARMY OF DARKNESS/XENA COMPLETE OMNIBUS
CHARLIE'S ANGELS VOL. 1 TRADE PAPERBACK
XENA: WARRIOR PRINCESS VOLUME 1 OMNIBUS TRADE PAPERBACK
THE TWILIGHT ZONE: SHADOW & SUBSTANCE TRADE PAPERBACK
---
NEW! 1. 08/05/2021 - PATRICK KINDLON
5. 07/22/2021 - PETER MILLIGAN