SEAN LEWIS

SEND THIS TO A FRIEND!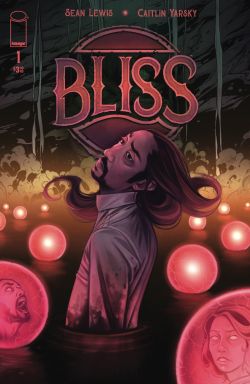 DF Interview: Sean Lewis examines fathers, sons and the road to redemption in 'Bliss'
By Byron Brewer
A drug called Bliss is wiping away memories in Feral City. A good-hearted young man—overwhelmed by a deathly sick child and distraught wife—makes a deal to become the personal hitman to three gods, killing those in their way and sending memories down the river of Oblivion in exchange for his family's well-being.
Award-winning playwright and bestselling comics writer Sean Lewis (Coyotes, Thumbs) reteams with fan favorite Coyotes artist Caitlin Yarsky for a dark urban fantasy maxi-series, Bliss. DF was anxious to discuss this swim we all make through the quagmire of monsters and misery to somehow find redemption, so we spoke with old friend, scribe Sean Lewis.
Dynamic Forces: Sean, how does it feel to be working again with your Coyotes collaborator, Caitlin Yarsky?
Sean Lewis: Lucky. Excited. Cait has become a really great friend as well as collaborator. We try to hang out when I go to the city whether we are working on a book or not. It's also insane how much her craft has grown. I thought Coyotes was one of the most beautiful comics I had seen and the work she is doing in Bliss is an amazing step up. It's really humbling to look at.
DF: Before we hit your new Image Comics series Bliss proper, tell us, if you don't mind, about your father, how that relates to our discussion of this comic, and about now that you are yourself a dad.
Sean Lewis: Sure. Well, my biological father was a pretty tortured guy. He was incredibly smart but was really plagued with some demons. His addiction was alcohol. It's strange he wasn't really a father. I didn't see him for years at a time. But I desperately wanted to know him, to feel loved by him. We tried to reconnect before he died (he had drank his body into a point of no return), but [the relationship] was way too fractured and his mind was too gone. His memories were all inventions or jumbles. It was pretty heartbreaking. I went back out for his funeral and it was strange because all these people I met at the service said they had heard all about me and my dad was so proud of me. It was surreal – because we didn't know each other and he didn't really know how to be present with me – but clearly he acknowledged my existence or thought about me.
A lot of me being a father is tempered by this. I think a lot about my dad and try to do the things I wanted him to. It's strangely a gift. I love being a dad and relish in being present. So, he kind of gave me this ability or reminder of how to make my son's life better and have my son and I form a bond I really relish.
DF: Thanks, Sean. … Tell us the overall storyline of the book, and what exactly IS "Bliss" (not the comic but the item about which it is named)?
Sean Lewis: Bliss is a street drug, a liquid that people drink to melt away their bad memories. It's addictive and turns them into junkies. But where do those memories go… they slip out of the pores of the afflicted people and drain into the giant river outside of town until they float down to the goddess Lethe, Queen of Oblivion.
At the center of the book are Perry and Benton. A father and a son. Perry was sick as a child and his family poor. As a result, Benton went into the underworld and made a deal. He'd become a hitman for the gods selling Bliss in order to ensure that the memories kept flowing down.
DF: What more can you say about your protagonists?
Sean Lewis: Benton is a poor slacker turned hitman. He was a kid in over his head with a family he couldn't support. So he turned to crime to support them. Perry, his son, becomes an adult who only has bad memories of his dad yet desperately feels a need to defend and love his father. So, when the dad's crimes come to light, he goes against reason and defends him.
DF: Addiction is obviously one of the big engines on which this new series is runnng. Will there be redemption as well?
Sean Lewis: The whole book is about redemption. I'm not interested in villains who don't change. Heroes that don't grow. I'm interested in fathers and sons. Families. Loved ones. The mistakes we make and the things we can do to forgive.
DF: We've discussed Caitlin a bit, but talk about the artist's work as this book begins.
Sean Lewis: Her work on this book is unreal. Her sense of perspective and just the large scale visual work. She's amazing. She's also a great collaborator. We work as each other's editor and really work through every detail together. It's a great collaboration.
DF: Sean, what other projects, inside or outside comics, can you tell readers about?
Sean Lewis: There'll be a lot of announcements this year. In comics and in other mediums. It's an exciting time. Unfortunately, I can only say so much. Vaguely, there will be a book at a really hot indie publisher; a new collaboration with Hayden Sherman and some TV and film stuff.
Dynamic Forces would like to thank Sean Lewis for taking time out of his busy schedule to answer our questions. Bliss #1 from Image Comics hits stores July 22nd! Keep watching DF News and comics-related social media for more information.
For more news and up-to-date announcements, join us here at Dynamic Forces, www.dynamicforces.com/htmlfiles/, "LIKE" us on Facebook, www.facebook.com/dynamicforcesinc, and follow us on Twitter, www.twitter.com/dynamicforces.
---
NEW! 1. 11/23/2020 - CHUCK BROWN
3. 11/16/2020 - RYAN O'SULLIVAN
4. 11/16/2020 - RYAN O'SULLIVAN