ROB WILLIAMS

SEND THIS TO A FRIEND!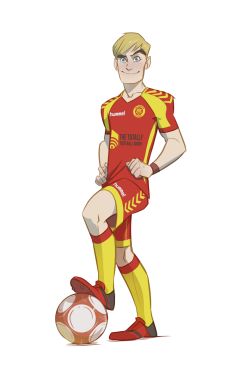 DF Interview: Rob Williams brings back iconic Brit comics sports character in Roy of the Rovers GNs
By Byron Brewer
Comics have changed a lot since the 1950s, and so has soccer (or, in most of the world, football). One thing that has NOT changed is a teen's desire to do well in their sport, to make the Big Time! This is the foundation of Rebellion's revival of famed comics classic character, Roy of the Rovers.
To learn more, DF chatted with writer Rob Williams, who with artist Ben Wilsher will be making a part of the overall saga of Roy Race come true in the graphic novel, Roy of the Rovers: Kick-Off!
Dynamic Forces: Rob, what does it feel like to be reviving a classic (especially in Britain) comic like Roy of the Rovers? Why would you say this revival of a classic Brit comic is important for publisher Rebellion?
Rob Williams: It's really exciting. Roy of the Rovers is one of the most famous football and comic brands in the UK and it has a huge following internationally. So bringing Roy back for a new generation is a huge deal, both for myself and for Rebellion. I grew up reading Roy's comics, so it's one of those fanboy moments for me -- where you can't believe you're lucky enough to be doing this.
DF: For the uninformed (you know who you are), would you introduce us to Roy Race?
Rob Williams: Roy's a striker for Melchester Rovers who has a trademark "Rocket" shot. In the classic Roy stories from yesteryear, he was the biggest star in the game. Our version is slightly different, though. We're updating Roy for a 2018 audience, whereby we meet him as a teenager on the start of his journey. It's kind of Creed but with football instead of boxing.
DF: I know the character first debuted in a 1954 comic strip. As with all such iconic characters – and as you eluded to above – what as the writer are you keeping the same about the character and what have you had to change to introduce Roy to a modern comic book audience?
Rob Williams: You want to create a comic that young adults can read and enjoy, so it's making Roy relatable to them. So they can put themselves in his position. A hopeful 16-year-old getting his chance to play up front for his local team, and all the trials and successes that will follow. Roy's wish fulfillment, at the end of the day. So many boys and girls imagine themselves getting the chance to score the winner in the cup final in the last minute. That's Roy of the Rovers in a nutshell.
DF: What other characters will we be meeting in the new comic?
Rob Williams: A lot of the old classic Roy of the Rovers supporting cast are here, albeit often in different forms than we've seen previously. Old time readers will recognize some of the names: Johnny "Hard Man" Dexter, Vic Guthrie, etc. But we're introducing them brand new, so first time readers can jump on board and immediately be thrust into the action and the drama. It's a different Melchester Rovers, though. They're very much the underdogs here -- the club has fallen on hard times and dropped down a few divisions. Roy has to try and lead them on their journey back to the big time.
DF: How exciting is it that you and artist Ben Wilsher will be bringing these adventures back as a series of graphic novels, beginning in autumn with Roy of the Rovers: Kick-Off? This will be all-new material, and not adaptations, I take it?
Rob Williams: Yes, this is all-new material. A series of graphic novels and novels, written by our writing team partner Tom Palmer, who's a critically-acclaimed young adult novelist. Between the graphic novels and the novels, you'll follow every aspect of Roy's journey.
DF: Speaking of Ben Wilsher, talk a little about what he is putting into the art here.
Rob Williams: Ben was hand-picked for the job as he's got the type of art style that a young adult audience really responds to. Lots of energy and color, with an animation edge. It's great looking comic art.
DF: What can you tell us about the storyline for this fall's Kick-Off? Can you hint at anything coming in the graphic novels (or novels) ahead?
Rob Williams: As I said, Melchester is in a tough spot when we join [the story]. Results and finances have gone badly for years and so they have to sell a lot of their first team squad. That gives them no choice but to play the kids -- and so Roy gets his chance. But can Roy of the Rovers make a difference in a league of hard-nosed veterans and billionaire oil-money-funded teams? It's really a story searching for the soul of soccer amidst all the money. Does it still exist?
DF: Rob, what else can fans expect from your kinetic keyboard?
Rob Williams: I'm currently writing Suicide Squad for DC, Project Superpowers for Dynamite and Judge Dredd for 2000AD.
Dynamic Forces would like to thank Rob Williams for taking time out of his busy schedule to answer our questions. The Roy of the Rovers: Kick-Off GN from Rebellion hits stores this fall. Keep watching DF News for more!
For more news and up-to-date announcements, join us here at Dynamic Forces, www.dynamicforces.com/htmlfiles/, "LIKE" us on Facebook, www.facebook.com/dynamicforcesinc, and follow us on Twitter, www.twitter.com/dynamicforces.
SUICIDE SQUAD #1 DYNAMIC FORCES EXCLUSIVE BY TERRY DODSON
PROJECT SUPERPOWERS VOL. 3 #1 ATLAS EDITION - SIGNED BY JG JONES
PROJECT SUPERPOWERS VOL. 3 #0 ULTRA-LIMITED VIRGIN VARIANT COVER
SUICIDE SQUAD #1 MIDTOWN COMICS EXCLUSIVE BLACK AND WHITE COVER BY TYLER KIRKHAM
MISS FURY VOL. 2: WALK THROUGH THE VALLEY TRADE PAPERBACK
MISS FURY VOL 1: ANGER IS AN ENERGY TPB
---
NEW! 1. 11/25/2020 - STEVE SKROCE
4. 11/16/2020 - RYAN O'SULLIVAN
5. 11/16/2020 - RYAN O'SULLIVAN