DAVID AVALLONE

SEND THIS TO A FRIEND!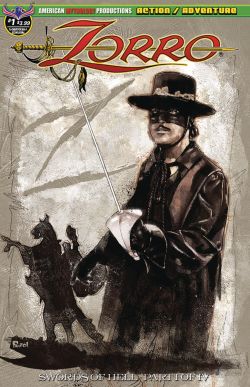 DF Interview: David Avallone brings us a swashbuckler with a twist in Zorro: Swords of Hell
By Byron Brewer
Zorro is back! Los Angeles is invaded by an army of demonic horsemen and Zorro is the only man who can save his home from becoming Hell on Earth. David Avallone (Bettie Page, Twilight Zone: The Shadow) and Roy Allen Martinez (House of M, Immortal Iron Fist) are proud to present the return of Zorro, as he faces down the "Swords of Hell" in an all-new swashbuckling horror series.
DF sought out writer David Avallone to get the rest of the info – just for you!
Dynamic Forces: David, you have worked on many iconic characters, especially of the pulp variety, but how does it feel to be working on a Zorro comic book – Zorro: Swords of Hell – in advance of the character's 100th anniversary next year?
David Avallone: It feels great, as you might imagine. I've been a fan of Zorro since my dad sat me down to watch the 1940 Tyrone Power movie when I was a kid. I watched it again recently and it really holds up. I never thought I'd get a shot at this iconic hero from my childhood and I'm thrilled to be working on it.
DF: Before we get to the book itself, let's get some feeling of your writer's eye view of Zorro as a character. Tell us about your iteration of this classic hero.

David Avallone: Zorro is the template for so many of the pulp/comic characters that came after him. Zorro is Batman without the angst. Zorro has a sense of joy and adventure, and he does the right thing not because he's driven by a need for revenge, or psychological demons… he does it because it's RIGHT, and – so unlike the dark heroes of today – he does it because it's a KICK. He's smart, he's in control, he's an incredibly skilled swordsman… and he wants to put all those tools to some good. So when evil rises in his home town he swats it down powerfully, with a smile.
DF: I understand there is a great twist in this Zorro tale, with the supernatural gear pushed to high! Tell us how this notion came about, and what this will mean for the swashbuckler and his adventure.

David Avallone: I was approached by American Mythology's James Kuhoric to do a Zorro story, and they told me they wanted something supernatural. I was happy to work with that angle, even though that means it's not quite as carefree a time for Don Diego de la Vega. The trick for me, as a writer, is to maintain Zorro's joy and lightness, even in this nightmare situation.
DF: Can you give us an elevator pitch for Swords of Hell?
David Avallone: Zorro versus an army of Conquistador Zombies who have risen out of the La Brea Tar Pits to conquer 19th Century Los Angeles. So in Hollywood pitch terms, it's The Mark of Zorro crossed with The Omega Man. It's Robin Hood vs. The Walking Dead. But of course there's a lot more to it than that.
DF: Aside from Don Diego de la Vega (aka Zorro), what other characters do we need to know about? Can you introduce us to some of them here?
David Avallone: Zorro fans will recognize the supporting cast: Lolita, his girlfriend. His father Alejandro and mother Isabella. The corrupt deposed Alcalde Quintero returns. His mentor, Fra Felipe, who's sort of his Obi-Wan Kenobi, is back. Then there are new characters, but I'd prefer readers meet them on the page.
DF: Can you tell us anything about the demonic big-bad(s) Zorro will be facing in Swords of Hell?

David Avallone: I definitely don't want to say too much about him. But I will say his name, which is pretty descriptive. They call him the Jaguar Brujo.
DF: What do artist Roy Allan Martinez and colorist Enrica Angiolini bring to this very unusual table?

David Avallone: Roy is the perfect choice for the book: his work straddles the horrific and the beautiful, and he can really handle action. Enrica Angiolini's colors are gorgeous and really bring out the detail in Roy's work, while adding their own depth and meaning.
DF: David, what other projects in which you may be involved can you tell readers about?
David Avallone: Currently, I'm also writing Elvira, Mistress of the Dark for Dynamite, in which the delightful horror hostess goes on a time-travel trip, meeting famous horror writers while being stalked by a famously creepy European tyrant from the dark ages. (No spoilers!) Art by the amazing Dave Acosta, who I've worked with many times before. First issue of that comes out July 11th, 2018.

Some time in the summer should see the release of the first trade paperback of Drawing Blood, a comedy-drama about a comic book creator facing a variety of personal and professional crises. That one is co-created by me and Kevin Eastman, script by me, art primarily by Ben Bishop, who's awesome, but with flashbacks drawn by Kevin, and hallucination sequences drawn by Troy Little. I'm proud of everything I've put out there, but this one is my first "creator-owned" book, so I'm particularly excited for people to see it.
Dynamic Forces would like to thank David Avallone for taking time out of his busy schedule to answer our questions. Zorro: Swords of Hell #1 from American Mythology hits stores in August!
For more news and up-to-date announcements, join us here at Dynamic Forces, www.dynamicforces.com/htmlfiles/, "LIKE" us on Facebook,www.facebook.com/dynamicforcesinc, and follow us on Twitter,www.twitter.com/dynamicforces.
.
BETTIE PAGE VOL. 2: MODEL AGENT TRADE PAPERBACK
BETTIE PAGE VOL. 1: BETTIE IN HOLLYWOOD TRADE PAPERBACK
DOC SAVAGE: THE RING OF FIRE TRADE PAPERBACK
THE TWILIGHT ZONE/THE SHADOW TRADE PAPERBACK
ELVIRA: MISTRESS OF THE DARK #1 - PHOTO COVER SIGNED BY ELVIRA
BETTIE PAGE #1 VIRGIN VARIANT - SIGNED BY TERRY DODSON
LEGENDERRY: VAMPIRELLA #1 (OF 5) RARE JOE BENITEZ "VIRGIN" ART EDITION
---
NEW! 1. 11/25/2020 - STEVE SKROCE
4. 11/16/2020 - RYAN O'SULLIVAN
5. 11/16/2020 - RYAN O'SULLIVAN