DAVID M. BOOHER & DREW ZUCKER

SEND THIS TO A FRIEND!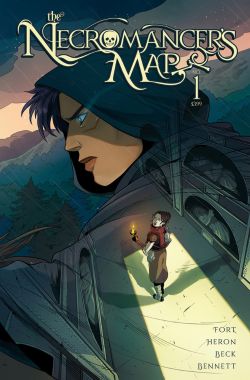 DF Interview: David M. Booher & Drew Zucker introduce a fable of clockwork heroes and enduring hope in 'Canto'
By Byron Brewer
Enslaved for generations, Canto's people once had hearts. Now they have clocks. When slavers damage a little tin girl's clock beyond repair, Canto must brave his strange and fantastic world to bring back her heart. Can he overcome the dangers that await to save the one he loves?
An all-ages fable inspired by Wizard of Oz and Dante's Inferno, IDW Publishing presents Canto from writer David M. Booher and artist Drew Zucker. Part fantasy. Part adventure. All heart. And to get to the real heart of this miniseries, DF sat down with David and Drew.
Dynamic Forces: David, I am seeing more and more comic books for young readers, what they title "all ages," and this can be nothing more than encouraging for comics. Is there any frame of mind you have to be in to author a comic also meant for young readers as opposed to writing for the main market these days?
David M. Booher: It's incredible to see the next generation of kids falling in love with comics. For me, all-ages really means that—meant for all audiences. So my mindset writing Canto was not to write just toward a younger audience, but to create a story that broadly appealed to both kids and their parents. Many parents nowadays grew up with stories like The Dark Crystal, Labyrinth, and The Neverending Story, so I wanted to evoke that nostalgia for parents and give kids a new story to call their own.
DF: Drew, you were talking once about the whole universe of this miniseries evolving from a sketch "that was just done for fun." Tell us that story of Canto's genesis, please.
Drew Zucker: Back in, I think, 2013, I was part of a sketchblog called Periodic Heroes that was a collection of a few people including Phillip Sevy and Jorge Corona. I'm not sure what the actual subject was that we were supposed to be drawing, but I decided I wanted to try my hand at drawing something steampunkish that could be cute, and that's how Canto was born. Originally I had planned on doing a whole group of characters with him, but I guess it's all the same I didn't since he's now evolved into this current version.
DF: So, guys, tell us about the world you are building and exploring in this mini. I am surprised to see that, although it sounds dark, most of its feel from what I have observed is very light and optimistic – especially in comparison to other adventures similar.
David M. Booher: Drew can really talk about the visuals, but I like to say we created a darker world with Canto as its light. We specifically wanted Canto's quest to be driven by his desire to help somebody else. He believes in hope above all else, even as he faces the dangers around him. It's that contrast between his optimism and his circumstances that we hope gets readers cheering for him.
Drew Zucker: When we set out to make Canto, David and I both agreed that the worst thing we could do when making an all ages book was to pander to one group. We worked very hard to find a middle ground that would entertain (and maybe scare a little) kids and adults. It doesn't mean the book had to be violent, but we looked at a lot of the stories we loved that walked that tight rope.
DF: Introduce readers to Canto.
David M. Booher: Canto is a little tin hero in search of a heart! His people have been enslaved. They once had hearts. Now they have clocks. Although they are forbidden to love, Canto loves a little tin girl. When slavers damage her clock, he must go on an epic journey to save her by bringing back her heart. He'll face many dangers and meet some new friends. In the end…well, we won't spoil it. Suffice it to say it's both epic and unexpected.
Drew Zucker: He also has an adorable tin belly that makes you just want to poke it. Canto is definitely the kind of hero the world needs right now—one who believes in hope in the face of such a dark world.
DF: What other characters are important to his mission as we begin the journey?
David M. Booher: Without giving too much away, we can definitely say he starts out alone but meets some unexpected friends along the way. He also faces increasingly dangerous creatures. Each step reveals a little bit more about his wider world and the true nature of the one who has taken their hearts.
DF: A knight must have a dragon. Who is Canto's ultimate big-bad?
David M. Booher: Again, without giving too much away, Canto doesn't even really know he has a big bad when he starts his quest. But when he learns someone known only as "The Shrouded Man" holds their hearts, he'll confront him even if that means risking his life to save the one he loves.
DF: Drew, did you do all the design work for this comic? Talk a little about that, and perhaps a design/set piece which may have been either fulfilling to design or a particular challenge.
Drew Zucker: I did do all the design work for Canto and it has been no small task. When I set out, I wanted to do a book where I got to really exercise my imagination and not have to go back to reference as often. I would say Canto was probably one of the hardest characters to design just because the original wasn't nearly as cute as the final, and figuring out how to massage a few edges and get him to a point that a reader could empathize with him was a challenge.
DF: David, Canto is obviously the POV character here, but is there another that has surprised you? One of those characters scribbled in the margins that has taken over the page just because of the joys of writing him/her?
David M. Booher: Beyond our little tin hero, I absolutely fell in love with the first creature who befriends Canto. Called a Malorex, he's a big, scary-looking Toto of sorts. He doesn't talk, and he turned out to be sweet, funny, head-strong, and fiercely loyal. I can't wait for everyone to see the moment in issue 2 when he decides Canto is his friend.
DF: Both, tell readers what other projects from you they might be looking for soon.
David M. Booher: Hopefully more Canto! We already have plans for the next parts of Canto's journey. There's still tons of Canto's story to tell, so with any luck, we'll be able to continue his epic adventure.
Drew Zucker: Like David said, hopefully more Canto! This whole book has been such a challenge, but so much fun to work on. Just as a creator, the stories David and I have laid out going forward have been genuinely exciting just to talk about and I can't wait to get to share them with everyone else.
Dynamic Forces would like to thank David M. Booher and Drew Zucker for taking time out of their busy schedules to answer our questions. Canto #1 from IDW Publishing hits stores June 26th!
For more news and up-to-date announcements, join us here at Dynamic Forces, www.dynamicforces.com/htmlfiles/, "LIKE" us on Facebook, www.facebook.com/dynamicforcesinc, and follow us on Twitter, www.twitter.com/dynamicforces.
---
NEW! 1. 11/25/2020 - STEVE SKROCE
4. 11/16/2020 - RYAN O'SULLIVAN
5. 11/16/2020 - RYAN O'SULLIVAN