JIM ZUB

SEND THIS TO A FRIEND!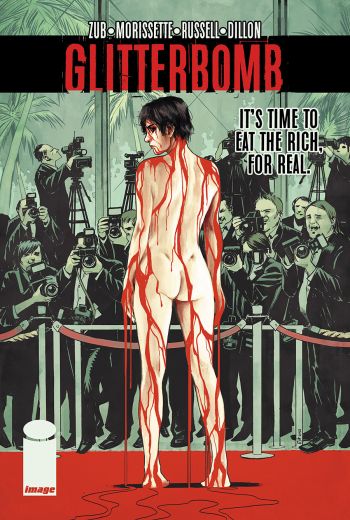 DF Interview: Jim Zub's Glitterbomb examines the horrific price for our 15 minutes of fame
By Byron Brewer
Image Comics in late summer brings comic readers Glitterbomb, a Hollywood horror story following a middle-aged mother who becomes a conduit for supernatural forces when her entertainment career fails to take off.
Written by Wayward's Jim Zub with art by newcomer Djibril Morissette-Phan, colors by K. Michael Russell, and letters by Marshall Dillon, the series offers a chilling take on the dangers of fame.
Dynamic Forces: Jim, tell us how this Hollywood horror tale came about please.

Jim Zub: Glitterbomb as a concept has been rolling around in my head for a couple of years, fueled by the 24 hour celebrity-obsessed news cycle we're living in. When I met Djibril Morissette last summer, I knew I'd found the perfect artist to finally get it out of my brain and out into the world.

DF: We've all heard the tale about the starry-eyed kid whose Hollywood career either goes down in flames quickly or never takes off. What is the storyline in Glitterbomb?

Jim Zub: Without giving away too much, Farrah Durante is a middle-aged actress unable to snag new roles in Hollywood. She's too old for the typical roles offered as "arm candy" and too young for "grandmother"-aged parts, that awful gap where casting leaves so many talented actors high and dry because of ingrained expectations around youth and beauty. Her intense frustration around fame and failure is a potent lure for something terrible beyond our understanding that fuels a vengeance-laden rampage on Tinseltown.

DF: I understand Farrah's family will be a big part of the book. What can you reveal about these characters?

Jim Zub: Farrah is a single mother raising a young boy in Los Angeles, specifically Oakwood. The pressures of motherhood and expectations around her own fading star power set against a city that measures self worth in box office take or Twitter followers is an intense emotional brew.

DF: There is a rather interesting story about how you became acquainted with the artist, Djibril Morrissette-Phan. Tell us.

Jim Zub: My friend (and incredible comic artist) Marguerite Sauvage introduced me to Djibril at Montreal Comiccon last summer. Djibril is only 21 years old, but his artwork looks like the confident work of an industry veteran: solid figures and backgrounds, clear storytelling and great emotional range. I was blown away by his portfolio and told him I'd be happy to collaborate on a project. Within a few weeks, we were starting to plan out Glitterbomb.

DF: So, what does Djibril bring to Glitterbomb?

Jim Zub: Djibril's realistic figures and locations are tinged with a somber atmosphere and underlying tension that fits the material so well. It's reality but with a textured nasty edge.

DF: There seems to be a lot of horror happening in Hollywood these days. Kate Leth has taken Dynamite's new Vampirella there... What is it about formerly glamorous Tinseltown that has made it a fertile horror genre background? And particularly for you in Glitterbomb?

Jim Zub: Hollywood embodies excess and emotional intensity. It's a place fueled by big dreams, big personalities, and the electric eye of the media steadily watching their every move. It's fascinating and disconcerting at the same time and I think that makes for a great setting to explore.

DF: So, Jim, what Zub-tastic Zub-jects are next up from your keyboard?

Jim Zub: Glitterbomb is one of five comic projects I have underway right now. Also on deck are Thunderbolts for Marvel, Dungeons & Dragons at IDW, Street Fighter Legends: Cammy at UDON, and my other creator-owned series at Image, Wayward.
Dynamic Forces would like to thank Jim Zub for taking time out of his busy schedule to answer our questions. Glitterbomb #1 hits stores in late summer!
For more news and up-to-date announcements, join us here at Dynamic Forces, www.dynamicforces.com/htmlfiles/, "LIKE" us on Facebook, www.facebook.com/dynamicforcesinc, and follow us on Twitter, www.twitter.com/dynamicforces
PATHFINDER VOL. 1: DARK WATERS RISING HC - SIGNED BY JIM ZUB
PATHFINDER: CITY OF SECRETS #1 (OF 6) Written by Jim Zub
RED SONJA AND CUB (ONE-SHOT) Written by Jim Zub
LI'L SONJA (ONE-SHOT) Written by Jim Zub
PATHFINDER SPECIAL #1 Written by Jim Zub
---
NEW! 1. 02/10/2022 - SIMON SPURRIER
4. 01/31/2022 - TIM SEELEY & AARON CAMPBELL
5. 01/27/2022 - TYLER BURTON SMITH