ZACK KAPLAN

SEND THIS TO A FRIEND!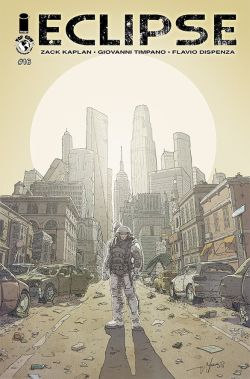 DF Interview: 'Eclipse' finale: Zack Kaplan says comic 'a story of hope, and how we have to pick ourselves up after tragedy'
By Byron Brewer
Light and dark face off as a disillusioned solar engineer, a powerful solar tycoon and his rebellious daughter must stop a fearless maniac from destroying the city – and, ultimately, decide the fate of all humanity.
From Image Comics and Top Cow comes the series finale of Eclipse! A final issue like none other is brought to you by writer Zack Kaplan and artist Giovanni Timpano.
DF wanted to talk more about the occasion of this final issue of Eclipse, so we sat down with co-creator/scribe Zack Kaplan.
Dynamic Forces: Zack, man, this is it? Curtains, finito, bye-bye? No new arcs or coming continuation? Eclipse is over, at least the comic book, come June 5? 'Splain.
Zack Kaplan: Eclipse is ending. Issue #16 will be the final issue. Four arcs, four issues each. It was a natural ending point for the story and we wanted to keep a fast pace, deliver an exciting contained story that we got to finish on our terms. Of course, the series is still in TV development, so there's always a chance we'll return to the world of deadly sunlight, but for now, we're taking a bow and ending the show. And it's a very emotional ending for us. This was the first creator-owned series for Giovanni Timpano and I. It's not often a first creator-owned goes 16 issues. It's been a joy and a privilege and we're so grateful to Top Cow and Image Comics for the opportunity. It's touching to end it. But we have more stories we want to tell in other worlds.
DF: So, for the sake of those who have been living under rocks (and who could blame them these days), tell readers in capsule summary (easy, right?) what Eclipse is all about.
Zack Kaplan: The sun has turned deadly. Billions have died. We survived by living underground in New York City, working at night, sleeping during the day and hiding from the sunlight. A killer emerges with immunity to sunlight, and a disillusioned solar engineer is pulled into a murder mystery in order to stop him and save the daughter of a corrupt solar tycoon. And what unfolds after that is a mix of Chinatown mystery and Game of Thrones power politics for control of the city, this immunity to sunlight and the fate of humanity. Ultimately – it's a story of hope, and how we have to pick ourselves up after tragedy or defeat, reconnect to one another and follow our moral compasses to do what's right.
DF: What do the uninitiated – not really fair to call them new readers since the title is closing – need to know to get enjoyment out of Eclipse's last issue, #16?
Zack Kaplan: Issue #13 is a pretty easy jumping-on point, with a nice recap and a fast moving story that pulls you in, so if someone is unfamiliar with the series and wants to give it a try, they could certainly start there. The story is quite serialized so I can't imagine joining the ride on the last issue. As a writer, I'm a big fan of character evolution, and so each arc of Eclipse further builds layer on layer onto the characters and their internal crisis, so that by the end, their climatic choices are compounded by pain and tragedy and trauma, making it all the more provocative and excruciating. So if a new reader enjoys the ending, I would encourage them to pick up the earlier trades and see just why Cielo and her father have such a complex relationship or why it's so hard for our hero David Baxter to figure out which way is the right way.
DF: Who do readers really need to know in the way of protagonists to pick up at least some of the import of this issue? Tell us a bit about them.
Zack Kaplan: This is a SPOILER ALERT kind of question, but David Baxter, or our hero Bax, has lost his family, a wife and a young daughter, saving the city initially during this solar cataclysm. And he made a conscious choice to help the city instead of his family when they were in need, so he blames himself. He doesn't want to risk the lives of people he cares about, and in fact, he doesn't ever want to accept the responsibility of defending the city again. Nick Brandt, our corrupt solar tycoon, is actually not that villainous of a man. He's spent his life trying to protect the city, although he's made several questionable choices and flawed compromises. But his greatest sacrifice was being a father to his daughter. Understanding that will make the ending that much more fulfilling. Cielo, his daughter, has been manipulated by her father time and time again, and yet, she finds herself in a situation where she must trust him or risk the well-being of the city. It was a challenge to deliver satisfying closure and fulfillment to their endings, but we're very proud of the way we ended the series. We think fans will be too.
DF: Was Eclipse always planned to be a 16-issue zine?
Zack Kaplan: No, it was planned to be a four-issue miniseries. Ha ha ha. But issue #1 did well, we got the green light for 4 more issues, and then 4 more and then we shot to finish in 16. But at each turn, we took a chance to save our ultimate ending, to tell more of the story but leave room for that final chapter. And after three arcs, we knew it was time and we finished there. And looking back, it seems like the right number of issues for this story. Obviously, storytelling can be sped up or slowed down, but this was always an action thriller, and we didn't want the action to become monotonous and we wanted to follow the characters' natural evolution toward their ends. It all led to 16 issues.
DF: As the penultimate issue passes and the climactic issue approaches, can you tell us in a non-spoilery fashion of any storylines or threads you would like to have wrapped better?
Zack Kaplan: I'm sorry, but we're thrilled with the way we were able to end it. I think we resolve all of the storylines quite clearly, and for our taste, in a very satisfying way. There are always plot turns we might have veered five degrees differently, but no, this story ends just the way we want it. We were very lucky to have that outcome. All I will say is this – this story, Eclipse, was one of the people in New York City, of these characters in this situation during this moment. The characters fulfill their journeys and the situations end accordingly. But SPOILERS -- the world of Eclipse and its new reality was never meant to be redeemed. This is a world of deadly sunlight. And it will always be a world of deadly sunlight.
DF: Talk a little about the art in Eclipse along the way.
Zack Kaplan: Giovanni Timpano, the artist, and Flavio Dispenza, the colorist, with x Chris Northrop, initiating the colors on the first arc, have done [work that is] nothing short of amazing. The mission was daunting. To create a world where the sunlight dominated, baked out color and left us with just light. We had to feel the heat above ground and the exhaustion. And yet we needed to see all the details of this post-apocalyptic landscape. Below ground, we needed a bleak, dark world, equally depressing and equally detailed. Giovanni changed his style to capture the very nature of this world, and the colorists filled in every single detail with textures and nuance. It's a beautiful book, one in which the artwork compliments and supports the story, rather than dominates and overwhelms it. I couldn't be more proud of the artwork.
DF: Of course the BIG news was that Eclipse is being developed as a TV property by Skybound. Can you give your comics readers any update on this aspect of the property?
Zack Kaplan: Unfortunately, I can't. All I can say is that we are super excited to have Robert Kirkman's Skybound Entertainment adapting the material and we can't wait to bring it to audiences in a new form. The reality of developing comic books into film or TV is that it takes time to assemble the right team, craft the right vision and execute it in the right way. So we are as anxious as anyone to see this dream fulfilled, but it's on its way. And we just have to wait.
Dynamic Forces would like to thank Zack Kaplan for taking time out of his busy schedule to answer our questions. The finale of the series, Eclipse #16, from Image Comics and Top Cow, hits stores June 5th!
For more news and up-to-date announcements, join us here at Dynamic Forces, www.dynamicforces.com/htmlfiles/, "LIKE" us on Facebook, www.facebook.com/dynamicforcesinc, and follow us on Twitter, www.twitter.com/dynamicforces.
---
NEW! 1. 11/30/2020 - SKYLAR PATRIDGE
5. 11/16/2020 - RYAN O'SULLIVAN