JEFF LEMIRE

SEND THIS TO A FRIEND!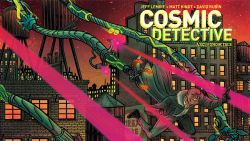 DF Interview: Jeff Lemire delves into a god's murder in 'Cosmic Detective', up on Kickstarter
By Byron Brewer
A god is found dead. Foul play is suspected. But who investigates the murder of a god? Not just anyone, that's for damn sure. Enter our Detective. He's got a wife, a kid and a seemingly normal day job as a private eye. But for years, he's been working for a secret underground cabal of shadowy figures, an organization committed to an uneasy alliance with cosmic forces beyond our imagining.
From the long and secret labors of bestselling writers Jeff Lemire (Black Hammer, Descender), Matt Kindt (BANG!, MIND MGMT), and internationally acclaimed artist David Rubín (Ether, Beowulf) comes an all-new original graphic novel. Cosmic Detective is an epic science fiction mystery that asks: When a god is murdered, who solves the crime?
To learn more about this creator labor of love, DF caught up with scribe and old friend Jeff Lemire. Here's the skinny on this OGN, up now on Kickstarter.
Dynamic Forces: Jeff, how does it feel to be re-teamed with writer Matt Kindt and artist David Rubín – whom you've worked with, each on different projects – to do your first creator-owned collaboration together, Cosmic Detective?
Jeff Lemire: Matt and I are good friends and have always wanted to do a creator-owned book together, and we finally found the time in 2018 to start on this. We had a blast. And there was never any question that David would be the artist. Matt had done Ether with him and I had done some Black Hammer with David as well, and we both loved working with him. It seemed like a natural fit.
DF: So you three have been laboring on and off on this project for two years or more? Can you give readers a behind-the-scenes on the genesis of this book?
Jeff Lemire: It really started as a fun idea between Matt and I when we would periodically meet at cons in 2018. We wanted to jam on a story, just have fun and come up with a big concept and then pass the script back and forth almost like a game of tag. Then in Fall 2018, Matt visited me in Toronto for a few days where we hammered out the basic outline and structure of the story. After that, it went really fast, just passing the script back and forth, each writing a chunk and then trying to stump the other. David started doing designs and art soon after.
DF: How come the decision to take this to Kickstarter? Is it too early to tell of any extras, exclusives, etc.?
Jeff Lemire: Matt and I sort of thought it would be fun to go back to our roots. We both met when we were self-publishing our early work and doing small press shows. And that DIY spirit was something we missed. This seemed like a great opportunity just do this ourselves and get back to that in a way.
DF: Tell us the storyline of Cosmic Detective. Not many murder mysteries begin with the death of a god. (There is something about an expansive tale rooted in crime noir that also channels Kirby cosmic that is very pleasing to the mind.)
Jeff Lemire: We really started with the name "Cosmic Detective" and went from there. We knew that Rubín would thrive in creating this big Kirby-inspired cosmic mythology and we juxtaposed that with a grittier film noir sensibility. I can't reveal any more about the story, or I would have to kill you.
DF: As if coping with the pandemic hasn't done that already!… What can you tell readers about your protagonists?
Jeff Lemire: No, sorry. The Detective's identity is heavily guarded. His actions and mission are of the most secret variety and to divulge any more would mean risking your life as well as the lives of all those reading this interview. In ten minutes, you will forget you ever read this. In fact, in ten minutes you will forget all you know about Cosmic Detective and comic books in general. Mind wipe in progress…
DF: That's a lot of wiping. Hah!… Talk about the awesome art stylings of David Rubín. Word has it the book was written specifically for his cinematic vision and expansive illustrations.
Jeff Lemire: Cosmic Detective was written 100% for David Rubín right from day one. Knowing David would draw this really empowered Matt and I to go bonkers and not hold back at all because we knew that David had this incredible visual imagination and range. He is a master, as far as I'm concerned.
DF: So tell readers how they can check out what's going on and become a part of the Kickstarter. How long does it run?
Jeff Lemire: The Kickstarter is up and running and the higher it goes, the more extras we will add. You can check it out at
https://www.kickstarter.com/projects/1266952446/cosmic-detective-a-graphic-novel-by-lemire-kindt-rubin?ref=ksr_email_creator_launch
DF: Jeff, what other projects might you have coming up that you can tell readers about, inside or outside comics?
Jeff Lemire: I'm currently working away on scripts for the Essex County TV show which is set to shoot in early 2021, and drawing another top secret project.
Dynamic Forces would like to thank Jeff Lemire for taking time out of his busy schedule to answer our questions. The Cosmic Detective OGN is up on Kickstarter now, check it out! And keep watching DF News and comics-related social media for more information.
For more news and up-to-date announcements, join us here at Dynamic Forces, www.dynamicforces.com/htmlfiles/, "LIKE" us on Facebook, www.facebook.com/dynamicforcesinc, and follow us on Twitter, www.twitter.com/dynamicforces.
---
NEW! 1. 12/04/2020 - JOSH BLAYLOCK
3. 11/30/2020 - SKYLAR PATRIDGE