DAVID LOPEZ

SEND THIS TO A FRIEND!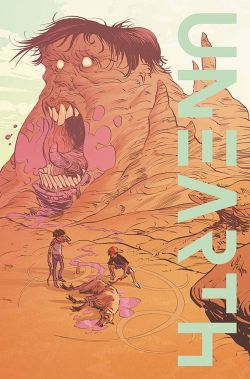 DF Interview: David Lopez brings us a comedy about a family who just happen to be superheroes with Blackhand Ironhead
By Byron Brewer
Alexia wants to be the greatest hero of all time, but she's got a problem: her father already IS the greatest hero of all time. And she's about to discover she's got an even BIGGER problem…
Former Fallen Angel and Captain Marvel artist David Lopez returns to creator-owned comics with Blackhand Ironhead, a comedy about family, with superheroes, not about superheroes. Like all of Panel Syndicate's titles, readers can pay what they'd like for the first issue.
DF wanted to know more about the comic, so we sat down with creator David Lopez.
Dynamic Forces: David, your art has certainly become synonymous with the Wolverine legacy of late. What brings this respite from Mighty Marvel and a return to creator-owned AND the writer's chair?
David Lopez: Many things happened in a more or less short time span that sparked that. My pal David Rubín was doing great with his creator stuff and I was really jealous. He was doing the kinds of stories he believes in and it was working. Then I met Kelly Sue [DeConnick] when we were working on Captain Marvel and she was so happy and positive about CO work so… jealousy again.
Finally, when my daughter was born I realized that I needed to be in control of my schedule and the monthlies at Marvel were really time consuming.
About the writing part: I used to write my own books before I started working for DC and Marvel so that part was natural to me, but after working with the best writers there are I became aware that I needed to improve a lot.
DF: Can you tell us how you came up with the concept of Blackhand Ironhead?
David Lopez: The whole idea changed wildly seen in perspective, but the core idea was the two girls, the mesmerizing eyes and… and stuff I won't spoil… The point is that the moment I found that one of the girls was a hero and the other a villain, the thing was done. In all this process David Muñoz's guidance was vital; he teaches scriptwriting and is an awesome writer himself (Devil's Backbone, that's his).
DF: Tell us a little bit about one of your protagonists, Alexia.
David Lopez: She's naive and pure, a bit like a shonen protagonist. She has a strong moral compass, she knows very well what's right and wrong, she is super strong and durable, she's the perfect paladin, but she lives in times where paladins are not needed anymore.
DF: Alexia's relationship with her father seems to clearly be a strong undercurrent in this new series. Can you tell us a little about this multi-layered connection?
David Lopez: Alexia's father is her role model. She wants to be exactly who he was when he was a young hero, the best fighter there is, but her father changed the world to be a safer place and wants his daughter to be a defender of the status quo in times of peace.
DF: Who is Amy?
David Lopez: I don't want to spoil any big reveal so I won't say much. Amy is a young villain, she's a powerful woman, she's proud and doesn't have any fear of speaking her mind, she hates Alexia's father and all that family… she really does.
DF: Any other characters readers need to know about?
David Lopez: There're a few important supporting characters, the reader knows them all from issue #1. I took my time in the design stage to have them all with their respective personal features. They come in different shapes, colors and heights. I confess that the character design and world building are the parts I enjoy the most so there's lots of stuff there to enjoy.
DF: So what kind of stories will we be reading in Blackhand Ironhead?
David Lopez: The tone of the book will be very much as what we see in #1, a book with superheroes but not about fighting villains and saving the world, it's a COMEDY about family.
DF: After a time collaborating, has it been tough being a one-man band on this book?
David Lopez: YOU CAN BET IT HAS! Since I started working on Blackhand Ironhead, I've really seen how important the work of editors are at the Big Two. The editor gets the whole group together and motivated, she has to be aware of what the creative ideas of every part of the team are and make decisions about them, she must know about scriptwriting and art to make corrections respecting egos, and search for typos, and get the book to print on time. That's a HUGE amount of talent and work. My respect.
At Panel Syndicate, I've been blessed to have Marcos Martín on the other side of the phone always ready to help, he knows… he knows how everything in the world works and what's best. He's a god of light, this stupid-bright idea of engaging the public with complicity is perfect.
DF: David, any other projects current or near-future you can let us know about?
David Lopez: I'm doing lots of covers for Marvel these days! It's a side effect of not doing interiors.
Dynamic Forces would like to thank David Lopez for taking time out of his busy schedule to answer our questions. Blackhand Ironhead #1 is available for download now at PanelSyndicate.com!
For more news and up-to-date announcements, join us here at Dynamic Forces, www.dynamicforces.com/htmlfiles/, "LIKE" us on Facebook, www.facebook.com/dynamicforcesinc, and follow us on Twitter, www.twitter.com/dynamicforces.
---
NEW! 1. 12/04/2020 - JOSH BLAYLOCK
3. 11/30/2020 - SKYLAR PATRIDGE