BRENDAN COLUMBUS

SEND THIS TO A FRIEND!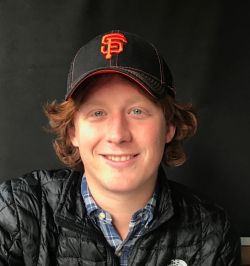 DF Interview: Brendan Columbus roars into comics with 'Savage Circus'
By Byron Brewer
A circus train carrying a ferocious menagerie collected by mad ringleader Lewis Savage has overturned on the only road in or out of the town of Basin Bay after a crash with a recently stolen armored car. It's a bad day to be Deputy Brady Harrison. With no power, no communications, and animals on the loose, it's looking to be a blood-red Christmas.
Brendan Columbus makes his comics-writing debut with Savage Circus, a new limited series to premiere in the 300th issue of the iconic Heavy Metal Magazine; handling art is Al Barrionuevo (Batman: Hush Returns).
"Brendan is a rare breed. They don't make writers like this very often," said Heavy Metal CEO Matthew Medney in an exclusive side interview. "Creative and concise. Expansive and focused. This is just the beginning for this talent and, for myself and Heavy Metal, we are excited to have such excitement and quality this early. It's like finding Facebook in 2004. Most people didn't realize what they had yet. In this case, we are aware, but the world isn't … not yet, at least."
DF wanted to jump on that circus train, so we caught up with scribe Brendan Columbus.
Dynamic Forces: Brendan, how does it feel to make your debut as a comic book writer in the pages of the iconic Heavy Metal Magazine? And issue #300, at that!
Brendan Columbus: It's beyond cool! As an avid comics/Heavy Metal fan, it's mind-boggling to think that I'll be able to crack open the big #300 and see something I wrote inside. Add in the fact that it's my debut and I don't think I could wish for anything better. I'm over the moon about this opportunity, truly one of the most exciting things to ever happen to me. Hopefully I'll still be around for issue #400.
DF: Are you a fan of comics in general, and the genre mixing magic of Heavy Metal in particular?
Brendan Columbus: I'm a huge comics fan. My dad had half of his office filled to the brim with his collection and as a kid I would just devour them. From the old EC anthologies to Lone Wolf and Cub and of course Heavy Metal, reading those got me addicted and I've been a major fan ever since.
The genre mixing in Heavy Metal really makes it stand out from other publications. There's something mythic about Heavy Metal, you can just open an issue and have no idea what's on the inside. Bikini clad warriors, mutant space cannibals, cigarette-smoking cats: there's absolutely no telling what was in store for you. It has this giant sense of discovery and that's what makes it so damn exciting.
DF: Elephant-in-the-Room Question: How big an influence was your father, writer/director Chris Columbus (Harry Potter and the Sorcerer's Stone, Gremlins) on your desire to write, to tell stories?
Brendan Columbus: He's the biggest influence! Since I was born, he's been guiding the content I watch. The first movie I ever remember seeing is Duck Soup, the 1933 Marx Brothers movie. From there, he's shown me countless films, obscure comics, crazy music... To this day, we still try to one-up each other with recommendations. It's all a learning process, consuming the best writing to fuel that creative edge.
Chris is also insanely supportive with my writing. I'm constantly running ideas by him, always getting notes on new drafts. He helped me a lot on Savage Circus. I only turned down one note. He said a giraffe biting a guy's head off may be going too far, and I strongly disagreed.
DF: What can you tell readers about the genesis of this comic and the overall story of Savage Circus?
Brendan Columbus: Savage Circus is the story of a gang of criminals descending into the town of Basin Bay on Christmas Eve. A small town with only one road in and out, the thugs plan to kill the power, cut the telephone lines and drive an armored truck into town to rob the hell out of the city.
They pull off the perfect heist and are high-tailing it out of Basin Bay when a runaway train SMASHES into their armored car! The train cars scatter, blocking the only way out of town, the gang of miscreants are trapped in Basin Bay. What's worse? The train was a circus car, but not just any circus, it was the SAVAGE CIRCUS, a collection of Earth's deadliest man-killers. Each animal has a horrific backstory and an urge to kill!
Now Deputy Brady Harrison has to fight through a city of deranged animals, psychotic criminals and the crazed ringleader Lewis Savage to save his town and protect its citizens (well, at least the ones that haven't been eaten, gored, butchered, stomped on, poisoned, torn to shreds or decapitated).
DF: Tell us more about Deputy Brady Harrison?
Brendan Columbus: Brady is the son of Sheriff Hunter Harrison. After his father's untimely death, Brady decided to follow in his footsteps. Now he regrets that choice. Policing a town the size of a mall where the only crime is the occasional teen smoking weed, Brady wants to get the hell out.
So when these BEASTS are set loose on the town, he gets his wish for more action but is he really going to risk his life for a town he hates? He better decide fast because the animals are moving through Basin Bay like tourists at a casino buffet.
DF: Who is Lewis Savage? (I take it he is the titular "Savage" in Savage Circus?)
Brendan Columbus: Lewis Savage is the greatest adventurer that's ever lived – or at least that's what he'd tell you over a beer. He's a battle-hardened explorer who could whip Indiana Jones's ass and drink Popeye under the table. He's dedicated his life to tracking down man-killers, not to murder them but to capture and exhibit them around the world. Lewis is an expert tracker, a fearless adventurer and quite the exaggerator.
DF: Talk a little about your collaboration with artist Al Barrionuevo.
Brendan Columbus: We're still pretty early on with the art but I have been in the process of adapting this script from screenplay to a comic book form. It's been a giant learning experience. But with the help of the geniuses Matt Medney and [Heavy Metal Publisher] David Erwin, I've been getting a hang of this new style of writing and finding it wildly fun. I hope Heavy Metal will keep publishing me because now I don't see myself stopping writing comic books anytime soon!
DF: To wrap, Brendan, any aspirations for a possible film coming out of the Savage Circus series? Any other ongoing or near-future projects you can share?
Brendan Columbus: I originally wrote Savage as a script and was routinely turned down because it would've been a massively expensive, R-Rated adventure movie written by an unproven first-timer. No one would be insane enough to take that chance! Except of course, Matt Medney. So after it's published and if people really go wild for it, proving Savage has an audience, it would be great to see it on the big screen!
For the future, I hope you guys will be seeing a lot more of me in Heavy Metal. We have some top-secret but VERY exciting stuff coming up that people are going to go CRAZY over!
Dynamic Forces would like to thank Brendan Columbus and Matthew Medney for taking time out of their busy schedules to answer our questions. Columbus' Savage Circus debuts in Heavy Metal Magazine #300, set for on-sale July 17th! Stay tuned to DF News and comics social media for more!
---
NEW! 1. 12/04/2020 - JOSH BLAYLOCK
3. 11/30/2020 - SKYLAR PATRIDGE