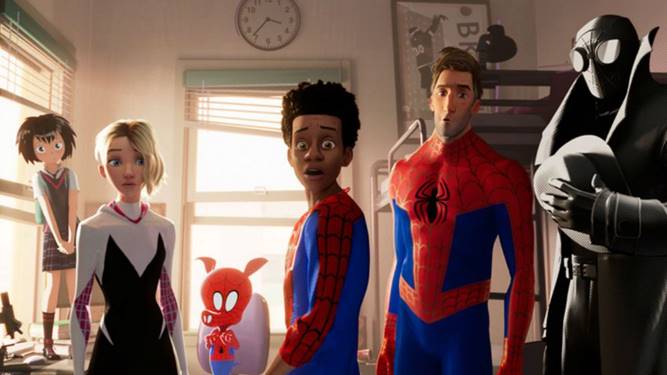 DF Interview: Nick Kondo swings from games to the big screen with Oscar winner 'Spider-Man: Into the Spider-Verse'
By Byron Brewer
When Sony unwrapped its indescribable big screen animated feature, Spider-Man: Into the Spider-Verse, like an early Christmas gift in December 2018, merry Marvelites old, new, MIA or just gone from the comic book scene stood up and took notice. As did animation buffs, movie critics, movie goers … and finally Oscar.
One of the animators on this toon-of-the-century was Nick Kondo, an artist and longtime games industry worker. Hundreds of people work on films with hopes of Oscar glory. This is the story of one. Nick Kondo, one of many animators who brought Miles Morales & Crew to life and who made my 61-year-old heart feel optimism and wonder again … feel young again, as when the world was new.
Dynamic Forces: So Nick, it looks pretty good on the ol' resume for the very FIRST feature film you worked on as an animator to both win an Oscar and perhaps usher in a brand-new style of animation, eh? How ARE you feeling these days in the glow of Spider-Man: Into the Spider-Verse?
Nick Kondo: Hey Byron, the whole team and I are super excited to be a part of this film! I always tell people that it was kind of like winning the lottery. I just happened to be at the right place at the right time when a project like this was being created.
DF: Even before the Sony toon was released, people had been dissecting the trailers online and marvel-ing (laughs) at the rich animation that seems to take the best of computer style, hand-drawn classic, and even the unique art style of the comic book itself and blend them into something I, an animation buff, have literally never seen before. Can you speak at all to the genesis of this toon film technique, or at least your thoughts on same?
Nick Kondo: The project was under development for a year or more before I came on, and so I can't speak directly to its genesis, but I do know that creating something "new" was a mantra and driving force from the beginning. And if you look at Phil Lord and Chris Miller's history of working in animation, from Cloudy with a Chance of Meatballs to The Lego Movie, the duo has always been pushing to break new ground.
DF: Most are now very familiar with the animated feature, especially since becoming available for home viewing via Digital HD and Blu-ray as well as On Demand. Tell us, Nick, which character(s) did you animate? What scenes contain, in your estimation, the greatest examples of your own craft?
Nick Kondo: These are two of the shots that I animated that are fairly well-known. The first, where the Spider-Gang is hiding from Miles' roommate in the dorm room is an example of a technically complicated shot with a lot of moving parts and character elements to consider: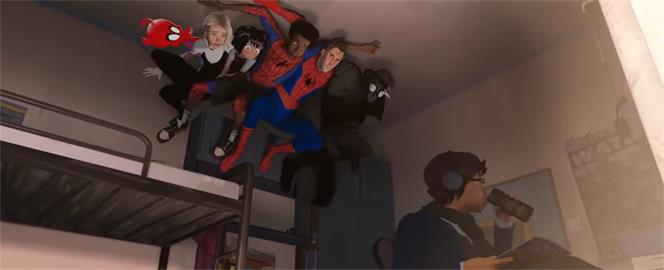 And the shot where Jefferson says "That's a Copy" to Miles after an embarrassing back-and-forth in front of the school is an example of my own experience as a father coming through in the animation: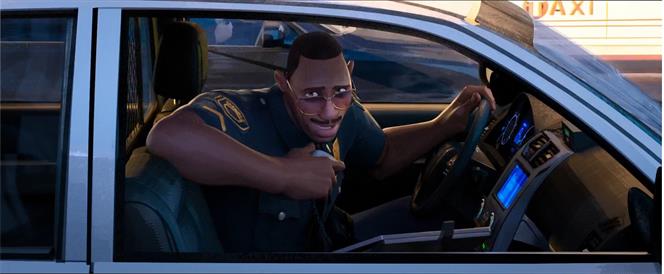 DF: Your favorite part of the movie, with or without your animator's touch, and why?
Nick Kondo: I have many favorite parts, but I'll mention two. The first happens right after the death of Miles' Peter Parker and he goes home and asks to stay the night. While in his room, the song "Scared of the Dark" comes on and we hear of Peter's death over the television, then through the phones of everyone in the street, and finally we see Stan Lee. It makes me cry every time no matter how many times I've seen it now. I so love and respect the level of film-making that delivers a moment that is this powerful. And I also appreciate that the film makes Stan an essential part of Miles' transformation. It was written and created before his passing, and yet was made from such a loving and honest place that it takes on an even greater weight and deeper meaning posthumously.
The second is the sequence that was called "Miles Rises Up", which has his iconic leap from the building to the song "What's Up Danger". No matter how many times I see it, I get the chills and my adrenaline starts pumping. I can feel what it's like to be Miles in this moment with his loved ones' voices in his head, jumping despite his fear, transforming mid-air and emerging out of the other side of the experience as Spider-Man. To me, it's just masterful cinema.
DF: Were you a comic book fan growing up? A Spider-Man fan? Did this have anything to do with your interest in art/animation?
Nick Kondo: Yes, I was a big comic book fan from when I was around 9 until I was about 14. The very first comic book I ever read came from a neighborhood friend who brought the first issue of Venom to my house.
I was really into drawing dinosaurs and dragons up to that point, and in the span of a few minutes my whole taste in art and subject matter changed and I began drawing comics and comic book characters and telling my mom I wanted to be a comic book artist when I grew up. From Venom, logically, I went to Carnage and Spider-Man. From there I went to Batman and through the Bane saga, and as I got a little older I became attracted to the highly-detailed and dark art and subject matter of Spawn.
Comics launched me into wanting to tell stories with images, got me into writing, and are a major influence on how I draw even to this day. And while I never ended up as a comic book artist, I have worked as a storyboard artist which is very similar, and most recently working on Spider-Man: Into the Spider-Verse was a really special high-five to the 11-year-old me that told my mom I wanted to draw comics for a living.
DF: How did the opportunity arise to enter feature film animation in general, and to have Spider-Verse as your first film in particular?
Nick Kondo: After 15 years of working in the Seattle game industry in a variety of capacities from concept art to camera layout, motion capture acting and animation, editing, marketing, and teaching, I studied online with Animation Mentor to try and level my skills up to where I hoped the feature film industry would take me on.
As luck and hard work would have it, Sony called me as I was finishing up the class and asked if I would move to Vancouver to work on a fully-animated Spider-Man movie. During the interview, there was very little they could tell me about it other than that it was going to look like something no one had ever seen before. Needless to say, it didn't take much convincing for me to accept the offer though until I set foot in the studio and saw what I was going to be working on with my own eyes, it was impossible to imagine just how different this film was going to be.
DF: Nick, are you working on any of the discussed Sony sequels for Spider-Verse? What is on the horizon for you?
Nick Kondo: While I'm not in a position to say anything about the future of the Spider-Verse franchise, I'll just say that I am as excited about it as every other fan out there!
Dynamic Forces would like to thank Nick Kondo for taking time out of his busy schedule to answer our questions. Keep watching DF News for more projects involving Nick Kondo and the Sony/Marvel Spider-Verse!
For more news and up-to-date announcements, join us here at Dynamic Forces, www.dynamicforces.com/htmlfiles/, "LIKE" us on Facebook, www.facebook.com/dynamicforcesinc, and follow us on Twitter, www.twitter.com/dynamicforces.
EDGE OF SPIDER-VERSE #5 BY GERARD WAY FIRST PRINTING CGC GRADED!
EDGE OF SPIDER-VERSE #2 THIRD PRINTING RODRIGUEZ DESIGN VARIANT SIGNED BY JOHN ROMITA SR!
EDGE OF SPIDER-VERSE #1 SIGNED BY FABRICE SAPOLSKY!
CHAMPIONS #1 SIGNED AND REMARKED WITH A SPIDER-VERSE MILES MORALES SKETCH BY KEN HAESER!