DAFNA PLEBAN

SEND THIS TO A FRIEND!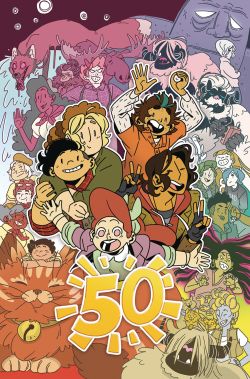 DF Interview: Series editor Dafna Pleban talks Lumberjanes celebrating 50 issues of friendship
By Byron Brewer
Lumberjanes has reached its 50th issue?! What a milestone!
And in an over-sized anniversary issue from writers Shannon Watters and Kat Leyh and artists Dozerdraws, April, Mal and Ripley make several very cool and also pretty gross discoveries deep in the tunnels beneath the Mess Hall. Up above in the civilized world, Jo and Molly join Emily, Diane and the Zodiac cabin for a fun and totally chill game of total world conquest!
Of course, DF wanted to get in on the fun, so we talked to series editor Dafna Pleban who gave us the total 411.
Dynamic Forces: It seems like only yesterday that this fantastic book, Lumberjanes, launched. How does it feel to be a part of its 50th issue anniversary?
Dafna Pleban: I feel really lucky! It's rare that an independent comic book publisher gets this long of a runway on something, especially for a wholly original work like this, and to be part of a book from the very beginning is a gift.
DF: In hindsight, does it seem inconceivable that this book began life as a limited series? (For the uninitiated, we might also mention that The X-Men, when relaunched by Marvel with new characters like Wolverine and Storm, was done so on a bi-monthly basis!)
Dafna Pleban: Definitely, we knew we had a fun story to tell that would be satisfying and complete in only 8 issues but we also knew that there was a whole world to explore and so many new characters to meet, to be able to have room to meet other Lumberjanes, delve into the history of the camp more, and deeper in the relationships has been something that having a longer series has allowed us to do with the right amount of narrative space!
DF: For those who've been under a rock since 2014 (and these days, who could blame them? Laughs), please introduce us to the main cast of Lumberjanes and, if possible, give a capsule description of who they are please.
Dafna Pleban: I asked the awesome assistant editor on the book, Sophie Philips-Roberts, to help me, and this is a quick run down (smiles):
Jo is an inventor, and a brilliant scientist. She and April are best friends, and knew each other before camp. Jo like experiments, nature and math, and she's great with riddles and thinking about things logically.
April is an out-of-the-box thinker and likes crafts, animals, mermaids and bright colors. She keeps a diary of all the cryptids and creatures they've encountered out in the woods, and wields glitter glue and googly eyes like nobody else.
Mal is a super cool musician, who plays the guitar and even has a rad haircut. She's very scared of the water and avoids it whenever she can, though an upsetting number of adventures end up involving the lake, or the river, or sea monsters, or pirate ships. She loves plans, concerts, roller derby (she's on her team back home!) and Molly.
Molly is a born leader, and she's very brave. She's great with a bow and arrow and is hardly ever without her trusty raccoon buddy Bubbles, or Mal for that matter. She's really interested in history, mythology and monsters.
Ripley is the youngest and smallest Roanoke and she's also probably the wildest! She feels things big and she's kind of like a tiny tornado with blue hair. She loves dinosaurs, unicorns, cats and the girls' counselor, Jen. She's also a great roller skater and human fastball.
Barney is the newest Lumberjane scout. They came to camp part way through the summer, and jointed the Zodiac cabin! Barney is kind and friendly and great at baking and other important scoutly activities, like being all kinds of prepared and looking out for their friends. They also have a super cute kitten named Marigold, and they're extra-great friends with April.
Jen is the Roanoke's counselor, and she is sometimes surprised by her cabin's habit of getting into supernatural trouble, when she'd rather they were doing a nice, safe activity or learning a skill, like making friendship bracelets or sit-upons. She always has their backs, though, and is really brave when push comes to shove.
DF: This book along with others was a real turning point in bringing in new fans, and new kinds of fans, to the industry as a whole. How does that feel and is this reflected at the comic cons, etc.?
Dafna Pleban: Amazing, to be honest. I've been reading comics since I was a kid but rarely felt like there were other fans like me. To be able to be a part of something that shows that excited, passionate readers have always been here and are just as hungry for this kind of storytelling as they are for superheroes, etc., is really, really cool.
DF: In case readers thought we had forgotten about issue #50 itself, tell us about the story therein.
Dafna Pleban: The entire camp is gathered in the mess hall since it's a bit of a rainy day, but of course the Roanoke cabin can't stay still for that long and definitely get into a bit of trouble!
DF: Any special features to the book this special time 'round?
Dafna Pleban: We also have an amazing back up story from co-creators Shannon Watters and Brooklyn Allen that delves into the backstory of a very significant Lumberjane...
And an AWESOME foil cover from Veronica Fish showcasing the Roanoke and Zodiac cabins!
DF: Talk a bit about the book being honored with nominations for prestigious awards including the GLAAD Media Award and the Eisner Award.
Dafna Pleban: Amazing, the creative team works really hard every month to bring fun LGBT all-ages to readers and I'm really happy they get a chance to be recognized for their hard work!
DF: Finally, for any new readers, is #50 a good jumping-on point?
Dafna Pleban: Absolutely. You'll get to meet our entire cast AND see what trouble they get up to on a regular basis!
Dynamic Forces would like to thank Dafna Pleban for taking time out of her very busy schedule to answer our questions. Lumberjanes #50 from BOOM! Studios hits stores May 23rd!
---
NEW! 1. 11/25/2020 - STEVE SKROCE
4. 11/16/2020 - RYAN O'SULLIVAN
5. 11/16/2020 - RYAN O'SULLIVAN