CHRISTOPHER PRIEST

SEND THIS TO A FRIEND!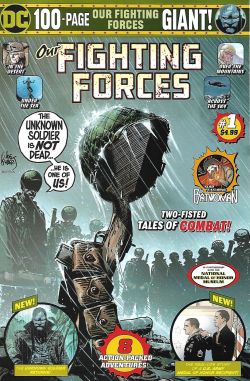 DF Interview: Christopher Priest returns the Unknown Solider to mission in 'Our Fighting Forces Giant'
By Byron Brewer
A cable news reporter with a mysterious U.S. Army tactical unit tries to figure out which one of the team's members is the immortal covert operative code-named the Unknown Soldier – and discovers much more than she bargained for!
From DC Comics comes "House Call", a 16-page story featuring the Unknown Soldier written by Christopher Priest with art by Christopher Mooneyham. It is a part of the much-anticipated 100-page anthology, Our Fighting Forces Giant #1.
DF caught up with scribe Christopher Priest and we chatted up this unusual comic, his story bringing back the Unknown Soldier, and more!
Dynamic Forces: Priest, how did you become involved with Our Fighting Forces, this very unusual, truly king-size packaging by DC of war stories, old and new?
Christopher Priest: Katie Kubert, the volume's editor, reached out to me, I think, on Larry Hama's recommendation. I actually thought I was an odd choice for this and it took me a bit to come around to it. I'd written an Unknown Soldier miniseries in 1988, which updated the character to a kind of cold war spy concept. This may have played some role in my landing this gig.
DF: For the uninitiated, what can you tell us about the Unknown Soldier character?
Christopher Priest: The Unknown Soldier was created by the great Bob Kanigher and Editor Kubert's grandfather, the legendary artist Joe Kubert, in issue #151 of DC's Star Spangled War Stories anthology, June 1970. Named after Arlington National Cemetery's Tomb of the Unknown Solider, the series really wasn't about a soldier so much as it was about a spy.
This man with no name would create rubber masks with full-head prosthetics and use them to impersonate various subjects in order to execute covert assignments. Comics being an action-oriented medium, I've seen the U.S. portrayed in display art brandishing heavy-duty military hardware and dressed to the teeth in battle gear, but that's not at all what the character is actually about. More often than not the soldier wore the civilian clothing of whomever he was impersonating, and was often armed only with a Luger or Walther pistol.
The Unknown Soldier was a spook, a (literally) faceless spy who came and went like the mist. He was a man of great mystery and, as my story speculates, could actually have been a unit—several people creating the illusion of one omnipresent individual.
DF: Does your iteration of the Unknown Soldier involve anything new about the character? What can you tell readers about your take?
Christopher Priest: (Laughs) Well, being the method actor of a writer that I am, I felt I had to completely reimagine the concept in order for it to work well in our present day. I mean, we could have made it a period piece and stuck to the traditional norms, but I took on the challenge of asking myself who this person might be and how the soldier might operate in today's world.
I approached this project like a pilot for a possible new series based on the character. The Unknown Soldier appearing in the Our Fighting Forces Giant is essentially the same character from my 1988 miniseries. In that series, I established that the Soldier was immortal, a side-effect of experimental procedures used to save his life. In that mini, we also established the Soldier was not a hulking macho super warrior, but was more likely a very average-sized person. This seemed much more logical to me, that actual spies would be so nondescript, of negligible height, weight, and presence, that they would not stand out in a crowd. Moreover, if the Soldier were, say, Spider-Man height, say 5'8", that would open a wide array of possibilities in terms of subjects the soldier could impersonate, including women.
This works against most traditional marketing that desires to depict the Soldier racing into battle like one of Easy Co.'s grunts, but it is much more consistent with the original concept of the character.
DF: What is the general (military pun, LOL) plot for your addition to this book, without spoilers?
Christopher Priest: The Unknown Soldier is a crotchety Clint Eastwood-esque loner living in a rent-controlled Flatbush apartment. He is referred to briefly as "Jack," a throwback to my '88 series, where I imagined the Soldier's name to be "John Smith." I imagine the Soldier, who actually is more or less perpetually twenty-eight years old, could look like whatever he wanted, but with New York's rent control laws, people literally don't give up their apartments until death, and some are handed down generationally. So "Jack" would likely want to hang onto his place, the same place he's lived in since the end of World War II, hence the old man act.
There's a mission: retrieve a downed military spy drone somewhere in South America without getting caught. Now, of course, any time a narrative lays out the plot for you, you're being lied to or misdirected.
DF: Can you introduce us to your protagonists here: a cable news reporter, members of a covert U.S. tactical team, others?
Christopher Priest: There is a Lois Lane-esque reporter embedded within a special forces team sent to retrieve the drone, and this team—The Three Mikes (Michael Black, Dee White, Miguel Verde, and Mike Brown)—hunker down in a tobacco field waiting for a coming rain storm to cover their movements.
To pass the time, the four-person team explains their moniker, "The Three Mikes", to the reporter, regaling her with a flashback to how this group of people met years before in Afghanistan. So we have half of the story taking place in the jungle and half taking place in the snow.
The gist of this flashback story is an ambush on a U.S.-manned mountain combat outpost during which the four operatives came under fire. One of them was killed, but we don't know (or say) which.
Emerging from the battle and medical recuperation, the four were assigned to become this special unit. But only three of the four are actually alive. The fourth soldier, KIA in Afghanistan's identity has been co-opted by the Unknown Soldier, but no one in the unit (or command) knows which "Mike" it is.
Thus, in my modern reimagining, the Unknown Soldier currently operates as part of this covert group. In the rare instances (which would, likely, be every issue if this premise got its own book) in which the Unknown Soldier would need to appear—in his bandages and trademark trench coat—the "Mikes" would vanish. They do this in support of the unit—the whole unit is The Unknown Soldier, kind of like the Voltron. The operatives don't know and don't want to know which of them is the Soldier; they support the Soldier's mission.
Given the opportunity to explore this, obviously conflicts would inevitably arise and the mystery of which "Mike" is the Soldier would play a significant role until I managed to irritate every possible reader. It's a fun gag, though, and I'd love a shot at running with it for a bit.
DF: Talk a little about the art of Christopher Mooneyham. (A Chris & Chris Production, eh? Glad this is not a dual interview!)
Christopher Priest: Well, now I'll just roll out the cliché, "What an amazing and gifted artist! I was so lucky to have him!" which is actually true. Christopher was Katie's idea, and a great one. But I think he got the raw end of this deal.
The script for "House Call" was beyond dense. Including the reference (and there was tons of it) the script was 73 pages long. For a sixteen-page story. It contained nosebleed-inducing detailed panel descriptions and tons of dialogue. Uniforms, weapons, vehicles. mountain snow, jungle heat. I was a complete and total bastard to this guy, whom I did not know before this project.
There were also very very very specific visual instructions with regards to the characters because there's a major plot twist that relies on certain characters being a certain height and wearing certain clothing and so on. Whatever DC paid Christopher wasn't nearly enough: this script was an absolute bitch to draw (it was tough to write, too, but that's just because I'm an idiot).
I was also trying to be very respectful of our men and women in uniform. I live in a military town and have come to know, appreciate, and cherish a great many active duty and retired military personnel. I honor their service, most especially that of my mentor Hama (who gave the script a read before Katie approved it). I didn't want to insult these amazing people, so I was white-knuckling it every panel along the way.
Christopher came through in spades, including re-drawing and re-re-drawing and, in some spots, re-re-re-drawing without being asked but just based on feedback from editorial and myself. He really put himself through the ringer on this thing.
Editorial page rates are based on some satanic formula of "X" amount of time being worth "Y" number of dollars. I could have written maybe two or even three complete issues of Deathstroke in the time it took me to write this 16-pager, and I'm certain the same is true of Mooneyham.
I would eagerly and happily work with him again, but I'm quite sure he hates me. (smiles)
DF: What else can fans expect from you in the near-future?
Christopher Priest: First, let me offer encouragement and my very best wishes to the retailers who are the backbone of this industry and who are suffering from this terrible health and economic event. My heart goes out to all the families involved.
If I might digress for a moment...I think shuttering the comics shops was at least partially a bad idea. Much like fast food restaurants, comics shops could have been closed to browsing but still open for their regular customers, the vast majority of whom maintain pull lists ready for pick-up.
Being stuck at home for weeks and months, getting your weekly bundle (presuming you can afford to do so) would be a big help. I'm sure virtually no government, local or federal, actually understand this business and that closing the shops was, IMHO, unnecessary.
As for the future, there's several projects at several publishers I cannot mention because they haven't been announced. I'm sure you know about sacredsix and my ongoing work for Vampirella [for Dynamite Comics], both of which have issues in the pipeline as the nation fights through this coronavirus challenge.
Dynamic Forces would like to thank Christopher Priest for taking time out of his busy schedule to answer our questions. Our Fighting Forces Giant #1 featuring the story "House Call" – and more! -- is out now from DC Comics in Walmart and other mass-market stores!
For more news and up-to-date announcements, join us here at Dynamic Forces, www.dynamicforces.com/htmlfiles/, "LIKE" us on Facebook, www.facebook.com/dynamicforcesinc, and follow us on Twitter, www.twitter.com/dynamicforces.
VAMPIRELLA VOL. 5 #1 - ATLAS EDITION SIGNED BY CHRISTOPHER PRIEST
DEATHSTROKE #50 SIGNED BY CHRISTOPHER PRIEST
SACRED SIX #1 - ATLAS EDITION SIGNED BY JAE LEE
SACRED SIX #1 - JAE LEE LIMITED VIRGIN COVER
SACRED SIX #1 - LUCIO PARRILLO LIMITED VIRGIN COVER
VAMPIRELLA VOL.5 #12 - LUCIO PARRILLO CGC-GRADED COVER
VAMPIRELLA: SEDUCTION OF THE INNOCENT VOL. 1 TRADE PAPERBACK
VAMPIRELLA VOL. 5 #1 BILLY TUCCI EXCLUSIVE COVER - PURE PENCIL EDITION
JOSEPH MICHAEL LINSNER VAMPIRELLA #1 EXCLUSIVE COVER - VIRGIN BLACK AND WHITE EDITION
VAMPIRELLA VOL. 5 #6 - STANLEY "ARTGERM" LAU LIMITED CHARCOAL VIRGIN VARIANT
VAMPIRELLA VOL. 5 #6 - STANLEY "ARTGERM" LAU ULTRA-LIMITED PLATINUM FOIL VARIANT
VAMPIRELLA VOL. 5 #3 - J. SCOTT CAMPBELL VIRGIN "CRIMSON BLOOD" RED VARIANT
---
NEW! 1. 11/25/2020 - STEVE SKROCE
4. 11/16/2020 - RYAN O'SULLIVAN
5. 11/16/2020 - RYAN O'SULLIVAN