SARAH DELAINE & NICHOLAS AFIIEJE

SEND THIS TO A FRIEND!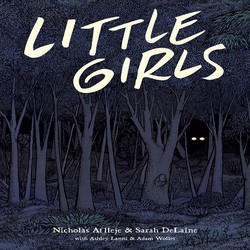 DF Interview: Sarah DeLaine & Nicholas Aflleje unleash a mythical predator in the 'Little Girls' OGN
By Byron Brewer
Sam and Lielet are two new friends living in Ethiopia. They're dealing with the kind of problems that all kids have: judgmental social cliques, condescending adults, alienation … and a legendary brain-eating monster straight out of folklore. Sure, it's not going to be easy, but all they have to do is live through it.
Showcasing a quietly unsettling plot and building tension, debut creative team Nicholas Aflleje and Sarah DeLaine construct a poignant story of otherness and mystery in their Little Girls OGN from Image Comics.
DF was so curious, we sat down with Sarah and Nick to discuss this one.
Dynamic Forces: Nick and Sarah, tell me what you can about the inspiration, the conception of this great new OGN, Little Girls.
Sarah DeLaine: With Little Girls, Nicholas actually wrote the script to be tailor-made for me. I was saying that I wanted to try making comics and wished there was a script made with my strengths in mind, so he actually took me up on it!
Nicholas Aflleje: She said it on a lark, I think. But then, a few weeks later, I surprised her with a first draft.
Sarah DeLaine: It was a pretty amazing way to get started making comics! As for inspiration, when I was growing up, I loved stories, I loved art, and I loved reading -- but I never knew there were any comics that would appeal to me. A lot of what I read was from the library, and they just didn't have comics then like they do now. I'm not saying there weren't any comics I would have liked, I just had no way to find them, and I was a kid, so how was I to know? I really would have enjoyed a story like this one, so in some ways I feel like this comic was written for my past self, and it's a pretty cool thing to make a comic out of time like that for yourself.
Nicholas Aflleje: Sarah always lamented that she hadn't connected with a comic when she hit "the age." A lot of people we know have a story of when they had that moment. They might have loved comics before, but at some time when they were around the same age as Sam and Lielet, they found a particular story that cemented a lasting and personal connection with the medium as a whole. It's often a flashbulb memory for them.
DF: Can you talk about your chemistry on the book? How was it working with each other on this collaboration?
Sarah DeLaine: Nicholas and I have known each other for years, and we're the type of people that like to have big talks and really take the time to explore ideas together. I think that translates pretty well into how we collaborate, but also how we inspire each other. Making truly collaborative long-form comics like this isn't for everyone. There's definitely an element of ego erasure involved in working together on something like this, but ultimately you build each other up and believe in one another when the chips are down and confidence is flagging. It's like a creative marriage and can be a beautiful thing!
Nicholas Aflleje: Ego erasure is a great point. We understood early-on that this was to be a collaboration. We wouldn't dig in our heels and we'd consider all things, with the only criteria being that it help the story take shape in the way we envisioned.
Sarah DeLaine: I recently told someone that was asking for advice on starting a graphic novel that you really have to have the right dynamic with your collaborator and a lot of patience to complete a fully collaborative graphic novel experience. It's a huge leap of faith and not for the weak of heart!
DF: Can you discuss the overall storyline of the book – in a non-spoilery manner, of course.
Sarah DeLaine: Sam's new in Harar, but she's used to being new in town and doesn't expect to make friends. When she meets Lielet, she finds herself drawn into Lielet's plan to prove some bullies wrong about a legendary cryptid that they're all convinced is killing things on the outskirts of town. The two girls become fast friends who plot and carry out some heroic nighttime escapades, but also find out that they may be in over their heads.
DF: This is a very unique book. Talk about some of the goals you hope to achieve inside the story and as a part of your contributions to the graphic novel.
Nicholas Aflleje: When I started writing Little Girls, I was fascinated by stories in different visual mediums that created a sense of mindfulness with pacing by allowing their narratives to breathe. I was interested in how this technique might be used to pull the reader into our particular story in an organic and different way, with the hope of ultimately creating something that is strangely and subtly absorbing. I think this requires a certain patience on the part of the audience, but it can also provide a unique type of engagement for those willing to follow its rhythm.
I hope young readers find a book that both respects and genuinely reflects their current experiences in life, and I hope older readers find an enjoyable story that they are excited to share with the people it reminds them of.
DF: So who are Sam and Lielet – as people and as characters? And how do they reflect their creators?
Sarah DeLaine: Funny you ask! The Image Comics art director, Drew Gill, actually pointed out that he could see some of me in Sam's look -- particularly in the nose, haha! But to answer your question, I was definitely a reader and wanted to look out for my siblings even though I argued with them, so I have those things in common with Lielet. Like both of them, I was definitely an outsider in my own way. I don't know if they really reflect either Nicholas or I in personality per se, or at least they aren't meant to... They very much feel like their own people to me!
DF: Building tension is not an easy task in a comic, even in a graphic novel. How did you manage to do this through your contributions herein and why was this important to the book as a whole?
Sarah DeLaine: Well, to be honest, the script that Nicholas wrote had a lot of the tension already baked into the situations and pacing, and we'd talk through some of the angles and points of view too. He'd sometimes say something like, "This panel should be really ominous because we need the reader to feel the tension fully even though the character is only just suspecting..." Obviously this isn't a direct quote, but it gives an idea of how the emotional impact was important. So yes, building tension was very deliberate in this story. I definitely worked to portray the emotions and gravitas of the scenes through the art, so it's gratifying to know that the effort paid off when people are worried for the girls.
Nicholas Aflleje: I wanted a major point of the tension to be in the contrast. Firmly entrenched adult readers would find Sam and Lielet's seemingly labile attitude horrifying while younger readers would find the authorities' seeming indifference much the same way.
DF: I know books like this can be discussed and discussed after reading is long over, but what would you like to see readers take away from Little Girls?
Sarah DeLaine: It's a story of friendship, and in the early teen years a friendship like theirs can mean everything. They don't know everything that's going on in the world around them, or their place in it all, but they're vulnerable and they're brave and they're just doing their best to do what they think is right.
DF: What other projects of yours can you tell readers about?
Sarah DeLaine: Hmm... Nick's working on a few things right now, but unfortunately I can't spill any beans, even though I know things.
Nicholas Aflleje: She's not wrong, but she might also be deflecting.
Sarah DeLaine: Yep!
Dynamic Forces would like to thank Sarah DeLaine and Nicholas Aflleje for taking time out of their busy schedules to answer our questions. The Little Girls OGN from Image Comics hits stores April 24th!
For more news and up-to-date announcements, join us here at Dynamic Forces, www.dynamicforces.com/htmlfiles/, "LIKE" us on Facebook, www.facebook.com/dynamicforcesinc, and follow us on Twitter, www.twitter.com/dynamicforces.
---
NEW! 1. 11/30/2020 - SKYLAR PATRIDGE
5. 11/16/2020 - RYAN O'SULLIVAN