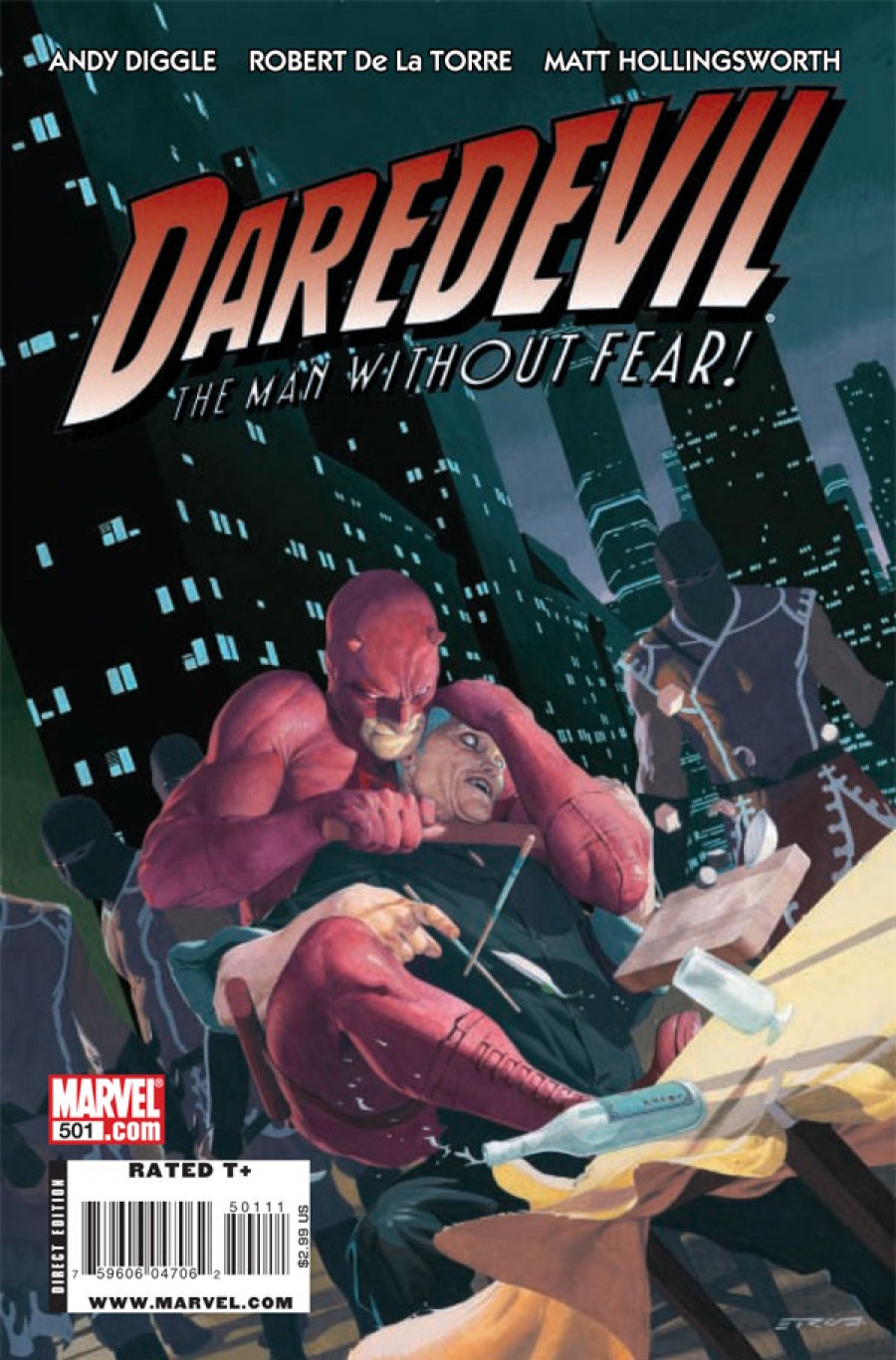 DF Interview: Let's Level About Daredevil - Part 3: Andy Diggle
By Byron Brewer
With the second season of television show Marvel's Daredevil available on Netflix and a new incarnation of his comic book on the stands, Daredevil – the blind attorney Matt Murdock who has been policing the mean streets of NYC (and San Fran, for a time) since 1964 – is more popular with more people than ever.
We at Dynamic Forces thought we would take this opportunity to talk to some of the comic book creators who, over the last half century, have added or embellished the mystique of mighty Marvel's original street hero.
Are his creators of one medium (comics) watching a re-creation of ol' Hornhead on another (TV)? How important was DD to their own careers? Did they have a favorite supporting character? What was their favorite arc … or least favorite?
Over the course of the week, DF will be posing some of these questions to those who have made the Man Without Fear the hero he is today. So join us here daily this week and see if we talked with your favorite DD creator.
*****
Andy Diggle
Andy Diggle began writing Daredevil with #501, as the fan- and critically-acclaimed Ed Brubaker era came to a close. The big cliffhanger in #500 had been DD taking over the organization – the criminal organization! – of ninjas known as the Hand.
Diggle got a running start at taking over the title the previous month with his Dark Reign event one-shot, Dark Reign: The List: Daredevil, which carried on the status quo of the Norman Osborn-centric Marvel U. of the day and acted as a launch pad of sorts for Shadowland, a crossover of street-level characters with Daredevil in the middle of a Hell's Kitchen firestorm.
Diggle took the challenge and ran with it in fine fashion, not only writing 12 issues of the main title but almost the same number of crossover tie-ins, miniseries and one-shots. Shadowland can be fondly remembered for many exciting and certainly unexpected turns, but the event also dominated Diggle's Daredevil stint.
Shadowland was a complex and consuming communing of the street-level characters of the Marvel U. in a time when even the Avengers (or one team of them) were "dark." The tie-ins had wonderful ideas, not the least of which was a focus on Matt Murdock's core supporting cast. It was a milestone of sorts for Murdock and for Daredevil, who was now front and center in the focal spot of the 616.
That said, perhaps the crowning jewel of Diggle's run took place outside the main title in the mini, Daredevil: Reborn, drawn memorably by Davide Gianfelice. After some of the urban suffocation of Hell's Kitchen and environs, this was, as Diggle himself called it, a "breath of fresh air" and a chance for readers to again get to know Matt Murdock.
Let's level about Daredevil with Andy Diggle.
Dynamic Forces: Andy, to me as a fan the big moment in all of your Daredevil writing is the street-level crossover event Shadowland. Talk about that as a whole, and what effects it had on DD's own book.
Andy Diggle: I took over with Matt Murdock accepting the leadership of The Hand. Marvel told me they wanted the storyline to lead to this street-level crossover called Shadowland, where The Hand would build a huge Japanese-style castle in the middle of Hell's Kitchen. So my job was to run with that and figure out why this assassin death-cult would force their arch-enemy to lead them – a man who had sworn never to kill. Obviously they wanted to corrupt him. The question is, why would Matt agree to it? Thinking he could turn them into a force for good seems pretty naive, but he felt he had to try. Marvel gave me a list of all the characters they wanted to include in the crossover, I brought in my friend Antony Johnston to co-write the main title, and we were lucky to work with fantastic artists like Roberto De La Torre and Billy Tan. But I never really got a chance to show what my version of Daredevil would have looked like without Shadowland casting its – hey! - shadow over it.
DF: Aside from Shadowland, what were some of your favorite moments writing DD?
AD: I'm more interested in Matt Murdock than Daredevil, and I've never been the biggest fan of crossovers, so it was a breath of fresh air to get him out of his costume and out of the city in Daredevil: Reborn. Just for that one story, I wanted to do the opposite of the shadowy, claustrophobic, urban noir that usually defined the book. There's something vividly evocative about the idea of a man alone in the desert wrestling with his own conscience, almost like a Biblical neo-noir western, and Davide Gianfelice brought that to life beautifully. I love, love, love working with Davide. I can write silent sequences of pure visual storytelling and he'll just nail it. I trust him completely. So it was refreshing to tell a simple little B-movie type story, with Matt Murdock getting his sh*t back together and finding his moral center again, after the various intersecting demands of the Shadowland crossover event. Reborn was supposed to be the end of my run on Daredevil, but Marvel wanted Black Panther to take over the title, so Reborn was shunted off into its own miniseries. The disappointment at not being able to finish the story properly was more than made up for by the opportunity to work with Davide.
DF: Was there a supporting character or characters you really enjoyed penning?
AD: Yeah. I'd love to write more Punisher.
DF: During your run on Daredevil, was there something you did that, in the light of hindsight, you wish you would not have done as writer? Or vice versa?
AD: I still get fan questions about the Beast. Frank Miller created The Hand as worshippers of the demonic, apocalyptic Beast, and I kind of liked the idea that everyone had forgotten about it. So it would make sense that the Beast had been nudging Matt towards the dark side. I worried that if I turned Matt Murdock into a murderer it might "break" the character, and the Beast was kind of a moral "get out of jail free" card. Of course, I was wrong. Matt was never possessed, only influenced, but even so it was unnecessary.
DF: Andy, do you watch the Netflix Daredevil program? If so, what are your impressions of it and can you please compare and contrast the TV DD/Matt Murdock with YOUR DD/Matt Murdock
AD: I've just finished the second Netflix series and I think it's superb. Compare and contrast? I think both characters have the same flaw – they're too sure of themselves. Matt Murdock should be plagued with self-doubt. To turn him dark, I took away his self-doubt, because there's nothing more dangerous than a man who "knows" he's right. TV Matt feels guilty about beating the crap out of people, but beating the crap out of people always turns out to have been the right thing to have done. Guilt is not the same thing as doubt, and brutality should be a problem, not a solution.
Dynamic Forces would like to thank Andy Diggle for taking time out of his busy schedule to answer our questions.
Join us here tomorrow for another insight into the life of Daredevil and Matt Murdock as seen through the eyes of the character's various creators.
For more news and up-to-date announcements, join us here at Dynamic Forces, www.dynamicforces.com/htmlfiles/, "LIKE" us on Facebook, www.facebook.com/dynamicforcesinc, and follow us on Twitter, www.twitter.com/dynamicforces
DARK REIGN: THE LIST - DAREDEVIL - SIGNED BY BILLY TAN Written by Andy Diggle
CONTROL #1 (OF 6) Written by Andy Diggle and Angela Cruickshank
UNCANNY: SEASON TWO #1 (OF 6) Written by Andy Diggle
UNCANNY #1 EXCLUSIVE SUBSCRIPTION VARIANT Written by Andy Diggle
UNCANNY: SEASON 2 TRADE PAPERBACK Written by Andy Diggle
UNCANNY VOL. 1: SEASON OF HUNGRY GHOSTS TPB Written by Andy Diggle