JT KRUL (EXCLUSIVE COVER REVEAL)

SEND THIS TO A FRIEND!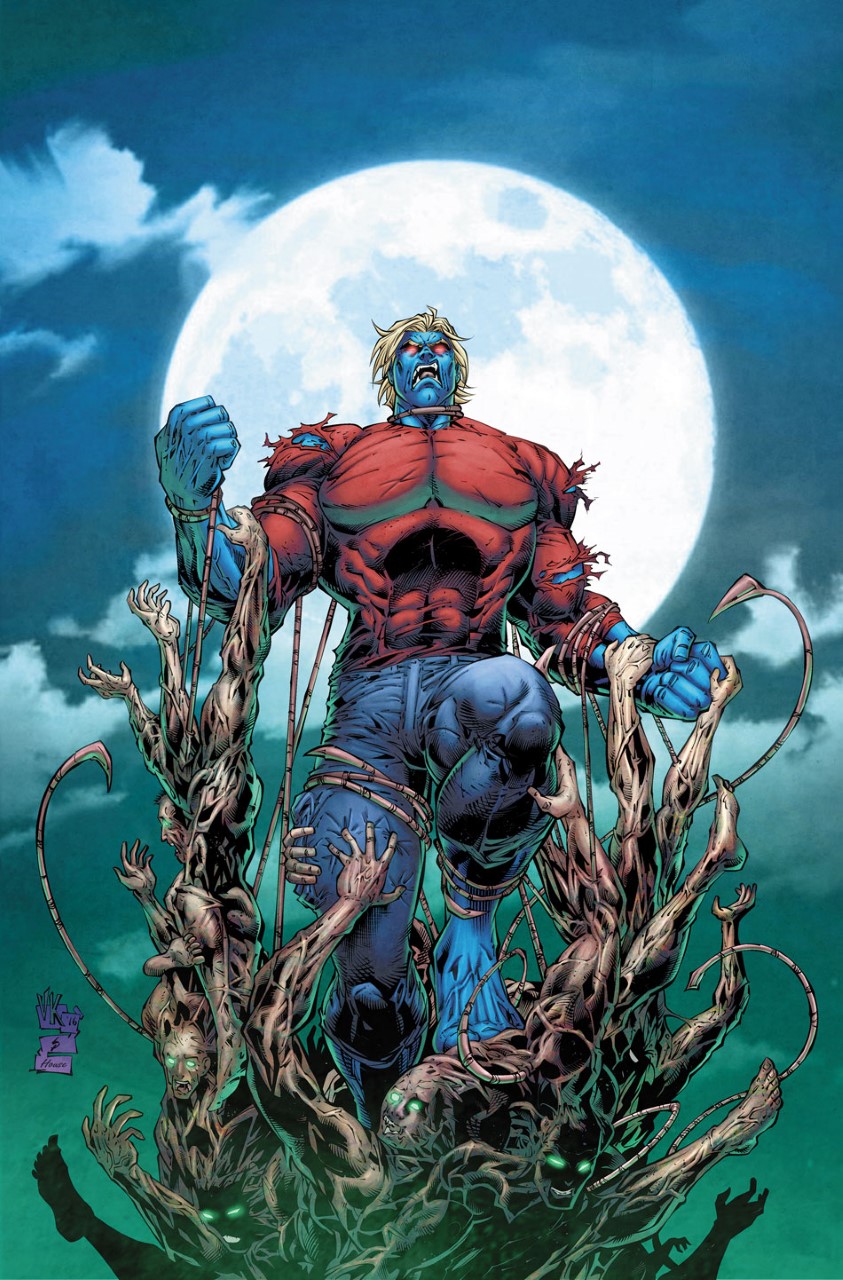 Exclusive cover of Bloodlines #4 by V. Ken Marion, on sale from DC Comics in July!
DF Interview: Not just an invasion; it's an infestation! Writer JT Krul talks DC's Bloodlines
By Byron Brewer
When a meteor crashes to Earth, bringing with it an unspeakable alien presence that terrorizes a nearby small town, the lucky ones die first. As for the rest, they find themselves locked in a hellish struggle for control of their bodies and their minds.
Award-winning writer JT Krul (Teen Titans, Green Arrow, Jirni) and superstar-in-the-making V. Ken Marion (All New Soulfire, Jirni) bring you Bloodlines, their dark and horrifying science-fiction epic about tortured souls who are cursed to a fate worse than death ... much worse.
To get to the heart of that horror, Dynamic Forces spoke with writer JT Krul.
Dynamic Forces: Congratulations, JT, on the resurrection of Bloodlines. Can you tell us how it came to be and the extent of ties, if any, to the 1993 DC crossover storyline?
JT Krul: I remember the original Bloodlines story that ran through the DC annuals fondly, and loved the concept of an alien infestation that changed people. But, I was also interested in doing a very different kind of story and theBloodlines premise fit perfectly into that core idea. This really is a whole new take on the original story, using elements of it but in a very different way. That's the idea V. Ken and I brought to DC and lucky for us -- they liked it.
DF: Does this take place in the DC Universe? Can you hint (non-spoilery) if there will be existing heroes/characters that this may effect?
JT Krul: It does take place in the DC Universe, but we are pretty much playing in our own little corner of it. There will not be any surprise cameos -- no guest superheroes swooping in to save the day. Eddie and the rest of the people in the small town are on their own.
DF: For the uninitiated, can you explain the overall concept of this storyline? Does it echo the original: aliens infecting humans with transformative results?
JT Krul: A meteor crashes near a small town, bringing with it a terrible secret. Alien parasites infect some of the townspeople and they begin to change. It definitely echoes the original in that regard as there are major transformative results. The biggest difference is that this isn't a story about people getting bitten and developing cool powers as a result. This story is about ordinary people who are infected by an alien presence determined to completely take over their human host bodies. The powers they develop aren't seen as cool, they are dangerous and scary and destructive.
DF: Who are our protagonists this time around? What can you tell us about him/her/them.
JT Krul: There is an ensemble cast led by Eddie, a high school kid struggling with a debilitating genetic condition. His body is failing him, so when he discovers he can transform into something big, something powerful -- you'd think it'd be a dream for him. But like I said, there's something inside of him -- a danger to himself and those around him. So, his dream is really a nightmare. We've also got a few of his classmates -- Graham, Dana, Albert. All of whom will see major changes in their lives. There's also Blake and Haley. Blake is a detective on the police force, and Haley works as an auto mechanic. They have something of a tense relationship, which is put to an even greater test, when they struggle with their own changes. There are more characters involved -- some allies, some enemies, and all of them trapped in a very desperate and almost apocalyptic scenario.
DF: The initial Bloodlines storyline that ran through DC's annual issues in the 1990s introduced a new wave of superheroes that gained powers thanks to contact with the alien parasites, Tommy Monaghan of Hitmanprobably being the most popular. Can we expect any new stars coming from this mini?
JT Krul: A handful of the characters in our Bloodlines story are inspired or variations of ones seen in the original -- Eddie is obviously the Loose Cannon of our story. You'll also see elements of Sparx, Gunfire, Argus and more. We've also got a few new additions of our own. We specifically avoided Hitman altogether. He's a great character, but such a strong one that he'd need to be -- and would deserve to be -- the center of attention. And, that really wasn't the kind of story we are doing.
DF: If memory serves, you have collaborated previously with artist V. Ken Marion on multiple projects over at Aspen Comics. Looking forward to re-teaming on Bloodlines?
JT Krul: Absolutely! V. Ken and I have been working together for a few years now. We started on a Fathom project, did All New Soulfire together, and prior to starting on Bloodlines, we did the second volume of my Jirni book. There's an obvious reason why I keep working with him. His art is stellar for sure, but he's also just such a great guy to work with. We are very similar in our mindsets and the kinds of stories that excite us. It's really a perfect fit.
DF: What aspects of V. Ken's art make him an excellent choice for this book's art chores?
JT Krul: V. Ken is great at the big and bold moments, getting that sense of energy and excitement on the page. The comparisons to guys like Michael Turner and Jim Lee bring that point home. But he also has a great talent for the expressive faces of the characters. Given that this is more of a horror story, so much of the impact comes from the reactions of our characters as they cope with the terror they are facing. Their faces tell the story -- and V. Ken does a fantastic job conveying it all on the page. He's really doing some incredible work. And we've got Sean Parson inking him and Andrew Dalhouse on colors, who are both great. And Sal Cipriano handling the letters. A truly talented bunch that I feel fortunate to have working with me.
DF: JT, any projects current or down the road you can talk about?
JT Krul: As for current projects, I recently released the second novel in my "Lost Spark" series called Masks and Monsters. I'm really enjoying creating an entirely new world of magic and adventure in prose form. Over at Aspen, we are gearing up with an event for the ages as Fathom and Soulfire are crossing over for the first time ever in a story that will forever change the landscape for both worlds. I'm writing that with the immensely-talented Joshua Fialkov. Jordan Gunderson is handling the art for us. It'll launch with Aspen's Free Comic Book Day special and continue in July with Aspen Universe: Revelations #1. And if you are fans ofRobot Chicken, I worked with them for part of Season 8, and the episodes I did just finished airing -- so that was a lot of fun. As for down the road, I have some other stuff I'm developing, and V. Ken and I are already figuring out what we might do once Bloodlines wraps up.
Dynamic Forces would like to thank JT Krul for taking time out of his busy schedule to answer our questions. Bloodlines #1 from DC Comics is on stands now!
For more news and up-to-date announcements, join us here at Dynamic Forces, www.dynamicforces.com, "LIKE" us on Facebook, www.facebook.com/dynamicforcesinc, and follow us on Twitter, www.twitter.com/dynamicforces
TEEN TITANS #91 - SIGNED BY JT KRUL!
GREEN ARROW #8 - SIGNED BY WRITER JT KRUL!
TEEN TITANS #88 (1:10 VARIANT EDITION) - SIGNED BY WRITER JT KRUL
GREEN ARROW #5 - SIGNED BY JT KRUL
UNTOLD TALES OF BLACKEST NIGHT #1 - SIGNED BY JT KRUL
TEEN TITANS #88 - SIGNED BY JT KRUL
---
NEW! 1. 11/25/2020 - STEVE SKROCE
4. 11/16/2020 - RYAN O'SULLIVAN
5. 11/16/2020 - RYAN O'SULLIVAN