FABIAN LELAY

SEND THIS TO A FRIEND!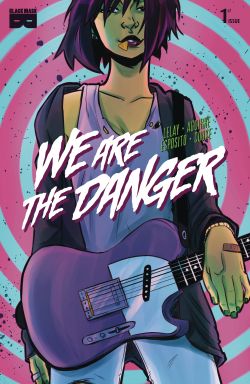 DF Interview: Fabian Lelay brings friendship, rock n roll to We Are The Danger
By Byron Brewer
Starting as the new girl in your senior year of high school is never easy, and Julie Malliari is having a terrible first day— until she meets Tabitha. After a night out at a rock show, their friendship quickly grows and, before they know it, the two form a band with their sights set on a record deal. They just need to win it in a nationwide Battle of the Bands competition. With Tabitha's rival keen to take the prize for herself, it's a battle not to be missed!
Jade Street Protection Services co-writer/artist Fabian Lelay returns to Black Mask Studios with an all-new, creator-owned miniseries titled We Are The Danger. Joined by colorist Claudia Aguirre and letterer Taylor Esposito, Lelay's new series an exuberant tale of friendship, growing up, and rock n roll.
DF sat down with the talented artist/writer Fabian Lelay to dissect the book.
Dynamic Forces: Fabian, before we get into your great new book for Black Mask, We Are The Danger, tell us a little about how you became involved in comics. You are one of the few artists I know who has employed a great talent at fashion design into their comics work!
Fabian Lelay: When I was in college, I was aiming to break into fashion design. It pushed the boundaries of my abilities as an artist and I genuinely loved designing and making clothes. In 2011, I moved back to New York in pursuit of a career in fashion but it was just not in the cards for me. A lot of factors blocked me into breaking in and I decided to take a break. About four years later, I tried my hand in drawing comics. I was a huge fan of Japanese manga before I went into fashion school, so I thought it was a fun thing to try out. Incorporating what I learned and what I already knew, I fell in love with the mix and decided to pursue comics in the end. Although it wasn't as smooth of a start as some creators have had, I still enjoyed telling stories you won't normally see in the Western comic scene.
DF: Give me the elevator pitch for We Are The Danger.
Fabian Lelay: A story of youth, friendship and rock and roll by way of Josie and the Pussycats meets Mongolian Chop Squad.
DF: Was there a particular inspiration for this tale? Are/were you in a band?
Fabian Lelay: To be honest, the story is something I wanted to pitch for another set of licensed characters. After that didn't pan out, I still decided to continue with it. I fell in love with the story and the characters too much to let it go. I used to be involved in the indie music scene back in the Philippines. I managed a band and went to a school that produced a lot of underground talent in any genre. So, from the first time I saw my band play to the last, I drew a lot of inspiration from that experience.
DF: Who are Julie and Tabitha to you as characters. What can you tell us about them generally?
Fabian Lelay: Julie is this timid girl who loves music. She finds herself in a new setting that is completely different to what she's used to, and then along comes Tabitha. Tabitha is a really energetic person, why she'd be so friendly was weird to Julie being the polar opposite. The thing that brings them together is music.
DF: What can you tell us about other characters in the book, especially Tabitha's "rival"?
Fabian Lelay: The other characters you will meet are basically people I've met in music and in comics. The book derives itself not only from imagination but from real life experiences I and some friends have had. You are sure to relate to all of them in one way or another.
DF: It takes a lot to tackle both writing and art on a book! What are the advantages (or disadvantages) to you as a comics creator in working solo vs. as part of a collaboration?
Fabian Lelay: Doing a story on your own isn't as hard as it might seem. In my opinion it's a whole lot easier than having a separate writer. Not that having one makes it hard, I know a lot of teams that gel so well together, and they create masterpieces of work. I just find it a lot easier since I know my strengths and weaknesses as an artist. What I can draw, how complex I can make a page look, knowing those things makes writing a little smoother. Plus there's no waiting period to know if you need to redraw anything or not. The only hard part I had with writing the book was dialogue. English was my first language but after 18 years in the Philippines it wasn't really up to par with a lot of my peers. If I could've wrote this script in Filipino it would've been a breeze, but thankfully with the help of my editor Stephanie Cooke, we were able to make things work.
DF: Can Artist Lelay tell me about creating the look of the characters here, and how that was done? Were there any characters and/or set pieces that were either particularly fun or difficult, and why?
Fabian Lelay: Designing characters for a slice of life story can be challenging. There are no costumes, no flashy designs, just people. I had to make sure I understood who the characters were, where they shopped, what they'd wear if they're in a certain mood. Once I got that, I'd hop on Pinterest and just search brands and fashion posts. Pinterest mood boards are my best friend.
DF: Fabian, any other projects you're working on that you can share with the readers?
Fabian Lelay: Apart from We Are The Danger, I also have a short in a horror anthology with a bunch of other talented people. It's called This Nightmare Kills Fascists. But I am doing two solo projects I'll be announcing later this year. Follow me on twitter for updates, @rocketandpens. For now, I hope you pick up this book and enjoy it as much as me, Stephanie, Claudia and Taylor are having fun producing it for all of you.
Dynamic Forces would like to thank Fabian Lelay for taking time out of his busy schedule to answer our questions. We Are The Danger #1 from Black Mask Studios hits stores May 30th!
---
NEW! 1. 11/30/2020 - SKYLAR PATRIDGE
5. 11/16/2020 - RYAN O'SULLIVAN