CHRIS CONDON

SEND THIS TO A FRIEND!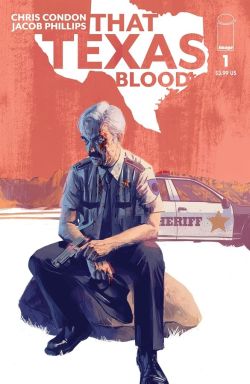 DF Interview: Chris Condon mixes 'True Grit' with 'Breaking Bad' to draw 'That Texas Blood'
By Byron Brewer
Sheriff Joe Bob Coates has always lived in Fort Lehane. He's always been in Ambrose County. It's always been in his blood. It's a Texas thing. But the crimes don't stop. And they don't get easier. For some reason... they keep getting worse. And worse. And... Well. It's Texas. And Joe Bob is tough. Maybe he's tough enough to fight it. To last. It's in his blood, after all. That Texas Blood.
Colorist for Criminal and first-time solo artist Jacob Phillips and writer Chris Condon break onto the scene with a brand-new ongoing series! Like Paris, Texas gut-punched by No Country for Old Men, this mature neo-Western crime series kicks off when the search for a casserole dish leads to a dark and tense confrontation on Sheriff Coates' 70th birthday. DF wanted to learn more, so we saddled up and moseyed on over to the spread of scribe Chris Condon for a confab.
Dynamic Forces: Chris, before we get into That Texas Blood proper, tell readers a little bit about how you came into comics.
Chris Condon: Well, I've always been a reader of comics. I think my first comics were probably Batman comics way back in the 90s. I was obsessed with Batman: The Animated Series when I was growing up so that definitely contributed to that, I still love gazing at the Bruce Timm artwork that came out of that series or the title cards which were designed by Eric Radomski (I believe). One of my good friends, Max, actually learned to read from reading Batman comics. As for That Texas Blood and how I came to write it sort of stems from this same idea. I've always loved comics. It seemed like the best approach for the story when other avenues weren't working. There have really been two ports in the storm that have never wavered for me – comics and movies. The story was to initially be for a film, but, when that wasn't working, I turned to the other. It just fit better, I guess. They're both my loves, equal in my eyes.
DF: In some stories, the location takes on an atmosphere so important it is virtually a character in itself: Gotham City in Batman, The Forest in Bambi. Tell us about your love of "The West". Is it the mythic or the reality we experience in That Texas Blood?
Chris Condon: I'm glad you brought this up as I feel like the environment is very much a character in this series – the first issue both begins and ends with panels detailing the locale. But as for mythic vs. reality – it's a real Texas in so much as it is based on my experiences in West Texas – specifically Marfa, Fort Davis, Van Horn, and Alpine even though our setting is fictional Ambrose County. The characters are based on people I've interacted with. But it's also a distillation of a feeling about that very location. A lurking menace, let's call it? There's something – especially coming from living in or around cities my entire life – unsettling about the vastness of Texas, especially along it's western borders. I love the place, though. I find it to be full of infinite possibilities, especially for a series like ours. I've heard crime stories, ghost stories, even alien stories (check out the Marfa lights, too). It's a place full to the brim with potential. I think that's why writers tend to gravitate toward it. It's essentially a blank canvas with built-in character.
DF: Give us an extended elevator pitch for this first arc of the new ongoing.
Chris Condon: Well, so the first arc will be the second issue through the sixth. The first issue is a one-shot to set the reader's palate. The first issue I'd pitch as this: On his 70th birthday, a sheriff's search for his wife's casserole dish leads him to the dark heart of West Texas. The first arc I'd say this: Upon receiving the news that his elder brother has died, Randy Terrill reluctantly returns to his abandoned home of Ambrose County, Texas, but soon falls prey to the memories and regrets of a dark, forgotten past.
DF: Introduce us to Sheriff Joe Bob Coates as a character, a man, a law man, and any of that character reflective of its creator? Any Chris Condon in Joe Bob?
Chris Condon: Joe Bob is a good man – but a conflicted man. He's torn up about the past; mistakes, regrets. He worries it defines him, lets it eat at him. He has the job he's always wanted but… he never imagined the weight it would carry. He believes in the law but… why can't it stop the senseless crimes that seem to be happening more and more often in his county? These questions seem to come more and more as he grows older. As for Joe Bob being reflective of his creator… I'd say that there is definitely some of me in Joe Bob – but I think that any writer will put themselves into their characters. I think there's a little bit of myself in all of the characters. I think it's my way of digesting my flaws and meditating on them. He's also very much influenced by a real-life West Texan, Joe Bob Duncan, who gave our sheriff his name and his oft-used "well."
DF: What other characters will be important to readers following the unfolding of this hard, gritty saga? Can you introduce some here?
Chris Condon: The main one to know is Joe Bob, really. He's our anchor throughout the series. Important characters going forward will be Joe Bob's wife Martha, the Above Ground Texas Pool King (digest that one!), and a villainous bounty hunter with no name. The way I'm writing the series, it is essentially an anthology series with recurring characters but a few characters, like the ones I just mentioned, will play important roles throughout.
DF: In a non-spoilery fashion, as you can, tell us about some of the crimes that are tearing both Ambrose County and Joe Bob asunder.
Chris Condon: Well, there's a big one that weighs on Joe Bob and that's the murder of his predecessor. The reason it weighs on him so heavily is that Joe Bob was too slow to action to prevent it from happening. You'll see how that played out in a scene in issue #1 which Jacob laid out beautifully. Other crimes? Well, there's murder, murder, and murder. I have some ideas floating around regarding a Parker-esque heist and more, but we'll get there when we get there! Right now, our hands are red with bloody murder.
DF: How great for you to have done the script for Criminal colorist and first-time solo artist Jacob Phillips. Talk about Jacob's art and your collaboration here.
Chris Condon: Thanks! Yeah, I've been incredibly lucky. Jacob has been a dream. When I first got into contact with Jacob, he wasn't a colorist on Criminal yet. He was doing the backups for the Brubaker/Phillips book Kill or Be Killed which I was in love with and I was looking for some way to help pitch a short I was working on called Past is Prologue (which would evolve into the comic series That Texas Blood) through conceptual artwork. Jake liked the script and created the artwork and that was that for a while. When 2018 rolled around, I found myself with no film but with this wonderful concept art and a script that both Jake and I liked. The rest is history, I guess. Jake translates my words perfectly. He draws what I write but also adds flavor, sometimes changing an angle or something like that. I want that, though. It wouldn't be a collaboration without that. I'm lucky to have someone as thoughtful and talented as Jake at my side on this one.
DF: Chris, what other projects are on the horizon for you that you can tell readers about?
Chris Condon: I have some ideas cooking but nothing is cemented – an adventure story called Far Down Below, a horror story called Meet Mister Madness – though I am looking forward to exploring the world of Ambrose County, Texas, with Jacob further in the months and (hopefully) years to come. It truly is a labor of love and I hope readers will be able to see that.
Dynamic Forces would like to thank Chris Condon for taking time out of his busy schedule to answer our questions. That Texas Blood #1 from Image Comics was slated to hit stores on May 27th. Due to ramifications of the coronavirus pandemic, this date may have changed. Keep watching DF News and comics-related social media for more information.
For more news and up-to-date announcements, join us here at Dynamic Forces, www.dynamicforces.com/htmlfiles/, "LIKE" us on Facebook, www.facebook.com/dynamicforcesinc, and follow us on Twitter, www.twitter.com/dynamicforces.
---
NEW! 1. 11/25/2020 - STEVE SKROCE
4. 11/16/2020 - RYAN O'SULLIVAN
5. 11/16/2020 - RYAN O'SULLIVAN