CHUCK DIXON

SEND THIS TO A FRIEND!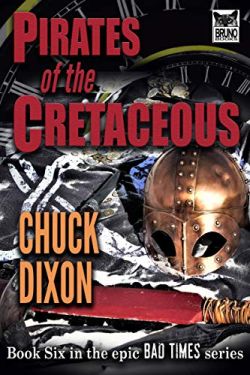 DF Interview: Chuck Dixon delivers bloody action, high intrigue in 'Bad Times 6: Pirates of the Cretaceous'
By Byron Brewer
Trapped in a prehistoric hell, the men (and woman) of the Ocean Raj will need all their courage and all their intelligence to escape back to the present. The latest volume in veteran comic book writer Chuck Dixon's epic Bad Times novel series, Pirates of the Cretaceous, finds the Rangers separated from each other and the ones they love by thousands of miles and millions of years.

While Lee, Jimbo, Chaz and Boats battle to survive on a world of monsters, Dwayne finds himself a captive of Aztecs and drafted by Vikings to fight a murderous naval battle. And Caroline Tauber remains in the present where she is hunted across the globe by killers from another time.
DF wanted to know more about this sixth Bad Times installment, so we chatted it up with author Chuck Dixon.
Dynamic Forces: Chuck, what was the inspiration for your latest entry in the Bad Times series, Pirates of the Cretaceous?
Chuck Dixon: Like every other book in the Bad Times series, I entertain what I call my "toy soldier" fantasies. This is the sixth book and I always wanted to get the cast back to the age of dinosaurs. I finally worked around to it and gave them a good reason for being there.
DF: Before we begin examining the novel proper, can you give readers who may not be familiar with the Bad Times series a little background on it, how the novels have been connected, etc., please?
Chuck Dixon: The first six books tell one complete, epic saga of a group of former U.S. Army Rangers who become involved in a strictly off-the-books time travel experiment financed by a foreign billionaire. Things go awry and the guys have to go on the run, along with a team of scientists, across time as well as space taking them to prehistoric Nevada, the ancient Aegean, Roman Judea, a rebellion in China, war in France and, in this novel, the Cretaceous Era as well as a parallel universe where the descendants of Genghis Khan battle Vikings for the domination of North America.
DF: What is the overall storyline of Pirates of the Cretaceous?
Chuck Dixon: My ensemble cast has been dispersed across space and time and are trying to get back together without getting killed by the many enemies they've made along the way. One of them is trapped in a parallel universe and taken prisoner by Aztecs. The others are on the run in current-day Mexico. The bulk of the cast is adrift on the cargo freighter that is home to their time travel device and it's trapped seventy million years in the past.
DF: Wow! This novel is so action-packed, if you don't mind I will check on its various protagonists in groups: To begin with, can you introduce us a bit to Lee, Jimbo, Chaz and Boats and tell readers what their situation may be?
Chuck Dixon: That is the core of the cast that's trying to survive in a world where everything is trying to eat them. They're trying to figure out how to get themselves back to the present without alerting their enemy, the malevolent billionaire Sir Neal.
DF: Can you continue with Dwayne? A little of his background, and his chief dilemma?
Chuck Dixon: Dwayne got separated from the rest when he "rode" an enemy time traveler to an alternate timeline where the Aztecs still rule Central America while Mongols and Norsemen fight over who will rule the western hemisphere in an age of musket and cannon.
DF: Who is Caroline Tauber? Where is she, and what is her situation? (As I said before: wow!)
Chuck Dixon: Caroline is the co-creator of the Tauber Tube (along with her brother, Morris), the wild device that tears holes in time that allows our Rangers to visit, and return from, the past. She's trying to escape from Sir Neal's goons across present-day Mexico with her son (by Dwayne), Rick Renzi, a fellow Ranger still recovering from a wound received in Nevada 100,000 years ago, and N'itha, his prehistoric gal pal.
DF: Any new characters we might meet on the way in Book 6? Can you tell us anything at all about them?
Chuck Dixon: We meet Njarl, as badass a Viking war chief as you could imagine. And a cast of murderous Aztecs that Dwayne assigns names to like Big Bird and Turtle Head.
DF: What is it about this series you enjoy as a writer and storyteller?
Chuck Dixon: I get to play with history. You know, the "what if?" game. And mix modern technology and attitudes with events to the past. With a series like this, I can really indulge my imagination and come up with the wildest, and bloodiest, action scenes I can think up.
DF: Chuck, where can we purchase Bad Times 6: Pirates of the Cretaceous? What other projects do you have brewing on the Dixon backburner that you can tell readers about?
Chuck Dixon: All my Bad Times books as well as my Levon Cade series and other novels are available on Amazon. They might also want to check out my current Van Helsing: Sword of Heaven miniseries from Zenescope and my recent graphic novel adaptation of the P.G. Wodehouse classic, Right Ho, Jeeves.
Dynamic Forces would like to thank Chuck Dixon for taking time out of his busy schedule to answer our questions. His newest novel, Bad Times 6: Pirates of the Cretaceous, is out now!
For more news and up-to-date announcements, join us here at Dynamic Forces, www.dynamicforces.com/htmlfiles/, "LIKE" us on Facebook, www.facebook.com/dynamicforcesinc, and follow us on Twitter, www.twitter.com/dynamicforces.
GRIFTER/MIDNIGHTER #1 - SIGNED BY WRITER CHUCK DIXON!
DEAN KOONTZ'S FRANKENSTEIN: STORM SURGE HARDCOVER
THE EYE OF THE WORLD: THE GRAPHIC NOVEL VOLUME 4 (WHEEL OF TIME)
THE EYE OF THE WORLD: THE GRAPHIC NOVEL VOLUME 3 (WHEEL OF TIME)
THE EYE OF THE WORLD: THE GRAPHIC NOVEL VOLUME 2 (WHEEL OF TIME)
THE EYE OF THE WORLD: THE GRAPHIC NOVEL VOLUME 1 (WHEEL OF TIME)
THE LONE RANGER: SNAKE OF IRON TP
DEAN KOONTZ'S FRANKENSTEIN: PRODIGAL SON VOL 2 TPB
THE GOOD, THE BAD, AND THE UGLY VOLUME ONE
---
NEW! 1. 11/25/2020 - STEVE SKROCE
4. 11/16/2020 - RYAN O'SULLIVAN
5. 11/16/2020 - RYAN O'SULLIVAN