PAUL CORNELL

SEND THIS TO A FRIEND!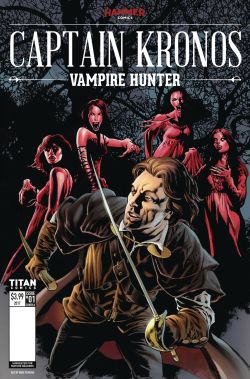 DF Interview:
Paul Cornell plumbs depths of magic, despair in new novel, Chalk
By Byron Brewer
Andrew Waggoner has always hung around with his fellow losers at school, desperately hoping each day that the school bullies • led by Drake • will pass him by in search of other prey. But one day they force him into the woods, and the bullying escalates into something more; something unforgivable; something unthinkable.
Broken, both physically and emotionally, something dies in Waggoner, and something else is born in its place.
Paul Cornell (Doctor Who, Dynamite's Vampirella) writes a tragic, brutal exploration of bullying in Margaret Thatcher's England in his new novel, Chalk. To learn more, DF sat down with the British writer of TV drama and comic book adventure.
Dynamic Forces: Paul, you've said elsewhere that your novel Chalk is an "incredibly personal" story and has been with you awhile. Can you tell us more about that please?
Paul Cornell: I've been writing the book for the best part of twenty years, through many different versions. It's taken a lot of shaping to put such raw stuff into the shape of a story. It still feels to me like it's kind of pushing at its restraints, like a monster in a box. It draws on my own experiences, but I also hope it's universal.
DF: Schoolyard bullying is obviously a subject torn from today's headlines but has been a problem long before it was ever discussed or even considered seriously in a societal manner. Can you tell us in a general way how this is addressed in the novel?
Paul Cornell: It's what the book's about. I didn't want to write a novel where the protagonist is heroic because he's abused by those around him at school. I wanted to write a book about cycles of abuse, how abuse creates abuse, and how systemic it is, and how it's tied to money and the greater systems beyond.
DF: What can you tell us about the protagonists in the book? Can you give us a capsule sketch of each main character?
Paul Cornell: Chalk is the story of Andrew Waggoner, a schoolboy growing up in rural Wiltshire in the 1980s. He's an ordinary, messed-up kid, until forces greater than himself, at both his school and on the ancient downlands above his house, take an interest in him. Angie Boden is an outsider girl at the same school, who has about her the power of pop music. She has her own story going on. Waggoner can barely relate to her or to anyone beyond his immediate group of bullied peers. Drake is another boy, the greater force at the school disco who takes an interest. And there's another Waggoner that's the result of the above process.
DF: Following up on an earlier question – and of course we know most characters are reflections in some way of their creators to a certain extent – is there a particular character in Chalk that is most reflective of Paul Cornell?
Paul Cornell: I am Waggoner. But you'll hopefully never find out which one.
DF: Chalk is set in the 1980s, and the music of the era somehow connects with Angie Boden and a brand of mysticism she practices. What can you tell us about that?
Paul Cornell: It's a meaningful era in the UK in that it's the previous time when austerity and privation went hand in hand with fascism. The music of my childhood is all through the book, forming the numinous life of some of the characters. We're all about the power of Bananarama.
DF: Just for readers' sake – you are known perhaps better by the DF audience for your comic book work – can you describe your process as a writer for doing a prose novel vs. a comic book such as Vampirella, which you have been working on for Dynamite?
Paul Cornell: Well, they're different technical processes. I try to plot both before I write, and usually fail. I'd need a book to describe the detail.
DF: Paul, are there any other projects current or near-future you'd like to mention?
Paul Cornell: This May, my new comic Saucer State is coming out from IDW, the sequel to and completion of Saucer Country, which used to be at Vertigo. It's still by me and artist Ryan Kelly, and it continues the story of Arcadia Alvarado, now President of the USA, who was once abducted by aliens and is now going to use the powers of her office to try to discover the truth of what happened.
Dynamic Forces would like to thank Paul Cornell for taking time out of his busy schedule to answer our questions. Chalk, a novel from Tor.com, hits stores March 21st!
For more news and up-to-date announcements, join us here at Dynamic Forces, www.dynamicforces.com/htmlfiles/, "LIKE" us on Facebook, www.facebook.com/dynamicforcesinc, and follow us on Twitter, www.twitter.com/dynamicforces
VAMPIRELLA VOL. 4 #0 Written by Paul Cornell
VAMPIRELLA VOL. 4 #1 ATLAS COMICS SIGNATURE SERIES - SIGNED BY PHILIP TAN Written by Paul Cornell
VAMPIRELLA VOL. 4 #1 BLANK AUTHENTIX EDITION Written by Paul Cornell
VAMPIRELLA VOL. 4 #2 Written by Paul Cornell
VAMPIRELLA VOL. 4 #3 Written by Paul Cornell
---
NEW! 1. 11/25/2020 - STEVE SKROCE
4. 11/16/2020 - RYAN O'SULLIVAN
5. 11/16/2020 - RYAN O'SULLIVAN