RICH DOUEK

SEND THIS TO A FRIEND!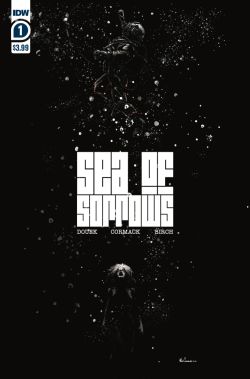 DF Interview: Rich Douek explores historical horror amid icy waters of dread in 'Sea of Sorrows'
By Byron Brewer
In the aftermath of the Great War, the North Atlantic is ripe for plunder by independent salvage crews. When a former naval officer hires the SS Vagabond, he leads the ship to a sunken U-boat, and a fortune in gold. Tensions mount as the crew prepares to double-cross each other, but the darkness of the ocean floor holds deeper terrors than any of them have bargained for!
Deep sea adventure with a horrific twist! From the creative team behind last year's hit horror series, Road of Bones, comes an all-new tale of bone-chilling terror! Plunge headfirst into the icy waters of dread with this historic thriller from writer Rich Douek and artist Alex Cormack. Manning a small lifeboat, DF to get the 411 paddled out to talk with scribe Rich Douek.
Dynamic Forces: Rich, how does it feel playing in the horror sandbox again with your Road of Bones collaborator, Alex Cormack?
Rich Douek: It feels great! Like we're getting the band back together again. Alex and I learned a lot about each other and how we work over the course of making Road of Bones, and it's really charged up our collaboration this time around—we know how to play off each other's strengths.
DF: Why is horror such a favored genre of yours, and what takes Sea of Sorrows in a new creative direction for you? What "itch" does the limited series scratch for you as a writer?
Rich Douek: There's just something about staring into the dark abyss of human nature that I find fascinating. Writing horror is a way to engage with, and explore, that darkness without succumbing to it. That's really valuable to me creatively.
For Sea of Sorrows, one of my goals was to explore the scars that a traumatic event like WWI could leave on a person. And while I've never been to war, there's that old saying, "We are all fighting our own battles, constantly." Well, we all have scars from those battles, which is why I think people will have a lot to relate to here.
The appeal of a limited series to me is that I can remain focused on what I want to explore. I know there's an ending, so I can build toward that. And the thing with horror, darkness and evil is that you can only dwell in it for so long before it starts feeling oppressive. One of the greatest things about horror is that when you're done reading, you can perhaps appreciate the light in your own life a little more, but if the story just drags on and on, you may lose that opportunity.
DF: What can you tell readers about the overall storyline of Sea of Sorrows?
Rich Douek: It's set in the aftermath of WWI, and like any period following a great upheaval, it's filled with opportunities to profit – and a lot of trauma that needs to be dealt with. We have this crew of freelance salvagers, making a living by picking the sunken wrecks of the war clean—like everyone else in the world, they're each dealing with the effects that the war had on their own lives. They're broken people, trying to put their lives back together with the gold that they're hunting, but in the end, chasing that is exactly what gets them into trouble.
DF: Introduce us to some of your protagonists in this dark dive.
Rich Douek: The story revolves around two characters, both affected by the war in different ways.
Nick Shoals is a veteran of the Great War, and a diver. The silence and wonder of the deep is the only place he can find solace from the horrors he experienced in the trenches. He almost doesn't care about the gold—he just wants to get down there, in the darkness, where he doesn't have to think about the things he's seen and done.
Albrecht Pfeiffer was on the other side of the war, an officer on the U-Boat, Bremen. For him, the depths of the ocean are dangerous, horrifying even. The things he experienced changed him, and not for the better. He knows where the Bremen's final resting place is, though, and what awaits whomever dares to disturb it.
DF: And what about some of those double-crossing crewmen of the SS Vagabond?
Rich Douek: Deke Harlow is the captain of the Vagabond, and quite a vagabond himself. He's a drunk, and an inveterate gambler and risk taker—it's what appeals to him about this particular line of work. But his gambling debts have finally caught up with him, and the promised gold is the only way he can pay them back, which is why he's obsessed with finding the Bremen.
However, those debts mean he has had to take on some new crew members – a gang of thugs led by "Sunny'' Jim Hawkins, and enforcer for Owney Madden, the vicious gangster who Deke owes money to. Sunny Jim is there to make sure that the gold gets on board, and that Deke sails back to New York instead of taking off for the Caribbean or something.
DF: I hear there may be a beast of legend down below. Any spoiler-free clues available there?
Rich Douek: The ocean's depths are a place that's both deadly and beautiful. The creature they encounter has both qualities in spades. If you check out the covers, you'll have a good idea of what to expect, but believe me when I tell you that there are some secrets about it that will surprise everyone, even those who have figured out what myths it's based on.
DF: Rich, having interviewed you about and read faithfully Road of Bones, I know historic accuracy is important to your work. Sea of Sorrows takes place in the immediate aftermath of World War I. What research if any did you and/or artist Alex do for this thriller?
Rich Douek: It was really challenging to do research for this. Not only did I have to learn how deep sea diving works, but also I had to learn a lot about its history and development, in addition to what technology was used in the 1920s. Things like, how deep can a diver go? How do they keep in touch with the ship? Luckily, there's a lively community of diving historians out there, and I was able to find a lot of great information.
One cool thing is that the Bremen was a real submarine, on the exact mission that we talk about in the book. In the real world, it just disappeared – lost at sea to an accident or enemy fire – but we used that fact to build the story around what might have happened to it.
DF: What other projects are coming up for you that you can tell readers about?
Rich Douek: I have a new volume of Gutter Magic, called Smoke and Mirrors, coming out in April. It continues the story of the first volume, and was a real treat for me to be able to revisit those characters and tell the next chapter of their story. Also, later in the year, we will be doing a Kickstarter for a collected edition of Wailing Blade that's going to have a lot of extras and fun stuff included. That's all I can really talk about for now!
Dynamic Forces would like to thank Rich Douek for taking time out of his busy schedule to answer our questions. Sea of Sorrows #1 from IDW Publishing hits stores May 20th!
---
NEW! 1. 11/25/2020 - STEVE SKROCE
4. 11/16/2020 - RYAN O'SULLIVAN
5. 11/16/2020 - RYAN O'SULLIVAN