MATT HAWKINS

SEND THIS TO A FRIEND!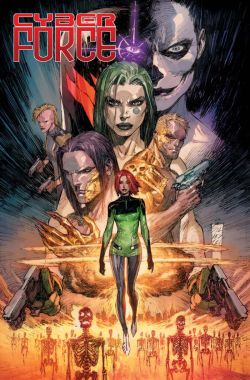 DF Interview: Matt Hawkins helps relaunch Image Comics' iconic Cyber Force
By Byron Brewer
Overseen by creator Marc Silvestri, writers Matt Hawkins (Warframe, Think Tank) and Bryan Hill (Bonehead, Postal) and artist Atilio Rojo (Samaritan) are relaunching the classic Image Comics series Cyber Force!
In a modern world where humanity is defined by the technology it creates, a terrorist strikes at the heart of human progress. One of the few survivors of the attack is a man named Morgan Stryker. Mortally wounded, Stryker's life is saved by his employers … but the price could be his humanity itself.
To learn more about this landmark relaunch, DF spoke with Matt Hawkins.
Dynamic Forces: Matt, Cyber Force is as tied to Image Comics' beginning as Fantastic Four is to Marvel Comics. So in this 25th year of Image, how does it feel to be working on a new iteration of this iconic title?
Matt Hawkins: I worked on Cyber Force Rebirth and have been involved with these characters for a long time so it feels cool but not like the first time. It's exciting to continually reinvent and play with characters that are now 25 years old.
DF: Over the years, there have been a few iterations, starts and stops, with Marc Silvestri's brain child. Is there any particular era or adventure from whence this new book has its genesis?
Matt Hawkins: This new arc isn't a reboot. It's a continuation of the Cyber Force Rebirth and Aphrodite IX universe that Marc Silvestri and I built with the "Rebirth" line. There's an event that happens at the end of IXth Generation V2 which is how we roll out this new "origin" but still within continuity.
DF: So what do you have in store for readers in this go-round of Cyber Force?
Matt Hawkins: It's the same basic idea of the morality of technology and humanity. When I talk about it online, people make allusions to Black Mirror, but when Marc first developed this he was doing more of a hybrid between Six Million Dollar Man and The X-Men. We've evolved it over time and I'm really happy with how the series has come out.
DF: Who will be our prime protagonists in the series? Can you introduce them to our readers, please?
Matt Hawkins: The story focuses on Morgan Stryker and his daughter Carin Taylor who people will recognize as Velocity. We'll be re-introducing Killjoy, Ripclaw and a lot of other familiar faces.
DF: Matt, you and your co-writer Bryan Hill have been working together, on the page and behind the scenes, about as long as I have been doing these interviews. What can you tell us about your creative process in writing in general, Cyber Force in particular?
Matt Hawkins: Bryan does all the hard work and I take all the credit. (laughs)
DF: What does artist Atilio Rojio bring to this most iconic table?
Matt Hawkins: We wanted an artist who could hit a monthly schedule and still kick ass visually. That's hard to find. I worked with him on IXth Generation which featured the Cyber Force characters and the Aphrodite IX characters, so I already know what his versions of these characters look like.
DF: Do I understand that Cyber Force creator Marc Silvestri will be doing covers for the series? Will he be involved in the plotting/writing or in any other fashion?
Matt Hawkins: He's involved as a cover artist and story consultant/editor so he and I chat daily about what's going on with it.
DF: Something unique in today's comic book world: Cyber Force is beginning its new press run with a 25-issue monthly commitment, with no breaks. Reasoning? Advantage or disadvantage?
Matt Hawkins: It's an experiment. We've taken skip months in the past to facilitate trades and we've seen declines in the 32-page books as people just jump to the trades.
DF: Matt, what other projects might you be involved with that you can talk about?
Matt Hawkins: So many! I'm working on Feral with Isaac Goodhart, Swing with Linda Sejic, Sugar with Yishan Li, Symmetry V3 with Raffaele Ienco and others I can't get into yet.
Dynamic Forces would like to thank Matt Hawkins for taking time out of his busy schedule to answer our questions. Cyber Force #1 from Image Comics hits stores March 28th!
For more news and up-to-date announcements, join us here at Dynamic Forces, www.dynamicforces.com/htmlfiles/, "LIKE" us on Facebook, www.facebook.com/dynamicforcesinc, and follow us on Twitter, www.twitter.com/dynamicforces.
CYBER FORCE #1 CHRIS GIARRUSSO VARIANT - SIGNED BY CHRIS GIARRUSSO!
---
NEW! 1. 11/25/2020 - STEVE SKROCE
4. 11/16/2020 - RYAN O'SULLIVAN
5. 11/16/2020 - RYAN O'SULLIVAN