DAN BRERETON

SEND THIS TO A FRIEND!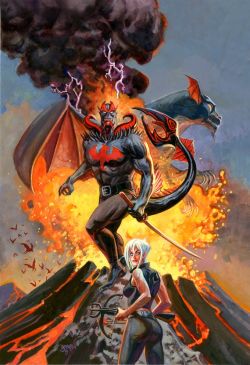 DF Interview: Dan Brereton brings back 'Giantkiller' via Kickstarter in new monster HC
By Byron Brewer
When giant alien beasts attack San Francisco, the U.S. military responds by bio-engineering a human-monster hybrid to stop them -- and GIANTKILLER is born!
Nocturnals creator Dan Brereton's acclaimed labor-of-love "monsterpiece" Giantkiller is on Kickstarter, set to mark its 20th anniversary with a whopping 240-page, 8.5x12.5 inch hardcover monster edition with expanded story content, galleries of concept art and the work of several guest artists.
DF sat down to talk to the artist/scribe about one of his favorite pieces two decades later, and Dan Brereton only had one word for the Giantkiller HC: BIG!
Dynamic Forces: Dan, in the course of collecting this great work, is it difficult to believe 20 years have passed since you first did Giantkiller?
Dan Brereton: I wrestle with the concept of Time regularly as a parent, watching my kids grow up way too fast! Somehow revisiting the world of Jack and Jill has felt a bit more like time-traveling to an alternate history. Writing the additional story material for this edition feels very comfortable, a reality I'm tempted to look back on as if it all actually happened. I've enjoyed going back over individual pages of original art and cover paintings in my flat file. The art still feels alive, the colors so vivid -- the story remains raw and immediate. I want that feeling in the new edition, and enlarging the work physically will help convey it.
DF: What was the catalyst that led you to this 20th anniversary book and to Kickstarter?
Dan Brereton: Last autumn, it occurred to me GK was about to turn 20, and as the story has been out of print for a couple of years (Image Comics released the TPB Edition in 2006) I knew I had to finally try to do it the way I'd originally wanted to: bigger. The idea of seeing the pages in an oversized format inspired me to take a chance and kickstart the hardcover. Adding story content is another thing I've wanted to do for years, asking myself, "What did they do next?" Having had success with past crowd-funded campaigns, it was still a gamble, but the great thing about Kickstarter is knowing what you have to work with ahead of the game, an invaluable ally for any creator.
DF: For the uninitiated, give us an extended elevator pitch for Giantkiller.
Dan Brereton: Back in 1999, a traversable wormhole of unknown origin burst through the fabric of our world -- from inside Mount Diablo, a sleeping volcano. The mountain erupted and from this chaos giant alien beasts appeared to savage the San Francisco Bay Area. The arsenal of the U.S. military turned out to be as useless as sending in troops, who all perished in the newly-forming toxic environment the monsters brought with them. Military science responded with a bio-engineering human-monster hybrid to stop them. This chimera was trained to fight in the Budo tradition, and faced off with the invaders in head-to-head combat. His name is Jack.
DF: Tell readers about some of the non-monster protagonists in the story, particularly Dr. Azuma and Jill Sleet.
Dan Brereton: Our hero Giantkiller has three main human forces in his life. His creator, Dr. Leonard Azuma, a native to California, who left work after the Livermore Labs were abandoned after what he refers to as the "Daikaiju" invasion. He not only assembled the team who bioengineered Jack, whom they affectionately call "Yochu" (larva), he educated and trained him in the Budo, the Japanese art of war.
General Selkirk is the OIC of Project Giantkiller, overseeing not only the training and implementation of Jack as a weapon, but his larger task -- keeping the Daikaiju from gaining ground. His fear is Jack's mission will fail as previous projects did, prompting the use of a nuclear option. He has high hopes for Jack, at a time when the might of the U.S. military seems pitifully inadequate.
Jill Sleet, former FBI and author of the Field Guide to Giant Monsters. Her name is spoken here and there in hushed tones, and though she is a total mystery to Jack their paths are destined to cross.
DF: In a non-spoilery manner, tell us what you can about the monsters, or at least some of them.
Dan Brereton: I'll tell you about three of the 24 known Daikaiju.
IG, a relatively small Class 2, 18 tons, insectoid and Jack's first confrontation in the field . IG releases a punishing force blast capable of ripping apart the toughest opponent.
SHRILL, Class 3, 90 tons, ready to spawn. The scariest thing about these monsters is their ability to reproduce with any other Daikaiju, regardless of species or physiology.
There is only one Class 5 Daikaiju and it is called RROAR. Little is known about this "emperor in exile" because RROAR is stuck in the twin mouths of both volcano and wormhole. Everyone worries about this Monster of Monsters detaching from the mountain, which is an eventual certainty. There is no current plan to combat a creature simply too large for this world, other than the detonation of a thermonuclear device.
DF: How can you describe the awesome Yochu?
Dan Brereton: At nine-feet tall, Yochu is a giant amongst men, but regarded as little more than an angry insect among his Daikaiju cousins. At least until he unleashes his own arsenal of Kaiju weapons, augmented by Azuma's training in swordsmanship and guerrilla warfare. On the outside he's frightening, inhuman, seemingly indestructible. On the inside he's a well-educated boy, with the exuberance and curiosity of a child. His major internal struggle is juggling his human and Kaiju natures. "Hakai", the urge to destroy, is constantly at war in his heart and mind with his thoughtful, honorable nature. Learning to meld the Noble and the Savage seems an almost impossible task, and could get him killed .
DF: By way of background, tell readers about your self-admitted obsession with Kaiju eiga (Japanese monster movies like Godzilla and Gamera) and Samurai cinema which in part inspired Giantkiller.
Dan Brereton: I read Shogun in high school after watching the TV miniseries and two incredible things happened: I discovered Feudal Japan, and Toshiro Mifune. From that point on, I was hooked. My obsession with "chambara" (swordplay drama) persists to this day. I think I was drawn to the swords in the beginning, and later became enraptured with Japanese martial arts, medieval history and culture. I love the films of Kurosawa, Okamoto the Zatoichi and Lone Wolf and Cub films (the original manga adventures of Itto Ogami are unequivocally the greatest action stories ever produced in comics). I'm always on the lookout for great examples of the genre I haven't seen yet.
At a much younger age , I watched episodes of Ultraman practically every day after school. A giant space guardian fighting huge monsters? How can it get any better than that?
What causes me to embark on the path to Giantkiller came later when I was a single parent raising my (now oldest) son. Got hold of a videotape of 1989 Godzilla Vs. Biollante. It's the beginning of what's known as the "Heisei" series of Gojira films. At this point, I hadn't even seen Gojira (1954). As a kid, I had dismissed Kaiju films as seeming a little silly, with only Ultraman as an exception. (Hopefully I can be forgiven, since I now love them dearly.) Seeing this film changed everything for me. Something about the way Godzilla had been re-designed made everything more serious and believable, while at the same time completely fantastic and unreal, even childlike. There was a surreal quality to these films that woke something up in me I hadn't felt in a long time, probably since I was a kid. My son responded to it too, even though he was only a toddler (he couldn't quite pronounce "Godzilla" yet). Here we were, hunting down the films and toys that had come out in the intervening seven years, becoming totally obsessed with Daikaiju. It was around this time I got the idea for a character: Human and Kaiju, not gigantic like Ultraman but relatively human in size, who'd scale Daikaiju like one would climb a mountain, armed with the powerful arsenal of bio-weapons. A little later, I took a trip to my old stomping grounds in the Diablo Valley near San Francisco, and imagined giants wreaking destruction. "Devil Mountain" itself was always a looming presence growing up there, and somehow seemed a perfect place to start a monster invasion.
Flash forward: Over two decades later, somehow it became a reality (in the pages of a graphic novel) thanks in large part to the folks at the DC Comics of 1997. I still can't get over it.
DF: Okay, Dan, go to town: Tell us about this new 8 ½ x 12 ½ inch hardcover volume and how we can learn more about your Kickstarter efforts. When will this Giantkiller 20th Anniversary Edition be published?
Dan Brereton: The plan is to go to press over the summer, after I've finished the epilogue. I'm really excited about going back, writing and illustrating story pages for this (expect a super-cool twist!). The Kickstarter campaign is just the beginning -- once it's ended on March 7th, we will have 80% of the new book assembled – and this was a bit of a challenge because the digital files from 1999 are in an antiquated format, but my design wizard, Gilbert, converted and improved on them.
At larger than 8x12 inches, the book will be a pleasure to read but not so large as to impede one from curling up and enjoying it comfortably. They'll be an extensive concept gallery featuring sketches and designs done prior to illustrating the comic . It was close to a year of pre-production, concepting dozens of monsters and many iterations of Jack's design before I felt comfortable I'd nailed him down.
Most of the guest art in the Rogues Gallery of illustrations will have been done by friends and peers who actually volunteered without being asked, once they heard I was embarking on this project! I've already seen several of them and they're gorgeous, inventive and savage! I carried around a "GK" sketchbook to cons, and once in a while artist friends would take a stab at drawing Yochu, and I'll have some of those in this section as well.
I have two ideas in mind for the 240-page hardcover, but until we get further along in the campaign I can't really talk about them much.
One idea involves expanding the original Field Guide to add more monsters, and the other has to do with flash fiction by a few very talented author friends.
It's been a real kick to have people come up to me who loved the series and still have so much enthusiasm for it 20 years later. It's not like this property rocked the comic book world to its core when it first came out -- " Kaiju" was not a household word in American pop culture, and though sales were solid and we reached a lot of fans of the genre who wanted more, the energy wasn't quite enough to propel things into a second series. Things feel different now. The climate is more suitable in the world of 2019. With the advent of new Godzilla films and other Kaiju films and comics, it's a more comfortable home to unleash the mighty Yochu!
Dynamic Forces would like to thank Dan Brereton for taking time out of his busy schedule to answer our questions. Keep your eyes on DF NEWS for updates on Giantkiller!
For more news and up-to-date announcements, join us here at Dynamic Forces, www.dynamicforces.com/htmlfiles/, "LIKE" us on Facebook,www.facebook.com/dynamicforcesinc, and follow us on Twitter,www.twitter.com/dynamicforces.
RED SONJA ANNUAL #3 - SIGNED BY DAN BRERETON
THRILLKILLER '62 - SIGNED BY DAN BRERETON
VAMPIRELLA QUARTERLY #1 RED HOT HALLOWEEN!
RED SONJA: TRAVELS VOL. 2 TRADE PAPERBACK
THE ART OF VAMPIRELLA (NEW PRINTING)
---
NEW! 1. 11/30/2020 - SKYLAR PATRIDGE
5. 11/16/2020 - RYAN O'SULLIVAN