FRED VAN LENTE

SEND THIS TO A FRIEND!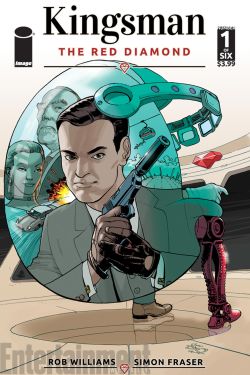 DF Interview: Fred Van Lente holds court with Immortal Brothers: The Tale of the Green Knight
By Byron Brewer
From ancient Mesopotamia to the streets of modern-day New York, Armstrong, Gilad and Ivar have seen, heard and fought it all. Now, celebrate the 25th anniversary of Valiant's most famous band of brothers with a marvelously extra-long and lavishly illustrated epic of bravery and brute force!
Immortal Brothers: The Tale of the Green Knight – a 48-page, standalone special reuniting Archer & Armstrong, the Eternal Warrior and Ivar, Timewalker for a swashbuckling adventure through King Arthur's court. In April, writer Fred Van Lente returns to the ageless Anni-Padda brothers with artist Cary Nord for the first of four oversized issues honoring the most memorable Valiant tales ever told across the summer of 2017!
To learn more for you, DF turned to Ye Royal Scribe, Sir Fred of Van Lente.
Dynamic Forces: Fred, before we talk specifics about this one-shot -- Immortal Brothers: The Tale of the Green Knight – I'd like for you to tell readers about how special this book is, and how it feels to be celebrating the 25th anniversary of Valiant's most famous band of brothers?
Fred Van Lente: It's very cool. I've had a lot of fun writing the three of them as a trio, first in the ancient land of Ur in Archer & Armstrong #0 in my run, and then in outer space in the far future in the middle arc of Ivar, Timewalker. I know I'm not the only one who thinks the A&A/Eternal Warrior flipbook of Eternal Warrior/Archer & Armstrong #8 by Barry Windsor-Smith was the high watermark of the original Valiant in terms of quality. So it's great fun to be following in that tradition.
DF: I cannot believe there would be fan-persons who do not know, but for the uninitiated would you introduce us to brothers Armstrong, Gilad and Ivar and tell us a little about them please?
FVL: They are the only people to have survived the Great Cataclysm that destroyed the world back in ancient times, before our recorded history, and they just happen to be bickering brothers who can't stand each other! Ivar is really smart, Armstrong really strong, and Gilad really cunning.
DF: What can you tell us about how this story starts off, and how the brothers come together in a wonderful Arthurian story (and WITH King Arthur!)?
FVL: Basically, this is Valiant's answer to The Princess Bride: Faith Herbert has been laid low with a particularly nasty bout of con crud, and her doting boyfriend Obadiah Archer is going to read her a story in her convalescence. He knows how much she likes Game of Thrones and so he picks a work about his partner Armstrong and brothers that has swords and magic in it too: the 14th century anonymous poem Gawain and the Green Knight, except Archer is going to give Faith the "real" story as related by Armstrong, who was actually there, before it got whitewashed in free verse.
It also has amazing secrets about the Valiant Universe that Faith may be less interested in, but the readers may be.
DF: Introduce us to the Green Knight. I hear he really has a head for the art of knighthood! (laughs)
FVL: Hey-oooh! Nice Dad Joke, Byron. (laughs) But seriously, folks, one Christmas a huge, green knight arrives at Camelot with a challenge for the Round Table: One knight must deliver a blow to his a neck that he will receive without protest, except he will deliver the exact same blow a year later.
The only person who volunteers for this task in none other than Sir Gawain, the Arthurian nom de guerre of Gilad, the Eternal Warrior. He cuts the Green Knight's head off -- but he doesn't die! Instead, he puts his head back on and tells Gilad he'll see him next Christmas. Well, this seems like a mystery -- who is this new immortal? So Gilad rounds up his other two immortal brothers, Ivar and Armstrong, and off they go to investigate.
DF: This self-contained story seems to have a hybrid Arthurian/Conan-esque vibe to it. Are either or both of these milieu favorite environments for your storytelling? Since this is an "overstuffed" one-shot, did you do any research to make the atmosphere come alive, become a character in its own right, as I imagine it will be?
FVL: Yeah, the poet who did the recent translation of Green Knight from Old English I really enjoyed, Simon Armitage, did a great BBC documentary about the poem where he travels to all of the places in northern Britain Gawain talks about it. If you do a search for "Green Knight BBC documentary" on YouTube, you can watch it for free.
DF: How was it like working with Eisner Award-winning artist Cary Nord, doing his usual great cover AND the interiors? (I do not know if it's because Cary has had his own history with Conan, but his work always whisks me back to those Barry Windsor-Smith classics!)
FVL: I am a huge fan of Cary, and got to hang out with him at a con or two, so it's great we finally get to work together. Can't wait to see what he comes up with!
DF: How fun was it to script these bickering brothers, even through this most serious of adventures? I am sure we will see some of that patented FVL humor.
FVL: Well, we're also adding a fourth member of the adventuring party, a cloistered assassin with amazing physical skills the gang picks up along the way, and his name is Percival, but he looks and sounds a lot like a certain modern-day Valiant psiot … and that will definitely prove to be a lot of fun.
DF: Finally, Fred, any other projects current or near-future you can tell us about?
FVL: Well, the same day this book is out also sees the first issue of Deadpool vs. the Punisher, which is by me and my A&A/Timewalker compadre Pere Perez, so all Valiant fans should pick that up as well -- as well as in virtue of it being awesome.
And my first novel, the stand-up murder mystery Ten Dead Comedians, is out from Quirk Books in July -- hope all my comics readers pick that up, it is available for preorder now.
Dynamic Forces would like to thank Fred Van Lente for taking time out of his busy schedule to answer our questions. The Immortal Brothers: The Tale of the Green Knight one-shot from Valiant hits stores April 12th!
For more news and up-to-date announcements, join us here at Dynamic Forces, www.dynamicforces.com/htmlfiles/, "LIKE" us on Facebook, www.facebook.com/dynamicforcesinc, and follow us on Twitter, www.twitter.com/dynamicforces
Z NATION #1 Co-written by FVL
DEADPOOL VS. THE PUNISHER #1 ULTRA-LIMITED BLOOD RED SIGNATURE SERIES EDITION SIGNED BY FRED VAN LENTE
DEADPOOL VS. THE PUNISHER #1 SIGNED BY FRED VAN LENTE
CONAN THE AVENGER #1 SIGNED BY FRED VAN LENTE!
CAPTAIN AMERICA HOMECOMING #1 SIGNED BY FRED VAN LENTE!
GI JOE #1 (2013) FIRST PRINTING SIGNED BY FRED VAN LENTE!
---
NEW! 1. 11/25/2020 - STEVE SKROCE
4. 11/16/2020 - RYAN O'SULLIVAN
5. 11/16/2020 - RYAN O'SULLIVAN