MATTHEW ERMAN & LISA STERLE

SEND THIS TO A FRIEND!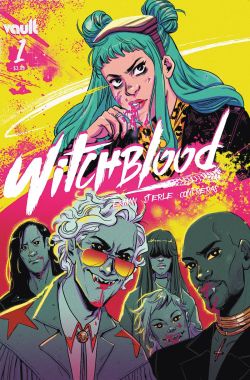 DF Interview: Matthew Erman & Lisa Sterle conjure 'a neon supernatural fantasy adventure' in 'Witchblood'
By Byron Brewer
A modern Wild West road trip about a witch named Yonna cruising the Southwest as a band of bloodthirsty biker vampires, the Hounds of Love, hunt her scattered coven for the source of all magic: witch blood.
From husband-and-wife creators Matthew Erman and Lisa Sterle, the critically-acclaimed creators of The Modern Witch Tarot Deck and Long Lost, comes Witchblood, a blend of action, lore, and Americana – perfect for fans of Buffy and American Gods. DF was eager to learn about this wondrous witch tale, so we chatted with writer Matthew Erman and artist Lisa Sterle.
Dynamic Forces: Matt, tell readers a little bit about the world you and Lisa are building here in your coming series, Witchblood.
Matthew Erman: Witchblood is an attempt to create a new mythology and totally unique fantasy for a couple of things that people are familiar with, like witches and vampires. I think what interests me most and always has is subverting the expectations for what a genre-story like this can be, what new things can be done and how far we can pull away from certain tropes, I guess. That's the big thing, I think that's mostly how I operate.
I want people that like these things to be excited to jump in and discover something literally brand new and I also want people who don't give a sh*t about vampires or witches to want to see how we've changed things, because we have in major ways that I'm excited to reveal as the story begins to unfold.
I'm constantly looking to shake things up in the stories I tell. This is a neon supernatural fantasy adventure that is also part-western, I think a lot of people like those things. I like those words, and if any of those words appeal to you, I think you'll find something here. It's funny and sad and weird and exciting. It's obviously got blood and vampires and magic, I don't really know what else anyone would want in a story. It's about maximalism, doing as much as we can with what we have. I don't want a single issue to feel like filler or a wasted opportunity. Every moment matters, but for different reasons. I hope everyone gives it a chance.
DF: Introduce readers to Yonna.
Matthew Erman: Yonna D'arc is a 1,000-year-old (roughly) witch who has been traipsing through the American Southwest for an indeterminate amount of time with her crow familiar, Bhusunda. The story starts with her doing that, landing in Carlos, Texas, for bike repairs. She is talented in alchemy, and in this world that means using the natural elements of existence to change or alter various things. Taking snow or motor oil to make a potion that does something. That's typically how she operates. My love of cooking is kind of situated somewhere in there, a form of alchemy that results in sometimes unexpected things.
Yonna is for sure my take on a type of "anti-hero" and I hope that's exciting for people to read.
DF: What can you tell us about the Hounds of Love?
Matthew Erman: The Hounds of Love are Paxton LaBelle, Hunger Child, Monkberry, Samson LaBelle and Jupiter of Blood. They are vampire bikers who roam and terrorize the American Southwest, and up until the first issue they've never crossed paths with Yonna.
They're most colorful, strange and incredible group of characters I've ever written, they're all unique and wonderful. They all have their reasons for being part of Paxton's roving gang and part of the story that I'm most excited about is exploring who they are, I hope readers find them as interesting as we do.
DF: Lisa, would you tell readers about the general storyline of the book, and how you approached that, brought it alive as the artist?
Lisa Sterle: The concept for Witchblood began as something simple, a motorcycle road trip through the American Southwest. From there, Matt and I started talking about what I'd like to draw, and what he'd like to write, and that's how witches, magic, vampires and all kinds of supernatural fun got wrapped up into the story. We wanted to create something fast-paced, exciting, with a full cast of weirdos and space for lots and lots of magical mayhem. I've done more world-building research for this book than anything that I've ever done before, with a different moodboard for every character, every location, every issue. I always start wide when pulling together inspiration, so at first I drew from a lot of 70s fashion, Wim Wenders photography, the JoJo's Bizzare Adventure manga, drag queen fashion, avant garde makeup, tarot art, and eventually that all coalesced into the neon vision of Witchblood.
DF: Talk about designing all these interesting and colorful characters. How has it been working with colorist Gab Contreras?
Lisa Sterle: I LOVE designing characters, it is truly one of my favorite parts of comics. It took about a year for me just to settle on Yonna's design, and almost that much time for Paxton, the head vampire of the Hounds of Love! There's so much to think about when creating characters, from their face shape, to the way they hold their body, to what they wear and how they identify. The smallest tweak can make the biggest difference, and my goal is always for the reader to get a sense of who this person is before they even utter a word.
Working with Gab has been incredible, she is truly a force! Collaboration is the heart and soul of comics I love to work on, and she's been a great art partner. We're always sending each other stuff back and forth to get advice or thoughts, and I can say the art of Witchblood is the perfect fusion of the two of us.
DF: Was there a character or set piece that presented particular challenges for you that might not have been expected? Or conversely, was there an art labor that turned out to be the most enjoyable part of the series' execution?
Lisa Sterle: I really wasn't sure how I was going to handle drawing so many motorcycles at the outset of this comic! I'm generally not a fan of drawing cars or bikes or anything super mechanical as I tend to stray towards organic things in my art. But since I knew that was going to present a possible challenge, I bought a couple of tiny toy models of all the motorcycles and the cars so I have easy reference. It ended up being SUCH a time-saver. Now whenever there's a long driving scene, it's no sweat at all!
DF: Lisa and Matt, what other current or near-future projects can you each tell readers about in which you are involved?
Matthew Erman: I have an unannounced project coming from BOOM! Studios this year as well as some releases that I'm really excited about. A graphic novel through Vault called Bonding will also be out this year as well as another unannounced project from the awesome Mad Cave Studios. I'm very lucky to have had the work I've had the past year and I'm excited that it'll all be coming out within the next year or so.
Lisa Sterle: I just released the Modern Witch Tarot journal in fall 2020, to accompany the tarot deck. In Fall 2021, my graphic novel Squad (written by Maggie Tokuda-Hall) releases from Greenwillow Books. It's about teen girls that transform into werewolves and eat boys, it's great!
Dynamic Forces would like to thank Matthew Erman and Lisa Sterle for taking time out of their busy schedules to answer our questions. Witchblood #1 from Vault is slated to hit stores March 17th!
For more news and up-to-date announcements, join us here at Dynamic Forces, www.dynamicforces.com/htmlfiles/, "LIKE" us on Facebook, www.facebook.com/dynamicforcesinc, and follow us on Twitter, www.twitter.com/dynamicforces.
---
NEW! 1. 03/08/2021 - BRENNA THUMMLER
5. 02/22/2021 - STEPHANIE PHILLIPS