ULISES FARINAS

SEND THIS TO A FRIEND!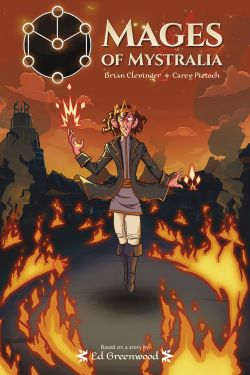 DF Interview: A boy seeks to fulfill the prophecy of his deceased father in Ulises Fariñas' Motro
By Byron Brewer
The nefarious Reptoids, defeated and relinquished to hidden outskirts away from the Northern Kingdom, abscond with the human race's final hope for survival—the last of their children. Motro convinces the city's elders to sacrifice themselves to reveal the Reptoids' location so the children may still be rescued, but they're met with a horrifying discovery.
What is it, and what's next? To learn more about whazzup in the fascinating miniseries from Oni Press, Motro -- from the talents of co-writer/artist Ulises Fariñas, co-writer Erick Freitas and colorist Ryan Hill -- DF chatted a while with Ulises Fariñas. Here's what we learned.
Dynamic Forces: Ulises, tell us about this new fantasy hero you have created in Motro and the world he inhabits.


Ulises Fariñas: He's a red-headed chubby boy who has the strength of ten men. He's an arrogant young man who is desperate to find his family. He's a lonely king who only sees violence as the appropriate solution to his problems, and he may be right.
DF: Motro has a number of life challenges facing him all at once, not the least of which is fulfilling the prophecy from his deceased father. How does this and other responsibilities mold the character the young hero is becoming, in your eye as creator?


Ulises Fariñas: Prophecies are no different than the very existence of one's parents. Everything they are, everything they've done, weighs on you and transforms you, even against your better judgment sometimes.
DF: What can you tell us about the Reptoids and their nefarious goals?


Ulises Fariñas: They aren't so nefarious. Their entire race is on the edge of extinction, and I really wanted to turn on its head the concept of mindless, often motivation-less hordes of invaders. They only have one motivation, and that's to survive. When you push people to the brink, you can't judge their actions on whether they are moral or amoral.
DF: Our hero comes upon "a horrifying discovery" in issue #4 as he journeys to rescue the children. Can you (non-spoilery, of course) hint at anything toward this end?


Ulises Fariñas: Everyone is naked, and there's lots of full frontal nudity.
DF: Hmm … We are not yet to the halfway point of this miniseries as of February's issue #4. Is the comic unfolding as you had foreseen?


Ulises Fariñas: Yeah, and I'm really happy that it seems people are understanding the disjointed narrative structure I'm employing.
DF: Was there any book, movie or other medium that helped to inspire Motro? It is quite unique.


Ulises Fariñas: I grew up poor, Latino and in a violent household, so that was all I needed. Also, Krull.
DF: Does Writer Ulises Fariñas ever have conflicts with Artist Ulises Fariñas when it comes to joining script to art? Can you tell us your work process?


Ulises Fariñas: Nah, I mostly rewrite dialogue over and over again because it never feels just right for me. That's my biggest struggle. But I think if you're an artist and you aren't writing your own stories, you're really missing an opportunity to perfect your craft and also to advance your creative goals.
DF: Ulises, any project current or near-future, in or out of comics, that you'd like to tell us about?


Ulises Fariñas: I'm mostly trying to keep all my canaries flying. Between drawing Motro, writing Judge Dredd, and publishing books with bunobooks.com, it's a lot to keep track of. I don't want to die knowing I haven't tried my best at everything I could try.
Dynamic Forces would like to thank Ulises Fariñas for taking time out of his busy schedule to answer our questions. Motro #4 from Oni Press hits stores Feb. 8th!
For more news and up-to-date announcements, join us here at Dynamic Forces, www.dynamicforces.com/htmlfiles/, "LIKE" us on Facebook, www.facebook.com/dynamicforcesinc, and follow us on Twitter, www.twitter.com/dynamicforces
CAPTAIN VICTORY AND THE GALACTIC RANGERS TRADE PAPERBACK Art by Ulises Farinas, more
CAPTAIN VICTORY AND THE GALACTIC RANGERS #1 Art by Ulises Farinas, more
---
NEW! 1. 11/25/2020 - STEVE SKROCE
4. 11/16/2020 - RYAN O'SULLIVAN
5. 11/16/2020 - RYAN O'SULLIVAN