ALEX PAKNADEL

SEND THIS TO A FRIEND!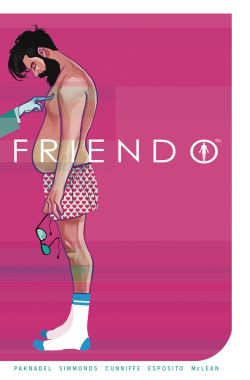 DF Interview: Alex Paknadel takes readers to an interactive future chillingly familiar in 'Friendo'
By Byron Brewer
Leo wasn't allowed toys as a kid, but now that he's all grown up he's going to take yours. He used to play by the rules, but then governments and corporations set fire to the rules and still expected him to behave. He probably would have if it hadn't been for his new friend Jerry. See, Jerry isn't human; he's a personalized marketing VR... and he's malfunctioning.
Vault Comics' Friendo is unhinged ultraviolence from writer Alex Paknadel (Arcadia) and artist Martin Simmonds (Punks Not Dead). About to reach a climax with February's issue #5, DF wanted to take look back at the comic with Alex Paknadel and forward to its concluding issue.
Dynamic Forces: Alex, everyone seems to be very pleased with how this limited series has performed. As it prepares to wrap in issue #5, what can you tell us about the genesis of Friendo, how the book came about?
Alex Paknadel: Gosh, I suppose the genesis of Friendo was really when I read about Google Glass the first time. I was working for a digital marketing company at the time and I kept wondering how they'd monetize the things, you know? Having push notifications swimming into users' field of vision would have probably driven them insane or into a tree, so it immediately made sense to me that an augmented reality "helper" would hove into view at some point. Then my thoughts turned sinister…
In terms of how it came about functionally, I'd been speaking to white hot artist Martin Simmonds about a possible collaboration and we nailed the main Friendo beats together at London Film and Comic Con back in 2015. Then the western world kind of had a nervous breakdown and we had to toss out half the story because it was suddenly too tame! We then made the decision to produce the thing as close to the wire as possible so it would almost feel like the world outside your window, you know? Amazingly, our good friends at Vault saw the wisdom in the idea immediately and supported us one hundred percent.
A lot of folks – us included – are struggling with the direction in which the world seems to be headed, so we're really trying to take that feeling of anomie – the dramatic erosion of norms we used to take for granted -- from the slaughterhouse to your plate in as short a time as humanly possible. It's the rawest book we've ever made and it's kicking our asses, but we're all immensely proud of it.
DF: Give me the elevator pitch for Friendo.
Alex Paknadel: An out-of-work actor called Leo Joof is gifted a pair of augmented reality glasses by his girlfriend. These glasses come with Jerry, an onboard AI helper – the titular 'Friendo' -- who basically exists to make you buy stuff. However, Jerry's ethical protocols are erased during a mugging incident and Leo and Jerry wind up embarking on this psychotic shopping/crime spree, armed to the teeth and pursued by idiotic fans.
DF: Talk a little bit about Leo and Jerry as characters. (I guess Jerry is a "character"?) How have they changed as the grand finale approaches?
Alex Paknadel: Jerry is incapable of organic change because he's not human, so the only major change in his character came from without at the end of issue #1 when his ethical protocols were forcibly erased. He has a vested interest in keeping Leo alive in order to make him want things, so any regard for Leo's well-being always stems from that. Physically, however, he's in rough shape. His appearance is dictated by Leo's perception of him, and because Leo saw Jerry get shot at the beginning of issue #3, he now appears as a rotting corpse with intestines spilling out all over the place. Think Jack in American Werewolf and you're about there.
As for Leo, he made the decision to abandon his loved ones to go down the Jerry rabbit hole, so this is the time for regret. He's slowly catching on to the idea that everyone wants something from him, but he also knows he's powerless to resist the onslaught of commercial messaging out there. He's a rat that's realized it was born inside the maze, so there's really no way out. The choices open to him involve either "seeking out the cheese" – which means succumbing to the maze's deranged logic -- or death.
Did I mention that Friendo's a comedy?
DF: Even in today's complexity of comics and their changing universes, you need and gotta love a good big bad! Talk a little about Zajicek the Cremator.
Alex Paknadel: Zajicek's a contract killer hired by the owner of a hypermarket chain to take out Leo and Jerry. He's death incarnate, really, so naturally I put a pair of cute bunny ears on him to make him funny. He butchers his way through the book with this totally deadpan, vacant expression, but the ears are doing all the acting. Martin and I are having so much fun putting him in these ridiculous, Coen-esque situations. Imagine the grim reaper if he had a weakness for roller coasters and prostitutes.
DF: What can you say about the awesome art of Martin Simmonds?
Alex Paknadel: Not much that hasn't been said already. He's a compositional genius and a true collaborator in every sense of the word, and I know David Barnett (Punks Not Dead) feels exactly the same way. Every issue I write is a love letter to him, and I'm frankly heartbroken that I won't be working with him for a year or two after this. You won't believe the projects he has lined up after Friendo, seriously.
I have to say, though, we have an incredible team working on this book: with his woozy David Hockney palettes, Dee Cunniffe is our secret weapon; Taylor Esposito's borderless balloons add to the profound, almost antiseptic detachment and impersonality we're going for with the book; Tim Daniel's design work makes the book look like a commercial for a Silicon Valley startup; and Kim McClean's exquisite covers juxtapose play and violence with an almost Ballardian ferocity.
DF: Alex, talk about some of your other projects, current or near-future, for readers.
Alex Paknadel: Okay, so I'm currently working on a superhero book for Lion Forge called Kino that I'm very proud of. It's about this god-level British superhero who's been imprisoned in a Kirby-esque virtual reality simulation for months and then released into a complicated world that's slowly succumbing to fascism. I'm working with artist Deigo Galindo and Jasmine Amiri, the uber-talented editor of my BOOM! Studios books Arcadia and Turncoat. In addition, Gail Simone's kinda my boss now and she tells me on the reg that she loves our book, so if that's not a good enough reason for your readers to pick it up then I don't know what is!
In February, I have a really cool Valiant event miniseries called Incursion coming out with Doug Braithwaite and co-plotted by Andy Diggle. It's an Eternal Warrior story about an invasion of Earth via the Deadside, so if you want to see Gilad hacking his way through scores of undead creeps then this is the book for you. It's the first time I've written a straight up action book solo, so I'm excited to see how it's received.
Apart from that, I have a bunch of creator-owned stuff in train, including books with my White Noise studio pals Dan Watters (Lucifer, Limbo), Ram V (Paradiso, Batman), Ryan O'Sullivan (Void Trip, Fearscape) and Caspar Wijngaard (Limbo, Peter Cannon).
Dynamic Forces would like to thank Alex Paknadel for taking time out of his busy schedule to answer our questions. The conclusion of the Vault Comics limited series, Friendo #5, hits stores Feb. 27th!
For more news and up-to-date announcements, join us here at Dynamic Forces, www.dynamicforces.com/htmlfiles/, "LIKE" us on Facebook, www.facebook.com/dynamicforcesinc, and follow us on Twitter, www.twitter.com/dynamicforces.
---
NEW! 1. 11/25/2020 - STEVE SKROCE
4. 11/16/2020 - RYAN O'SULLIVAN
5. 11/16/2020 - RYAN O'SULLIVAN