JOSH TRUJILLO

SEND THIS TO A FRIEND!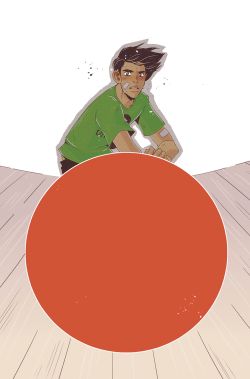 DF Interview: Josh Trujillo brings competitive chaos of dodgeball to comics in Dodge City
By Byron Brewer
Writer Josh Trujillo (Adventure Time) and artist Cara McGee (Over the Garden Wall) team up for Dodge City, a new series about the high-energy chaos of competitive dodgeball! Tomás is the newest member of the Jazz Pandas dodgeball team, and he's got a certain knack for keeping an eye on on the ball (or several!). However, he is new, untested and still not quite part of the team. But if the Jazz Pandas want to make it to the summer regional championships, they'll have to pull together and learn to work as a team.
DF was anxious to discover more about this new BOOM! Studios series, so we chatted it up with scribe Josh Trujillo.
Dynamic Forces: First: Who thought of this great title for a dodgeball-centric comic? Genius! I was truly expecting a Jonah Hex-style Western solicit. Just genius.
Josh Trujillo: Thank you! I have a lot of great friends who helped me decide on a final name. I wanted something that spoke to the wild nature of the book, and let people know this story is about a lot more than dodgeball (but also it's definitely about dodgeball!).
DF: Josh, give me the elevator pitch for Dodge City.
Josh Trujillo: Dodge City is a sports comedy about making sense of a chaotic world by learning to trust each other. It's about growing up against the insane backdrop of competitive dodgeball.
DF: Elephant in the room: Are you a fan of the game? Were you a participant in school gym class? And if so, were you a first-named or (like me and a lot of other writers I know) last-called?
Josh Trujillo: I've never been first-called for anything! While I did play in grade school, dodgeball didn't become important to me until I joined a co-ed league as an adult. It was a league for outcasts, run by outcasts, and I fell madly in love with it. Having never really been on a sports team before, if anything, I took it too seriously.
DF: Introduce us to Tomás please. Also, who is he to you as a character?
Josh Trujillo: Tomás is a bit of a spastic mess. He's horribly awkward, shy and can't quite control his mile-a-minute brain. Tomás is our entry point into the world of Dodge City, where navigating the personalities of his team is usually harder than navigating the game they're playing. He's going to have to grow up and find confidence if he wants to survive.
DF: Who are the Jazz Pandas?
Josh Trujillo: The Jazz Pandas are the most infamous team in Dodge City dodgeball. They're a mix of big personalities and rough talents. They've all been around a lot longer than Tomás, and certainly have their share of history.
The leader of the Jazz Pandas is the unstoppable Drew. She's got every minute of her free time scheduled to extracurriculars. Dodgeball is one part of a big puzzle for her to get where she wants in life.
At her side is the skeptical Elsie. Elsie and Drew were very close -- and they might still be again -- they just need to get on the same page. But really, everyone on this team needs to do that. You're going to love how rebellious Judith is, or how sweet Huck can be, or how funny Amardeep is. We have a lot of surprises along the way.
DF: Obviously this comic is packed with subtext. Without getting heavy, tell us a little bit about any and their inspirations.
Josh Trujillo: Each of the Jazz Pandas is looking for something different from this game. Some of them want to escape their daily lives, others are looking for community, while some just want romance. This is a chance for each of the players to find themselves, test their relationships, and maybe become champions along the way.
DF: What can you say about Cara McGee? What does this artist bring to the dodgeball floor?
Josh Trujillo: I can't speak highly enough about Cara! She's breathed so much life into each of the characters, and so much of their individual styles and personalities belong to her.
Dodge City has big laughs, intense action and quite a bit of drama. That plus the diverse cast makes it a challenge for any artist. Cara has totally risen to the occasion. I'm so grateful to have her be my partner on this project, and if we're lucky we'll get to do more!
DF: Josh, are there any other projects current or near-future you can tell readers about?
Josh Trujillo: You can find my work monthly, writing Rick & Morty comics for Oni Press. In the summer, I'll be releasing a children's book with Nick Kennedy, and there will be a new installment of my romance series Declaration (with Levi Hastings) later this year. Plus, I write video games for Telltale Games. Expect a busy year! @LostHisKeysMan
Dynamic Forces would like to thank Josh Trujillo for taking time out of his busy schedule to answer our questions. Dodge City #1 from BOOM! Studios hits stores March 7th!
---
NEW! 1. 05/30/2023 - DAN ABNETT
4. 02/10/2022 - SIMON SPURRIER