JON TSUEI

SEND THIS TO A FRIEND!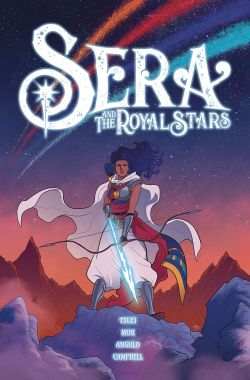 DF Interview: Jon Tsuei tasks a brave princess with saving her family or saving the world in 'Sera and the Royal Stars'
By Byron Brewer
After a fierce battle to escape the Underworld, Sera abandons her mission in hopes of rescuing her family. But the stars of Draco anticipate Sera's actions, forcing her to draw on the power she carries -- unleashing a force that will forever change her.
With its sixth issue, writer Jon Tsuei and artist Audrey Mok begin an exciting second arc for a Vault Comics favorite, Sera and the Royal Stars! DF wanted to get in on the ground floor, so we chatted up the mighty mag with scribe Jon Tsuei.
Dynamic Forces: Jon, just to get the vaunted and valued new readers going, can you please summarize what the book as a whole is about and a little about what occurred in your first arc.
Jon Tsuei: The story is about Sera, a princess in the kingdom of Parsa, a land wrapped in civil war and suffering from a great drought due to the stalling of the seasons. She's visited by a deity named Mitra who tells her that the seasons can only turn again when she finds the Royal Stars, a group of ancient star spirits who are trapped on her world and breaks the magic that binds them. In the first five issues, Sera finds the Royal Stars, but not without a cost. Someone in her family is killed and the rest are captured. After fighting lizard-men, wyverns and even a trip through the Underworld, Sera learns that the culprits behind the dark magic plaguing the world are a pair of powerful beings bent on destroying the Royal Stars and punishing humanity for perceived slights.
DF: Introduce readers to your main protagonists, if you will. When issue #6 arrives in February, where are they at in their lives following the first arc?
Jon Tsuei: Sera is joined by three of the Royal Stars: Aldebaran, known as the Eye of the Bull from the constellation of Taurus; Antares, the Heart of the Scorpion from the constellation Scorpio; and lastly, there's Fomalhaut, the Mouth of the Southern Fish, from the constellation Pisces. At the end of our first arc, Sera parts ways with the Royal Stars for reasons that are probably best learned by reading the book. Without getting into spoiler territory, I'll say that by issue #6, Sera is feeling very torn between this divine quest she's been given and her remaining family. Circumstances will bring Sera and the stars together again, but they're going to spend some time apart from one another.
DF: Spinning out of the above, can we put the spotlight just a little more on Sera? Discuss her as a character. She carries a great power, but she has proven herself very resilient and not at all what some might expect. What is her challenge going forward?
Jon Tsuei: Sera is one of the commanders in her father's army. She has not only a great tactical mind, but she's also a highly skilled warrior. When she's visited by Mitra, the golden deity replaces her heart with a magical shard. Without revealing too much, that shard contains a power she must learn to control. I think her biggest challenge centers around one of her core character traits and that's her love and devotion to her family. This divine quest asks her to not only leave her family behind, but it also puts her family in danger. It's a terrible position to be in, save your family or save the world. Sera is going to make some bad decisions, but we'll also see her try her best to make things right in the end.
DF: Give us an elevator pitch for the coming arc's storyline. No spoilers necessary.
Jon Tsuei: The Royal Stars seek help from various star spirits in order to break the spell that binds them. Sera, on the other hand, has left her divine quest behind to try and save her family, but that doesn't end how she hopes it would. Readers are going to meet new faces: some celestial, some mythical and others familial.
DF: Talk about the eye-opening art of Audrey Mok and color palette of Raúl Angulo. You could not be in better hands.
Jon Tsuei: Audrey is not only a great draftsperson and designer, but she's an amazing storyteller as well. She really knows how to make the characters act on the page, and she can handle everything from big action sequences to comedy to drama. I really believe Audrey can draw it all. There are some new characters coming in the second arc whose designs will blow readers away, absolutely gorgeous stuff. Oh, and her covers! Audrey draws and colors all the covers and, in my opinion, they are some of the best on the stands right now.
Stylistically, Raúl's colors are such a great compliment to Audrey's lines. With that said, I think Raúl is as much a storyteller as myself or Audrey. His color choices always reflect the mood and feeling of the scenes, and that's no small feat when you have to balance the color palette across a page. His work is brilliant.
I could talk about how great both Audrey and Raúl are all day if you let me, so I'll end on saying that Audrey and Raúl's work only gets better with each issue and I feel incredibly fortunate to have such an amazing team bringing this story to life.
DF: Your continuation means you have fans interested. Would you be interested in Sera and the Royal Stars becoming an ongoing? Is there enough threads from the initial tale?
Jon Tsuei: If things were to line up for the team, there are some more storylines I'd like to explore. The more I personally explore the world of Sera and the Royal Stars, the more threads I discover. So, I would say yes, there are plenty of threads for us to pull on. However, if we don't get to venture down those paths, I hope the way the story concludes in issue #10 will leave the reader satisfied.
DF: Jon, tell readers about some of the other projects, inside or outside comics, that you may be involved in.
Jon Tsuei: There isn't anything I can speak about in detail yet, but I do have a couple of creator-owned books in the works that should hit stands in 2020. I'm also talking to a couple of publishers about writing comics that take place in some well-established universes. So stay tuned, you'll be seeing more from me soon!
Dynamic Forces would like to thank Jon Tsuei for taking time out of his busy schedule to answer our questions. Sera and the Royal Stars #6 from Vault Comics hits stores on February 19th!
---
NEW! 1. 12/04/2020 - JOSH BLAYLOCK
3. 11/30/2020 - SKYLAR PATRIDGE