CHUCK DIXON

SEND THIS TO A FRIEND!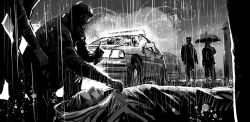 DF Interview: Chuck Dixon continues his ongoing crime epic of vigilante justice, cold revenge in new novel Levon's Kin
By Byron Brewer
On the run from the law, Levon Cade and his daughter Merry head back to the hills and hollers that Levon once called home. But his return opens old wounds and tears brand new ones when a man from his past involves him in a deadly game. A gang war erupts in the high country with Levon and those he loves caught in the crossfire. A massacre in the deep woods leads to an underworld manhunt for those responsible. Soon the scenic mountain roads are awash in blood as the body count rises.


His back to the wall, Levon is not about to back down or give up ground.


Because this time it's family.


Chuck Dixon, seminal writer of Marvel Comics' The Punisher, brings readers another riveting story of Levon Cade. DF caught up to the veteran comic book scribe to discuss the new novel.
Dynamic Forces: Chuck, you have been working on the newest novel in your series on Levon Cade, Levon's Kin. Tell us the basics about this protagonist.
Chuck Dixon: Levon Cade is a man who just can't walk away from, or walk around, a problem. He feels the need to act and damn the consequences. Cade is a former Marine with a shadowy past in counter-terror. That makes him a dangerous man in a fight. Actions he took to find the missing daughter of his employer (Levon's Trade) make Levon a fugitive from justice and he's forced to go into hiding with his daughter Merry (Levon's Night) and finally to flee across half the country (Levon's Run) with a half dozen federal agencies hunting him.
DF: What can you tell us about Merry and her relationship with Levon?
Chuck Dixon: Levon's daughter Merry is twelve years old by Book Four and the only immediate family left in his life. He won't give her up. He won't leave her behind. And she is so fiercely loyal to her father that she makes the best of their fugitive lifestyle.
DF: In Levon's Kin, your fourth Cade novel, he is on the run from the law and headed home. Where is "home" and what can you tell us about Levon's relationship with his family there?
Chuck Dixon: Home for Levon is a remote portion of Alabama that is more primordial than rural. It's where he grew up and where he feels safest in the millions of acres of hills and ravines that Levon ran as a kid.
DF: Can you, in non-spoilery fashion, introduce us to some of the key characters Levon will encounter in Levon's Kin?
Chuck Dixon: His initial problem is with family. A close relative involves him with what turns out to be Mexican drug cartel cooking meth in a hidden lab deep in a mountain hollar. Levon takes action and upsets the delicate balance of power in the county and soon the Dixie mafia and the Zetas Cartel are at war with one another and Levon and Merry caught between them.
DF: From what I know of the novel, it sounds like those mountain roads are going to be awash in blood. What can you tell us of the storyline?
Chuck Dixon: Just that, before it's over, Levon has created a firestorm of violence that puts Merry into more direct danger than before. He has to take drastic action to see them through to safety which, to Levon Cade, means killing everyone and anyone who could ever threaten his daughter. And there's one chapter in the book that I promise will stay with the reader a long time.
DF: Some authors go to great lengths with research on locales, so that often these locations will almost become a character. What research if any did you do for that certain atmosphere in this novel?
Chuck Dixon: Well, my dad was a southerner, an unreconstructed redneck, and I draw a lot of his sense of right and wrong and his, let us say, direct solutions to problems. I also try to be honest; to avoid stereotypes.
The story takes places in a fictional and unnamed county so I don't have Alabaman readers gigging me because I had the county road cross over the wrong crick at the wrong place or put a Winn-Dixie where there isn't one.
DF: Haha! …. By the way, I am loving these novels. How many more Cade books can we expect from you, Chuck?
Chuck Dixon: I love writing vigilante justice stories. So as long as I have that itch, I will be scratching it. I have two more plotted after this and plan on making this a long run of books.
Dynamic Forces would like to thank Chuck Dixon for taking time out of his busy schedule to answer our questions. His new novel, Levon's Kin, hits stores Jan. 20th!
For more news and up-to-date announcements, join us here at Dynamic Forces, www.dynamicforces.com/htmlfiles/, "LIKE" us on Facebook, www.facebook.com/dynamicforcesinc, and follow us on Twitter, www.twitter.com/dynamicforces
GRIFTER/MIDNIGHTER #1 - SIGNED BY WRITER CHUCK DIXON!
THE EYE OF THE WORLD: THE GRAPHIC NOVEL VOLUME 1 (WHEEL OF TIME) Written by Chuck Dixon
THE EYE OF THE WORLD: THE GRAPHIC NOVEL VOLUME 2 (WHEEL OF TIME) Written by Chuck Dixon
THE EYE OF THE WORLD: THE GRAPHIC NOVEL VOLUME 3 (WHEEL OF TIME) Written by Chuck Dixon
THE EYE OF THE WORLD: THE GRAPHIC NOVEL VOLUME 4 (WHEEL OF TIME) Written by Chuck Dixon
THE GOOD, THE BAD, AND THE UGLY VOLUME ONE Written by Chuck Dixon
---
NEW! 1. 11/30/2020 - SKYLAR PATRIDGE
5. 11/16/2020 - RYAN O'SULLIVAN