RYAN PARROT

SEND THIS TO A FRIEND!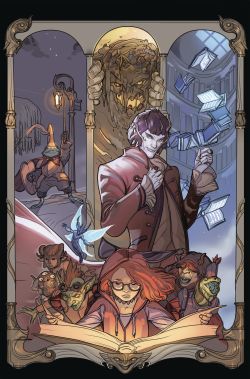 DF Interview: Ryan Parrott teaches us why we should never trust fairies in 'Oberon'
By Byron Brewer
Betrayed by his people and exiled to Earth, Lord Oberon, the former king of the fairies, seeks out an innocent prophesied child in order to manipulate her into becoming his ultimate weapon so that he can reclaim his rightful throne.
From writer Ryan Parrott (Volition) and artist Milos Slavkovic (T/K), Oberon is a new supernatural adventure proving once and for all that fairies should never be trusted. DF sought out scribe Ryan Parrott to learn more about this AfterShock Comics series.
Dynamic Forces: Ryan, tell us the genesis of your new series Oberon – how it came to be, and has something like this been brewing in the Parrott mental back burner for awhile?
Ryan Parrott: If I'm being honest, the genesis of Oberon began in the fourth grade when my English teacher, Mrs. Miller, had us do a reading of A Mid-Summer Night's Dream. Even though I didn't fully understand the play at the time, I loved the character of Oberon. I don't know if it was just his cool name or the mischievous nature of the fairies, but something stuck with me. With seemingly everything in the public domain being explored these days, it surprised me no one had really done anything with him. So I figured, maybe I could.
DF: What can you tell us about Oberon himself? The main character almost seems to be taking on the big-bad role here.
Ryan Parrott: I've always loved villains. And Shakespearean ones especially. Iago. Richard III. Macbeth. Characters who knowingly do evil things have always been the most interesting to me. So it seemed like Oberon had the potential to follow in their footsteps. He's a king who is betrayed by the woman he loves and loses his throne. This sends him into a downward spiral of revenge in which he'll do anything to regain his crown. And if that means putting all of creation in jeopardy, so be it.
DF: What of the "innocent prophesied child" [AfterShock solicit copy]? Can you tell us anything about her (in a non-spoilery manner, of course)?
Ryan Parrott: I mean, Bonnie Blair is one in a long line of "chosen ones" in the science fiction and fantasy genres. She's a sheltered, naive young girl with a wonderful heart and natural desire to help people. She's just like... Luke Skywalker. Harry Potter. Neo. Just to name a few. However, all of those characters had mentors who had their best interests at heart and lead them into new worlds by the hand. But what if the person you trusted to explain the rules had ulterior motives? Would you even know they were lying to you before it's too late?
DF: Tell us the storyline for this supernatural Shakespearean-esque adventure.
Ryan Parrott: There's an ancient evil lingering out beyond creation and the only person who will save all of creation from it is a certain promised child. But Oberon takes it upon himself to steal the girl away and basically lie, cheat and manipulate her into helping him reclaim his throne. One way to look at is: What if Lord Voldemort was responsible for introducing Harry Potter to the world of magic?
DF: Is it really true that fairies should never be trusted? (I do seem to remember some moments there with Tinkerbell in ANY iteration of Peter Pan… )
Ryan Parrott: Oh absolutely. Never trust a fairy. In all of mythology, fairies are infamous for making one-sided bargains and taking advantage of people. Just think of them as used car salesmen with crazy magical powers.
DF: In general, what other fantastical creatures will we encounter on our journey in this series?
Ryan Parrott: One of the things that drew me to doing a supernatural adventure was the chance to subvert all the amazing pre-existing magical characters. What if unicorns are carnivorous? Are Goblins actually petrified by daylight? Plus, I want to bring in characters from both Shakespeare and popular fairy tale lore. Don't be surprised if you see Cinderella's fairy godmother and the three witches from Macbeth getting a drink together at some bizarre masquerade ball. Hopefully, I'll be able to litter the book with all sorts of surprises.
DF: Talk about the awesome art of Milos Slavkovic.
Ryan Parrott: Milos has been an absolutely amazing collaborator. When I first imagined the book, I though it had to be dark, edgy and bleak. But when Milos came on-board, his bright and vibrant art style made me totally rethink the book... all for the better. He fills each frame with so many incredible details and is as responsible for creating this world as I am.
DF: Ryan, what other projects, in or out of comics, do you have coming up that you can talk about?
Ryan Parrott: Well, if you like Oberon, please take a look at my other AfterShock series, Volition. It's a massive world-building, sci-fi epic following two robots on the run from the law as they search the world for their creator. Also, I've been writing Power Rangers for BOOM! Studio for the last year or so and it's been one of the most professionally rewarding projects of my life.
Dynamic Forces would like to thank Ryan Parrott for taking time out of his busy schedule to answer our questions. Oberon #1 from AfterShock Comics hits stores Feb. 6th!
For more news and up-to-date announcements, join us here at Dynamic Forces, www.dynamicforces.com/htmlfiles/, "LIKE" us on Facebook, www.facebook.com/dynamicforcesinc, and follow us on Twitter, www.twitter.com/dynamicforces.
---
NEW! 1. 11/25/2020 - STEVE SKROCE
4. 11/16/2020 - RYAN O'SULLIVAN
5. 11/16/2020 - RYAN O'SULLIVAN